Tourists are turning their back on Greece's most famous destinations, the islands of Mykonos and Santorini due to exorbitant prices as they seek "value for money."
Mykonos and Santorini have seen a significant drop in tourist traffic, with visitors who have arrived on the islands describing their experience, noting that they would not be in their choices again.
"After our trip to Santorini, I think it's 100% overrated and I'll explain," say some famous YouTubers.
The figures are also confirmed by the arrivals, with local media of the island reporting that: "-22% flight traffic in Santorini compared to 2019."
A similar drop in Mykonos, with the situation changing drastically in the islands that were and are championships in terms of accommodation, entertainment and catering.
"20% drop in traffic in Mykonos. The summer of 2023 does not seem to be what was expected for the tourist market of Mykonos", noted the local media.
"As recently, among high-end tourists, the value for money criterion prevails, the opinion prevails that especially Mykonos and secondly Santorini, are trying to take advantage of the explosive tourist momentum of the country."the site added.
"It's beautiful, yes, but for the price you pay I can't say it's worth it. For a whole month we went to Turkey, Spain, Morocco and Greece. For me and my wife it cost $6,500 total. A friend of mine went to Santorini in July with his girlfriend, and the vacation cost 7,000 dollars per person for 10 days," visitors noted.
Cheaper destinations are winning over former island fanatics
The islands are facing a situation of their own making, experts say.
Raising the prices exorbitantly, they forbade Greeks to visit them and they became a destination exclusively for foreigners, except that even foreigners don't seem willing to pay exorbitant amounts anymore.
"The fall is, of course, also due to the fact that these two islands, which are the heavy artillery of Greek high-luxury tourism, have long since become forbidden places for Greek tourists, who are not there to cover the gap in traffic since they choose other Greek or even foreign cheaper destinations," Mega TV Live News magazine reported on Wednesday.
What a lunch costed €100 per person is now 200 or even 300 euros. Mega TV reported.
It said among others that other Greek islands offer holidays for all possible budgets, while this in not the case for Mykonos, for example, where prices skyrocketed in accommodation, restaurants, clubs and other services.
Meanwhile, Greece's tourism faces strong competition from Turkey where the local currency keeps falling and losing in value, while tourists do fairly care a little if they lay under the sun on this or the other side of the Aegean Sea.
Portugal and Albania are rising as strong competitors as well.
Characteristic of the arrogance and self-confidence of tourism entrepreneurs is in the "social tourism subsidy state program" that is already running, neither Mykonos nor Santorini have offered accommodation, Mega TV reported.
Turnover in April-May 2023 for Mykoos and Santorini is -15% to -20%.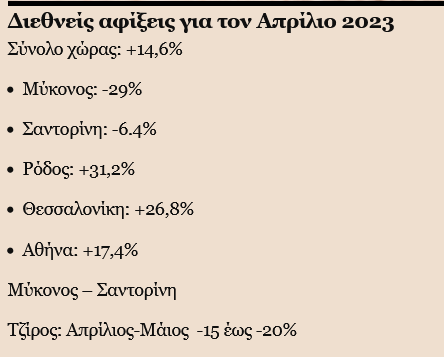 International arrivals in April 2023
Country Total: +14.6%
Mykonos: -29%
Santorini: -6.4%
Rhodes: +31.2%
Thessaloniki: +26.8%
Athens: +17.4%
Mykonos – Santorini
Turnover: April-May -15 to -20%
sources: in.gr