Α major rekindling of the fire in the south of the island of Rhodes has forced new evacuations on Monday, the seventh day since the fire broke out on Tuesday, July 17, 2023. The flames swallow Homes and shops in Asklipiio village and move forwards. Dramatic appeal for volunteers firefighters by the chairman of Afandou comminity.
Residents of Malonas and Massari were ordered to evacuate to Archaggelos around 1;30 p.m., while the villages of Gennadi and Vati were evacuated earlier.
The blaze has entered the village of Asklipio burning homes, shops and property that was in its path.
Residents of Asklipiio were appealing for help as firefighting forces and volunteers in the area tried to get the fire under control.
Two fronts had been threatening the village since Sunday night, with firefighters, volunteers and residents unable to stop the flames from entering the settlement in spite of a battle throughout the night.
Two rekindled fires have also besieged the villages of Gennadi and Vati.
The situation is considered as extremely extremely dangerous.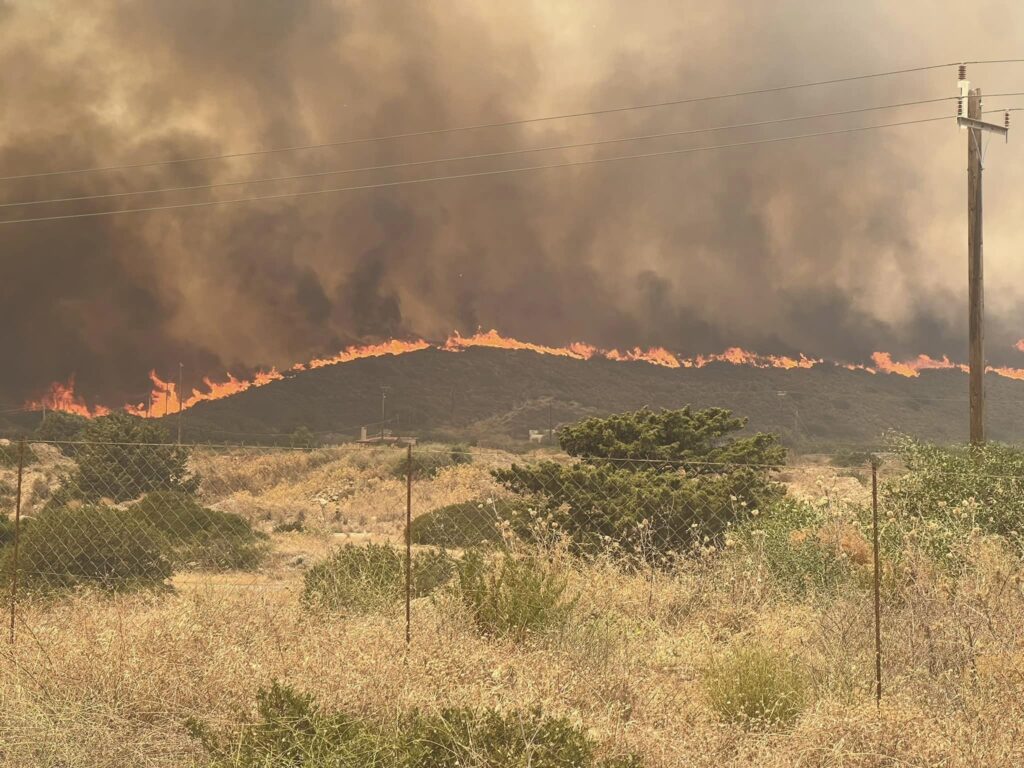 "We experience dramatic hours," governor of south Aegean Giorgos Hatzimarkos told Skai TV.
The fire has caused damage to houses in Asklipiio, spokesman of the Fire Service  Giannis Artopoios, told Skai FM. He added that the coastal front has been particularly affected.
To the question of why the fire is still burning for a week, Artopoios replied that "the conditions are such that they favor the fire, against the efforts of the firefighters."
More information about the fire on Rhodes here at KTG.
APPEAL for Firefighters VOLUNTEERS for AFANDOU community
The president of the Afandou municipal community is appealing to volunteers of the Afandou community to set up firefighting teams, since according to what he reported the fire is heading uncontrollably towards the area of Aithona in Archangelos.
MUNICIPAL COMMUNITY OF AFANTOU – EMERGENCY ANNOUNCEMENT
extremely urgent
The fire from information that I have is directed uncontrollably towards the ATHONA area in Archangelos and there is a serious risk of it moving towards EPTA PIGES and ARCHIPOLIS. I am appealing to all volunteers in our community who have 4X4 farm vehicles and work equipment to gather at Afandou High School to coordinate and set up firefighting teams who will be on standby if we need to intervene.
Contact phone: 6978899133 [via local newspaper rodiaki.gr]