Residents of Volos in the Magnissia prefecture were ordered to stay indoors by police as of 18:40 on Wednesday and were forbidden to travel, as storm ELIAS hits the region with very heavy rainfalls since the afternoon, flooding roads, basements, home and businesses.
Dozens of people are reportedly trapped in flooded homes or motorists in their cars but rescuers find hard to approach them. So far 15 motorists and pedestrians were evacuated from precarious situations.
Λεωφόρος Αθηνών στην διασταύρωση με Πευκάκια #Βολος #Κακοκαιρία_Elias pic.twitter.com/gcmmBatYWN

— 𝕁𝕠 𝔻𝕚 🏳️‍🌈 (@jodigraphics15) September 27, 2023
#Βολος απόψε: Τα ορμητικά νερά παρασύρουν αυτοκίνητα ενώ οι ιδιοκτήτες τους παρακολουθούν ανήμποροι. #Κακοκαιρια_Elias #ΚακοκαιριαΕlias #πλημμυρες #Θεσσαλία pic.twitter.com/2f86Ql4mnL

— ελ σαλταδόρ (@23perry245) September 27, 2023
State ERT TV reported that a 80-year-old pedestrian was rescued while he was about to collapsed. He was taken to hospital where doctors managed to save his life.
80% of the city is without electricity.
There has been a broader power outage in Volos and posts on social media report of volunteers struggling to transfer to the (also flooded) hospital of the city patients in need of oxygen and other health issues.
#Βολος #Μαγνησια #πλημμύρες #Elias pic.twitter.com/IsfLKpuqbe

— slow runner (@antoniouin) September 27, 2023
The heavy rainfall is also threatening to raise again the waters of Krafsidonas River to dangerous levels, as it did during the recent storm DANIEL beginning of the month.
The avenues of Athinon, Lambraki, and Larissis in downtown Volos are flooded.
— Alec_12 (@alec__12) September 27, 2023
Traffic interrupted there as well as at other sections of the city road network.
In the southeastern suburb of Agria, traffic has stopped after the coastal road was flooded.
Despite excavation machinery trying to control floodwater, the water on the tarmac has risen to over 30 cm.
Βόλος τώρα. pic.twitter.com/wDgLjApBFp

— Voula_L (@paraskevi_l) September 27, 2023
At Mt. Pilio suburbs of Volos, where the previous storm claimed lives and infrastructure was extensively damaged, the thunderstorm has brought heavy rain and water is running down in torrents.
A statement by the Volos municipality called on residents to observe the police curfew and follow police orders, allowing crews to work without obstruction.
Volos mayor Achileas Mpeos wrote on a social media post: "the situation is out of control. Stay in their homes, move to upper floors."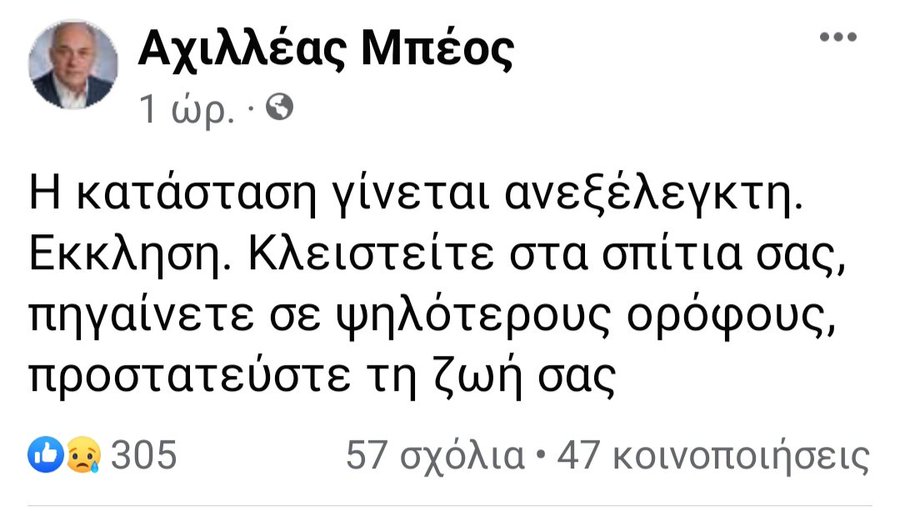 Also residents of the island of Evia are struggling with floods> on Wednesday.
Evacuation of villages in Fthiotida, Larissa and Kardista, all three prefectures in Central Greece, were ordered as of late evening. Some villages were flooded also by storm DANIEL two weeks ago.
WEATHER WARNIG UPDATE
Greece's Nationals Meteorological Service EMY updated its RED ALERT weather warning for Thursday, September 28, late on Wednesday.
According to EMY, storm ELIAs will keep hitting Volos with heavy rainfall until Thursday noon.
"Locally heavy rainfalls and thunderstorms until the pre-noon in Magnisia, Sporades islands, Evia – mainly the North – Fthiotida, Fokida in Central Greece and Viotia – mainly West and North- in Stera.
The weather phenomena will gradually weaken."