An explosive device has been found in a suspicious package found in the German Finance Ministry earlier on Wednesday, German police said. The package was found at 10 am at the letters distribution department of the ministry. The routine X-rays check showed that there were cables inside the package. German Bild speaks of an "Attempted attack on Federal Finance Minister Wolfgang Schaeuble (CDU)!"
Earlier in the day, German police arrived in the ministry as a suspicious package had been found. Employees of the post office department found a package about 10 a.m. local time.
The package was addressed to German Finance Minister Wolfgang Schäuble.
After examining the package, police did not rule out that it could be dangerous.
According to Bild newspaper, the package contained an explosive.
A bomb squad X-rayed it and took to a safe location for closer inspection, the Berlin police said on Twitter.
"An initial inspection of the object conducted in morning … showed the package contained so-called a firecracker mix that is often used in pyrotechnic production," police said, adding the package could have injured people if opened.
Due to the fact that it was impossible to fully examine the package at the site, it was transported for further inspection to a special training ground in Grunewald.
Bild reports that the ministry was evacuated.
It is not clear whether Wolfgang Schaeuble was in the ministry at the time the package arrived.
UPD
According to German media, the package had stamps from the Greek post and the sender was Greek!

The information has not be confirmed by officials yet.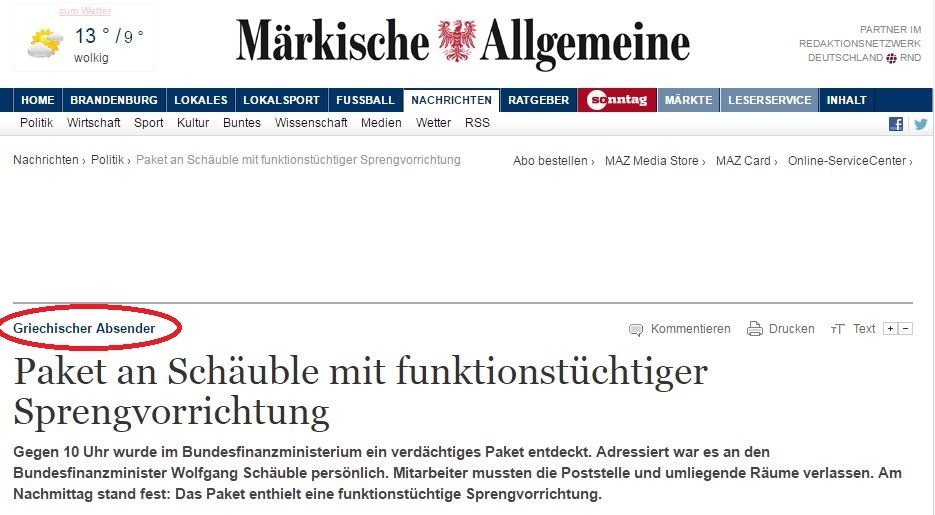 via newsit.gr
UPD II
The package with explosives sent to German Finance Minister Wolfgang Schaeuble on Wednesday was sent from the region of Attica and cited as its sender New Democracy Vice-President Adonis Georgiadis, the Citizens Protection Ministry confirmed.
The package arrived at the ministry mailroom and was found to contain explosive material. It was neutralized by German police.
After the news, Citizen Protection Minister Nikos Toskas asked Germany's police contact in Athens for information on the parcel. It was established that the package was mailed from a yet unknown ELTA post office in Athens and bore Greek stamps and seals.
A photo of the package sent by German authorities cited Georgiadis' name and office address:
"Spyridon – Adonis Georgiadis, New Democracy, Akadimias 84 -10678, Athens Attica, Greece."
Toskas notified the ND lawmaker who confirmed the address, after which police and anti-terror police asked their German counterparts for more details on the explosive mechanism and other information which will shed light on the real sender. Authorities are also trying to establish from which post office the parcel was sent and how it got past security at the airport.
Further investigation is underway.
PS if you ask me, given the fact that Georgiadis is a populist right-wing politician, if it was not that serious, it could to history as the farce of the year...