Are you one of them who wondered, why did Turkey's President Recep Tayyip Erdogan urged his people, Turks around Europe, to have "five children" and not just "three"? Having "five children" should be the response to the "rudeness shown to you," Erdogan said on Friday and told Turks that "they are Europe's future."
"Have five children, not three. You are Europe's future. This is the best answer to the rudeness shown to you, the enmity, the wrongs."
Erdogan reiterated the call Sunday, saying procreation is necessary since European countries are working on "reducing our number." Europeans would even bring back gas chambers if they weren't ashamed of their past, according to Erdogan.
"They were uncomfortable with my words. They are your citizens. They can give birth to three children or five," Erdogan explained Sunday. "If they weren't ashamed, they would revive the gas chambers."
German Foreign Minister Sigmar Gabriel said Erdogan has "gone too far" and warned the Turkish president against continuing his harsh rhetoric. A spokeswoman of German ruling CDU said "Erdogan is nuts" on Monday.
 Nuts choleric, hallucinating, megalomaniac, name him what you want, Erdogan has one and only target: to win the Referendum and become the absolute ruler in a neo-Ottoman country that he loves to fantasize it could be expand to the borders the Ottoman Empire lost in First World War. And beyond!
The explanation to Erdogan's Turkish procreation dream came through the front page of a Turkish pro-government newspaper close to Erdogan and the AKP party.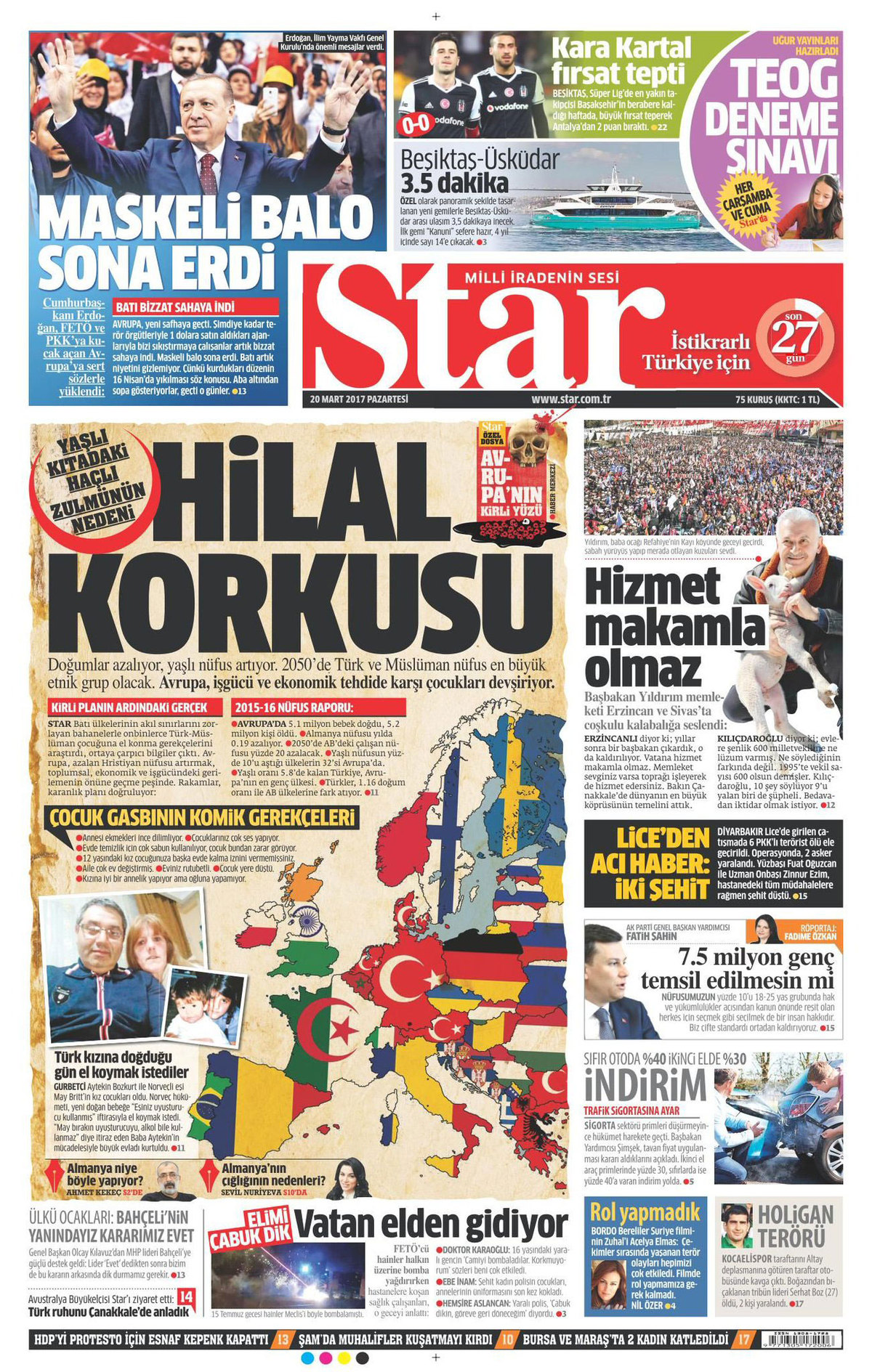 Newspaper STAR changed the map of Europe and filled it with Turkish baby boomers and their cute Turkish babies.
All Europe … Turkish red, from the South to Scandinavian North, from East to West.
"The Fear of Crescent"
Newspaper Star prophesies that Turks and Muslims will be the biggest ethnic group in Europe by 2050.
By 2050, the Turks will have pushed away the Germans, the French, the Greeks, the Swiss and many other folks away from their οwn countries.
"At the same time in many countries Muslims will compete in numbers with Christians. In 2050, Muslims will consist 94% of the population in Kosovo, 82% in   Albania, 62% in Bosnia, 57% in Cyprus, 46% in Macedonia (FYROM), 39% in, Germany, 38% in the UK, 34% in France,  32% in Netherlands, 31% in Switzerland, 29% in Norway, 28% in Bulgaria and Belgium, 16% in Greece."
The map illustrates the worst wet fantasies a Turkish nationalist can have. According to these, the Germans will have to relocate to…Poland, Greeks to Albania, the Dutch much further to the east,  the biggest people migration in modern times, just to make place for the Turks to settle in Europe.
Together with their five children, of course, that if born in 9-20 months from now, they will be 30 or something years old by 2050.
As the map is really confusing with all these relocated flags, I am not sure the map is not the product of the famous Turkish weed….
Can you believe that there are people in Turkey believing this crap? By April 16th, the Referendum Day, Erdogan and the Turks will have conquered the Europe, Russia, the USA, the subcontinent and China. At least.
The sky is the limit.
Original Turkish source STAR via Greek translation via here and here.