Athenians found a new hobby: to stand in incredible long queues outside pharmacies. Not this is not a joke. As pharmacists went on strike last Wednesday, people in need of life saving medicine have no other choice but to turn to the few pharmacies on day or night duty. Especially in Athens and Piraeus the situation is grotesque as one pharmacy on duty can/could/should serve … several thousands of people.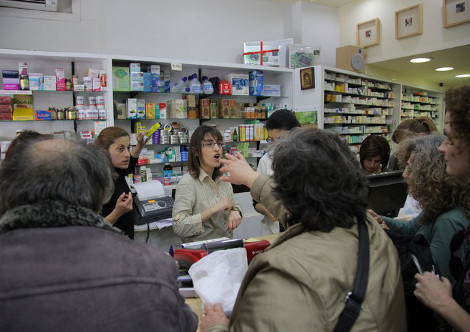 Last night I saw a report on TV showing an incredible  long queue outside a pharmacy serving three Athens suburbs with a total of more than 250,000 residents. The camera had captured people of all ages trying to obtain essential medicine for them and their families long after the sun had set down. Average waiting time to reach the counter: three hours.
Similar problems have been recorded in the broader Attica area, in Thessaloniki, Tripoli and the island of Crete.
Pharmacies in Attica are expected to end strike and return to normal operation on Monday, March 31st 2014.
Pharmacists went on open-end strike on March 26th in order to protest the new law that "will ruin them" as they claim.
The law foresees among others that pharmacists may open up to four pharmacies even in supermarkets, reduce the profit rate and allow non-prescription drugs been sold in supermarkets.
The pharmacists say that allowing the establishment of pharmacy chains will ruin the middle class members of the sector. The government claim that chains will create jobs for thousands of jobless pharmacists.
PS everything is claimed to be done for the sake of job creation (lol) where the loan agreements ruined the small enterprises.