"The lorry was …swallowing the vehicles, as if they were made of plastic. It was very scary because I could see the cars thrown in the air, people being swept away by the cars." Eye witness Stathis Sariyiannidis described the horror he experienced while on the cars queue at Egnatia Highway on Sunday morning.
While vehicles were stopped on the highway due to roadworks, a lorry apparently out of control moved on a high speed crashing on some 30 cars at the end of the traffic jam, killing 5 people and injuring 32. One car driver burned inside his vehicle.
Four people died on the spot, one on the way to the hospital. Among the injured currently hospitalized are also two babies 16 and 18 months old.
Eye witnesses speak of incredible scenes of panic on the highway as some of the crashed cars got fire, others were throwing in the air and many were being pressed together.
"I saw from my car mirror a lorry behind hitting cars and pushing them left and right. We were very lucky. The lorry got fire. Many people were crying. It was a chaos," another eye witness told media.
"We heard sounds of metal being crashed and saw a lorry moving on a breakneck speed," another witness said.
Video:
embedded by Embedded Video

YouTube Direkt
According to Greek media and eye witness the driver, a 39-year-old Romanian national, had managed to flee the lorry before if went on fire. the driver claimed that he could not stop the lorry as there was a problem with the breaks. However eye witnesses said that he did not even hopped or making signs with the flash lights and warn the other drivers of the problem.
Eye witness Sariyiannidis expressed the suspicion that also "the lorry driver was caught by surprise as he was standing among the other drivers and passengers after the disaster just watching stunning" the incredible scenes of chaos, fire, explosions, screaming and tears.

"Nobody knew he was the lorry driver, Sariyiannidis said adding "Had I stopped my car 20 meters in the back, we would have fallen victims too."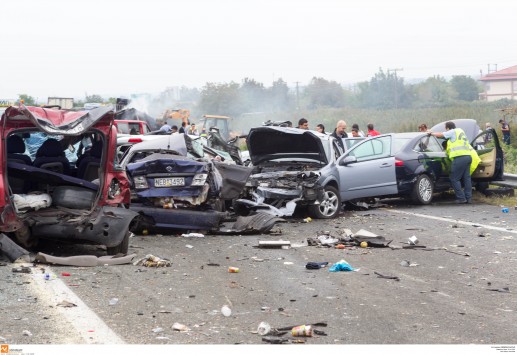 The lorry driver was arrested short after the fatal pile-up and is to appear in front of the prosecutor on Monday. Arrested has been also the representative of the road constructor as some eye witnesses said that the "warning of the roadworks ahead" was not sufficient.
The highway disaster occurred on Egnatia Hightway in Northern Greece in the junction between Veria and Kouloura. Several private vehicles and a couple of lorries were forming a long queue as roadworks were underway.
sources: news.makedonias.gr, newsit.gr and others