More than five thousand pensioners flocked outside the Ministry of Labor in downtown Athens on Thursday morning to protest the dramatic cuts in main and supplementary pensions.
"Come and live on 400 euro per month," some protester said, other complained "They mock as with spoof letters."
Video: angry pensioners burn Labor minister's letters
They set on fire dozens of letters recently sent by Labor Minister, Giorgos Katrougalos, to pensioners in which he explained to them why and how much their supplementary pension was cut on an average of 50%.
In a letter sent to millions of pensioners Labor Minister Giorgos Katrouglaos explained why the supplementary pensions were cut.
In this example letter sent to KTG by a friend, the monthly supplementary pension of €146,97  was shrunk to €72,41.
The letter sent in the middle of September note that the new supplementary pension should have been paid as of 1. June 2016. However as this did not happen, there will be a retroactive withholding.
Note: Katrougalos writes among others: "With the upcoming economic development pensions will rise."
The cuts in supplementary pensions incl. the retroactive payment has at least 260,000 pensioners to receive a tip of 16-30 euro per month for a time period of 3 up to 10 months instead their supplementary pension. Point is that contributions for supplementary pensions were paid directly by the insured employee or self-employed to the funds.
A protester in downtown Athens,said that his supplementary pension was cut from €240 to €120. "Because they withhold this retroactive payment of €50, I received only 70 euro."
The angry and frustrated protesters said that the Labor Minister destroys the social security and the pensions.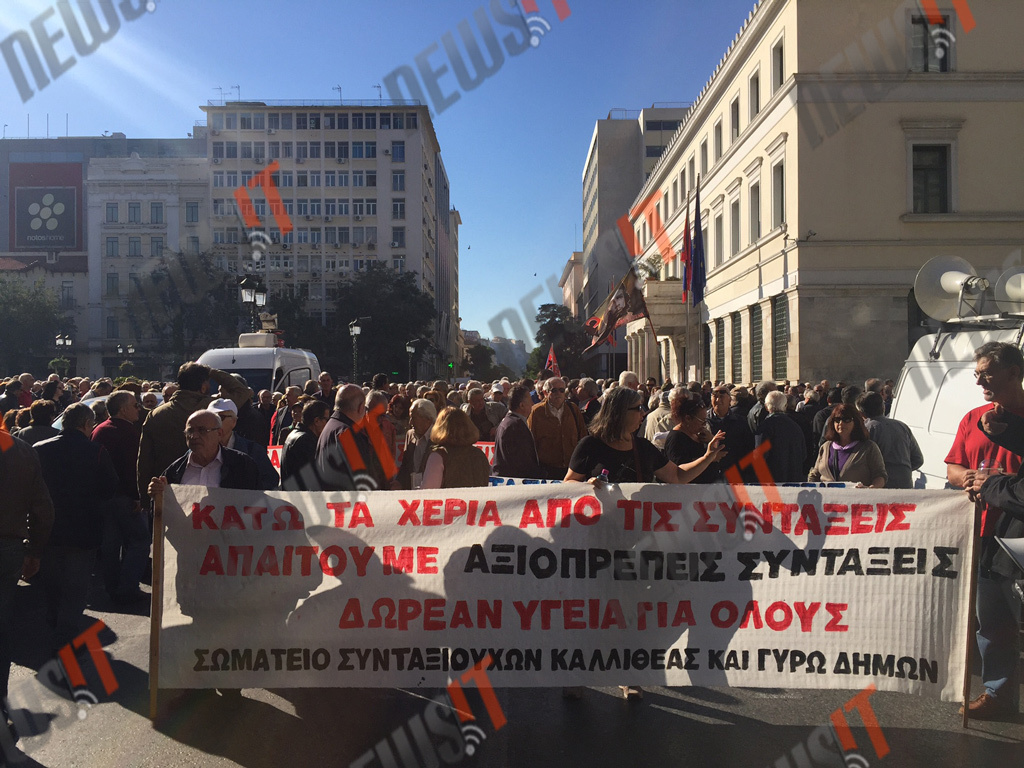 Banner: Hands off the pensions – we demand descent pensions free health care for all.
According to the Federation of IKA Pensioners [private sector] & Supplementary Pension Funds, Thursday's mobilization aims to protest the cuts in pensions and social benefits, but also the developments in the healthcare sector and taxation.

The protest was joined by other social security funds pensioners like the public sector, the sailor's fund, the self-employed fund and others.
Similar protests were held in several cities across the country, like in Thessaloniki and Chania, Crete.
Of course, it is not only the cut sin supplementary pensions that pushed pensioners to the streets. Ever since the implementation of the bailout agreements, after 2011,  pensioners lost at least 2 pensions per year when the so-called "Christmas & Easter/vacation bonuses" were scrapped. In addition, many pensioners of the private sector suffered cuts of an average of 600 euro.
A doctor who went into pension at 65 with 1,400 euro, receives today just 700 euro.

An accountant who went into pension after 40 years of work with 2,100 euro, gets today 1,250 euro.

A sailor-man (engineer) who received 1,940 euro pension when he retied, he get today 1,300 euro.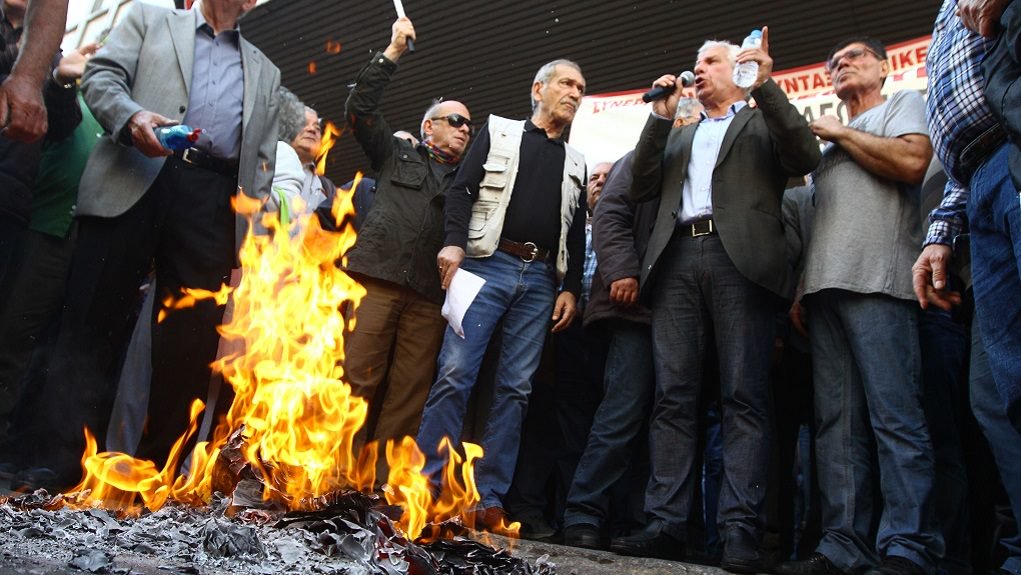 On the other hand, civil servants can still retire after 25 years of work and they receive better pensions than those of the private sector although their social security contributions are much lower.