Greek seismologists warn of a big earthquake that might strike Greece – the country that is first in Europe and sixth in the world in terms of earthquakes frequency and energy released by eaρthquakes.
Right after the powerful  6.6 R earthquake in central Italy on October 30th  and despite the fact that the fault lines are not connected with the Greek ones, the Director of the Geodynamics Institute of the Athens Observatory, Akis Tselentis, warned that in
"the next 6 to 12 months a very powerful earthquake might strike Greece."
Speaking to private ANT1 TV, Tselentis stressed that "Greece is a country with strong seismic activity, there are two areas which are potential earthquake epicenters, and unfortunately we do not have an anti-seismic culture."
  Tselentis on TV
Two days later, another seismologist, the Research Director of the Geodynamics Institute, Gerasimos Houliaras, told Skai TV:
"I will tell you of three areas, not two: these are the Greek arc from Kefalonia to Rhodes, the Gulf of Patras and the Gulf of Corinth [in northern Peloponnese]."
He clarified though, that this does not mean that these known areas will be directly hit by an earthquake.
Houliaras explained that seismologists have made great progress in earthquake forecast however they cannot forecast the time an earthquake will strike. "Therefore, when we talk about a forecast, we talk about estimation."

A third seismologist from the Geodynamics Institute, Thanassis Ganas, went even further and warned that
"an earthquake of even 7R magnitude might strike Greece any time."

Speaking to state broadcaster ERT TV/Larissa, Ganas warned of a third area being at risk to be hit by a powerful earthquake: Thessaly, in Central Greece.
He said that seismologists' forecast are based on statistics "on how long earthquakes have not occurred in several areas". He added that "nobody can tell for sure when earthquakes will happen. We have no indication of an impending earthquake in Greece." He stressed that the three powerful earthquakes in Italy within two months were not predicted by any scientist.
All three seismologist stressed the need for education and training of the society on how to behave during an earthquake.
On YouTube I found this video on what to do in an earthquake
What to do when suffering from a disability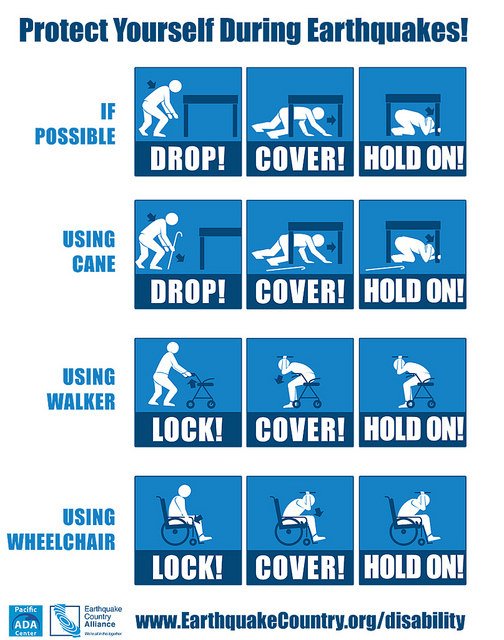 In the last couple of days, there is a seismic activity in Greece with the highest magnitude to have been 4R.
You can follow earthquake activity in Greece here.

PS After the powerful 7.6R earthquake in Turkey in August 17th 1999, Turkish seismologists warned that "a very powerful earthquake might occur in the next 30 years." – Keep Calm.