For second consecutive night, the hot spot of Souda on the island of Chios became the showplace of attacks, riots and damages, with migrants, refugees and residents to live in a state of constant fear.
It was around 8 pm on Thursday, when two molotov cocktails bombs were hurled inside the hot spot setting two tents on fire. Three hours later, more molotov cocktails and firecrackers were hurled inside the hot spot, scaring to death refugee and migrant families with children and elderly, some 150 people, who left the camp seeking shelter nearby.
video: molotov cocktail bombs land in the hot spot
Around midnight, two volunteers who were accompanying the refugee families were beaten by a group of 30 people, most likely members of the far-right extremists movement.
The volunteers were taken to the hospital.
A little later, a refugee was taken to the hospital too. He was beaten by unknown perpetrators in the center of the capital of Chios.
With the hot spot of Souda to be located next to the village settlement, the local community reportedly boils with anger. The situation is often out of control, the locals complain that their property is destroyed at regular intervals.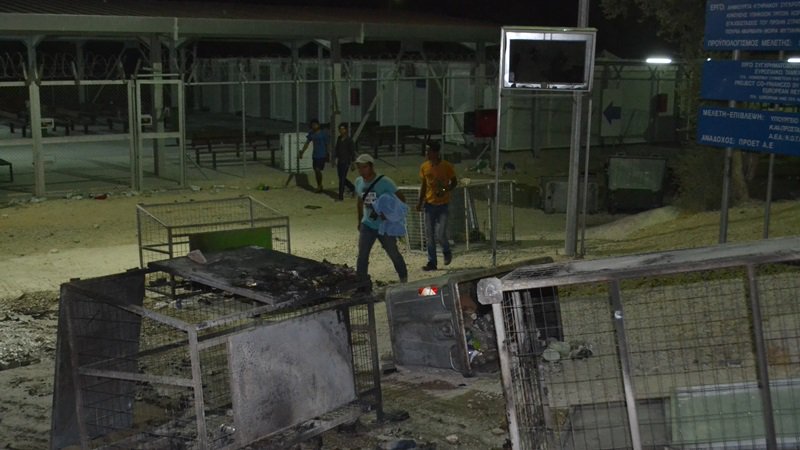 At the same time, far-right extremists move around without control, while the police seems unable to implement law and order.
In light of the ongoing tension and riots, the mayor of Chios called on the government to immediately close the Souda camp. Sepaking to Athens News Agency, mayor Manolis Vournous said "We should start vacating the Souda camp today."
He said that he contacted Migration Minister Yiannis Mouzalas asking him to close the camp immediately. To Mouzalas' question "Where shall I take them?" the mayor said he replied "This is your problem, not mine."