The port of Heraklion on the island of Crete turned into a battle field when hundreds of raging farmers attacked striking seamen and set the ticket offices of ANEK shipping company on fire on Friday evening.
Angry about the ongoing strike of the seamen, the farmers threw flares at a ferry docked at the port. The sailors of Blue Horizon ferry answered with water drops.
A farmer from Ierapetra had claimed that the ferry captain had put in operation the machines so that the ferry depart from the pier and that the lines were cut  at risk of injuring farmers.
The farmers were shouting "traitors" and some climbed on the lines. They kept demanding that the ferry opens its doors so that they can ship their products to the mainland.
Almost at the same time,  a group of farmers moved to the ticket offices of shipping company ANEK and set it on fire.
Hundreds of angry and determined farmers arrived at the port of Heraklion around 5 o' clock in the afternoon and declared that they will not step back until 150 trucks loaded with vegetables get on board and leave for Piraeus.

The harbormaster of Heraklion was injured and taken to the hospital with an ambulance. He was reportedly when he hit at a door during the incidents.
In the 9th day of the seamen strike, the farmers are in rage as they cannot forward their products to the mainland and abroad, thus losing thousands of euros.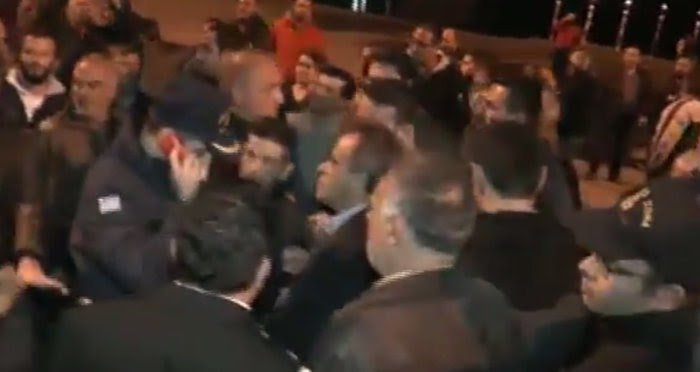 Maritime Minister, Panagiotis Kouroublis called on everyone to keep calm and await for the decision of the Greek Federation of Seamen (PNO) on Saturday. Kouroublis implied that the government may enforce seamen back to work.
Thursday noon, the PNO decided to extend its strike until Sunday, December 10th 2016, demanding assurances and commitment by the government that there will be no tax hikes for them.
Due to the strike, islands have been cut-off from the mainland with the effect of  shortages of basic goods and supplies.
The farmers withdrew after 10 o' clock in the evening.