The Epiphany and the religious tradition of blessing the Waters was celebrated across Greece on Friday, January 6th. Hundreds of faithful defied the cold and jumped into the sea to retrieve the Cross for good luck.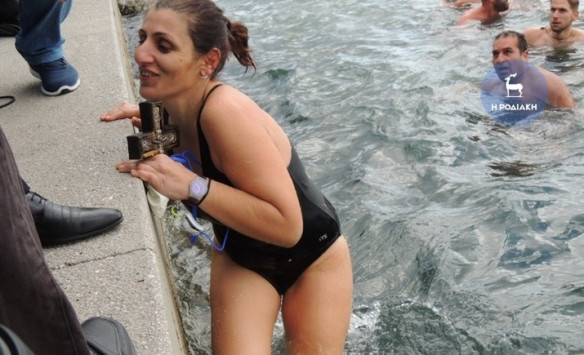 However, in Patras, the holy custom ended up in a brawl among divers arguing who retrieved the cross first. The argument started in the sea and continued at land, while the other faithful tried to put an end to the fight.
"Put the cross down," shouts one diver to the other while the public cheers "The priest should decide who won!"
In snowy Florina, the brave jumped into the river and rushed to catch the cross and kiss it.
In the lake of Prespes, only one diver dared jump into the water, while the priest had
On the island of Sikinos, the weather conditions were much better, however, also there, only one diver dared the jump in the cold water: the mayor!
On the island of Rhodes, it was a woman who retrieved the cross and left the male divers stunning.
In Trikala, Central Greece, it was a local politician who threw the cross into the water after the rope got caught. when divers retrieved the cross, it broke into two.
The most weird cross retrieving occurred at Kalamas river in Neraida Thesprotias, When the cross snagged between tree trunks. One of the locals, Leonidas, had to do some acrobatic to catch the cross and succeeded.
source: epirus-tv
He climbed on a tree, then took position: head down, feet on the tree, hands free to catch the cross on the rope.

BTW: The Kalikantzaroi, the goblins are now gone.