"We reached two meters away from Imia." This is what the Turkish Armed Forces claim in a footage given to local media on Tuesday and in another attempt to create an artificial crisis with Greece. The Turkish Soap Opera continues without a break.
According to the reports, a vessel of the Turkish Coast Guard sailed between the two islets of the Imia and anchored there for some ten minutes. The five to six officers on board took pictures and shot footage.
According to Turkish Hurriyet, a vessel of the Greek coast guard was one nautical mile away near the islet of Kalolimnos.
It is not clear who shot the video showing the Turkish vessels near the coast of an unidentified island or islet.
The Greek General Staff rejected the Turkish claims saying that neither the ground morphology nor the background of the 'islet' on the background match to those of Imia.
"The footage is a product of editing two 0r three different videos," Greek officers told media. There is no watch tower on Imia as shown in the footage and picture.
Furthermore, the Greek military leadership said that there was not such 'incident' in the last days and that there are always vessels of the Greek coast guard in the area.
It is not the first time, the "brave" Turkish Army claimed to have bypassed the Greek vessels and have gone dangerously near the disputed islet. Provocations increased after the Greek Supreme Court rejected Ankara's request to extradite the 8 Turkish soldiers who fled to Greece after the failed coup on July 2016.
Later on Tuesday, Greek fighter jets intercepted Turkish jets that had violated the FIR Athens.
Greek Armed Forces estimate that the Turkish provocations will continue.
PS If I were a Turkish citizen in general and a Turkish Army Officer in particular, I would care less for Imia, but rather of my Prime Minister making the sign of fascists Grey Wolves at a meeting of the ruling AK Party…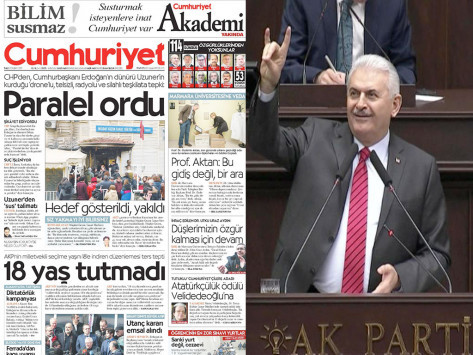 while my President Recep Tayyip Erdogan is preparing a parallel Army to cope with a potential new coup.