Karl Lagerfeld may have hoped for blazing sunshine, blue skies and Aegean blue sea in the background. His Chanel Cruise Show 2017/2018 The Modernity of the Antique was inspired by Greece, anyway. However, Greece's powerful Central archaeological Council rebuffed the request of House of Chanel to run the show at historical site like the Acropolis of Athens or the Temple at Cape Sounion. "Pas de problem!" the Kaiser thought and decided to bring Greece to Paris.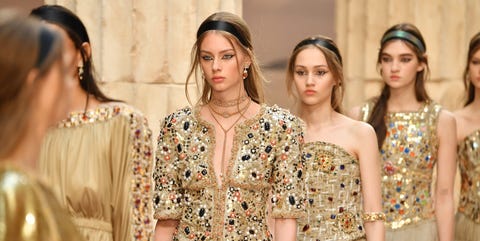 He simply recreated the ancient ruins of Acropolis and Cape Sounion were in the majestic Galerie Courbe of the Grand Palais in Paris.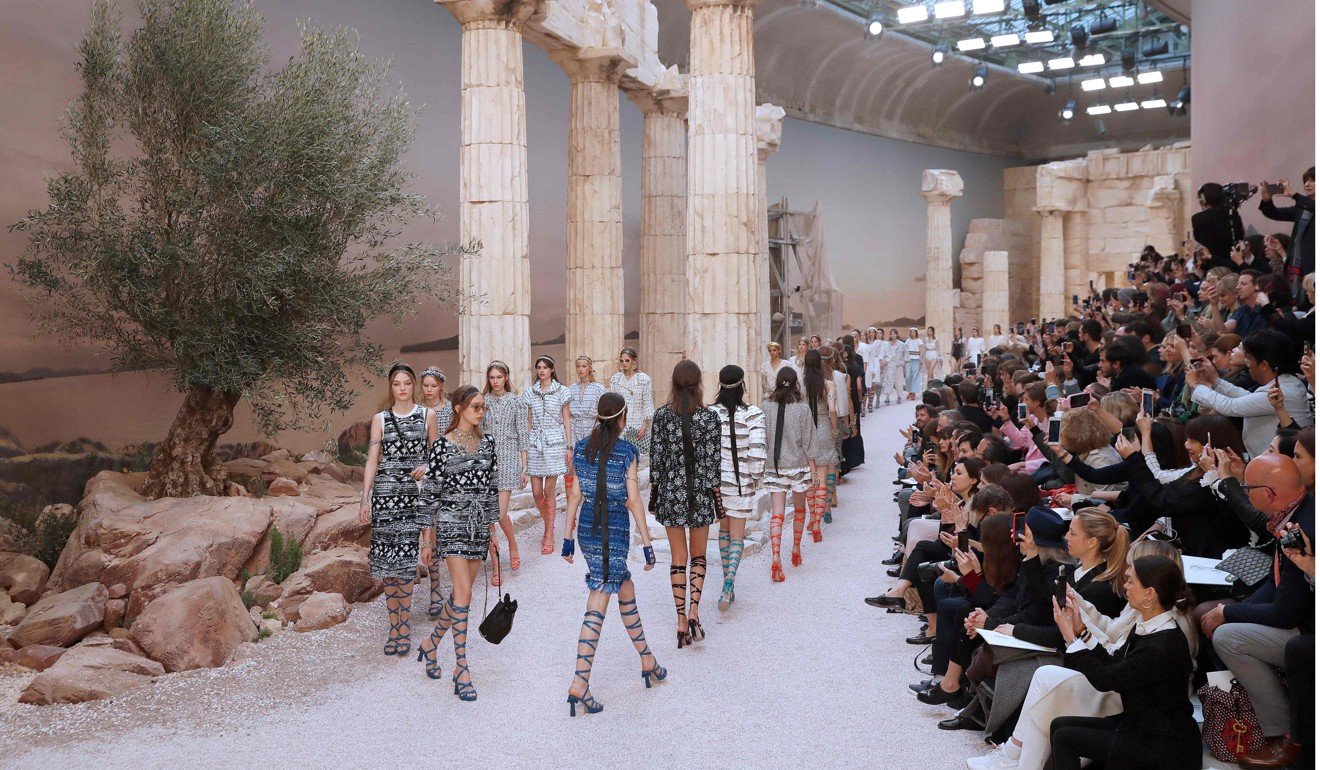 Ionian columns, marbles, ruins, pebbles and sand, a real olive tree. A Greek sunset as painted backdrop.
Inspired by the glories of ancient Greece, the models could not but wear gold:
gilded laurels swirled into sunglasses, Delphos-pleated dresses corded with sequins, even beach cover-ups licked with golden vines and of course, gold sandals.
The clothes a remix of  Olympian athletes' style and antique Greek friezes and frescoes.
Also amphora-shaped dresses of compressed pleats, draped chiffon pieces corseted with "cracked" marble.
When antiquity meets modern fashion mythology in sculptural draped dresses
Gladiator sandals with columns as heels.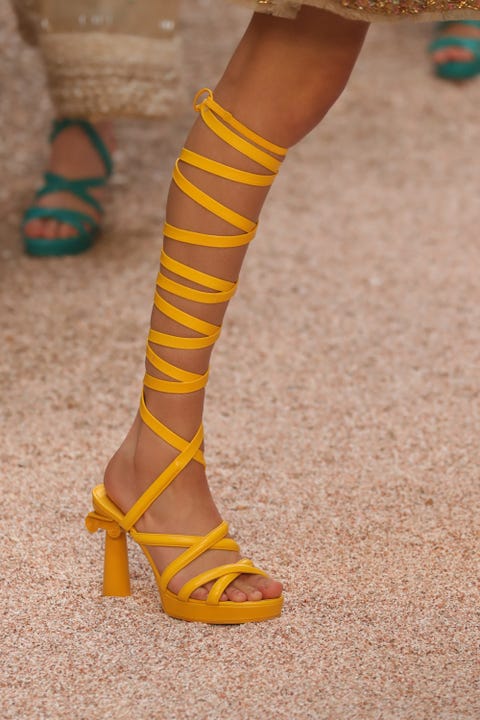 @CHANEL Spartan inspired sandals with columned heels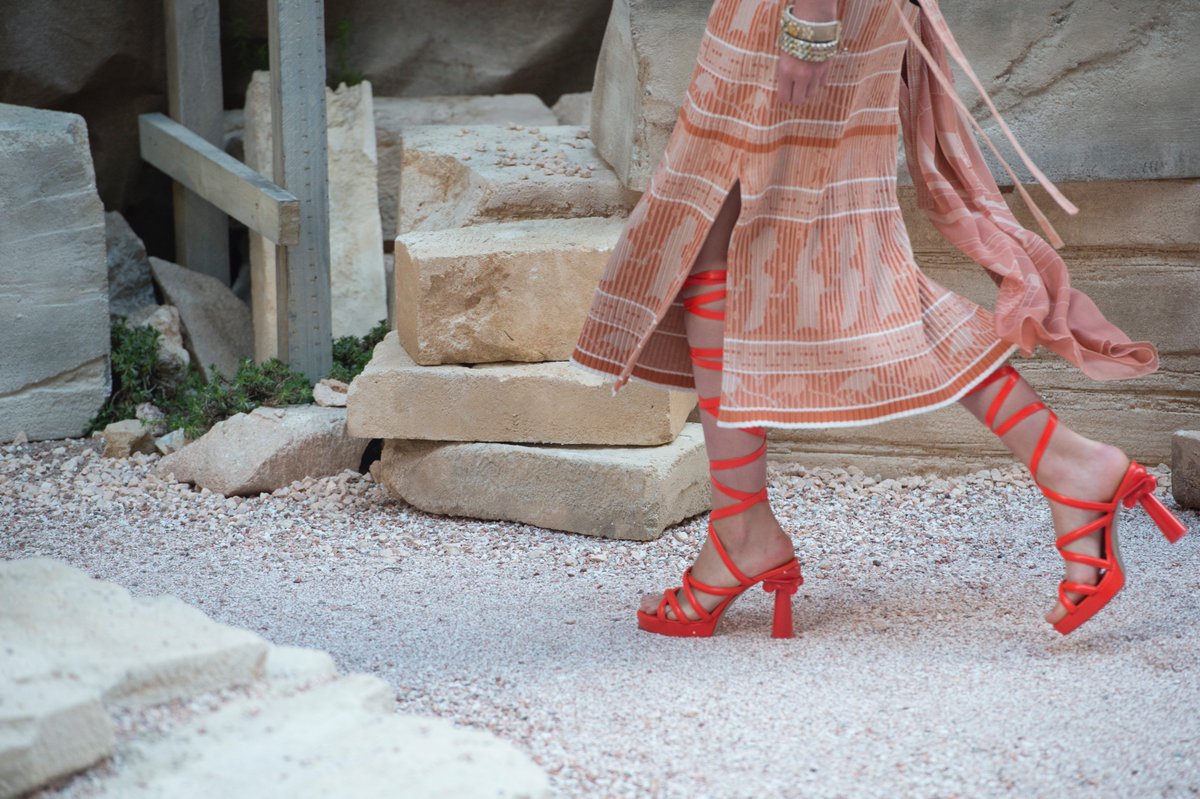 The Runway Set
The Greece runway set as imagined by Karl Lagerfeld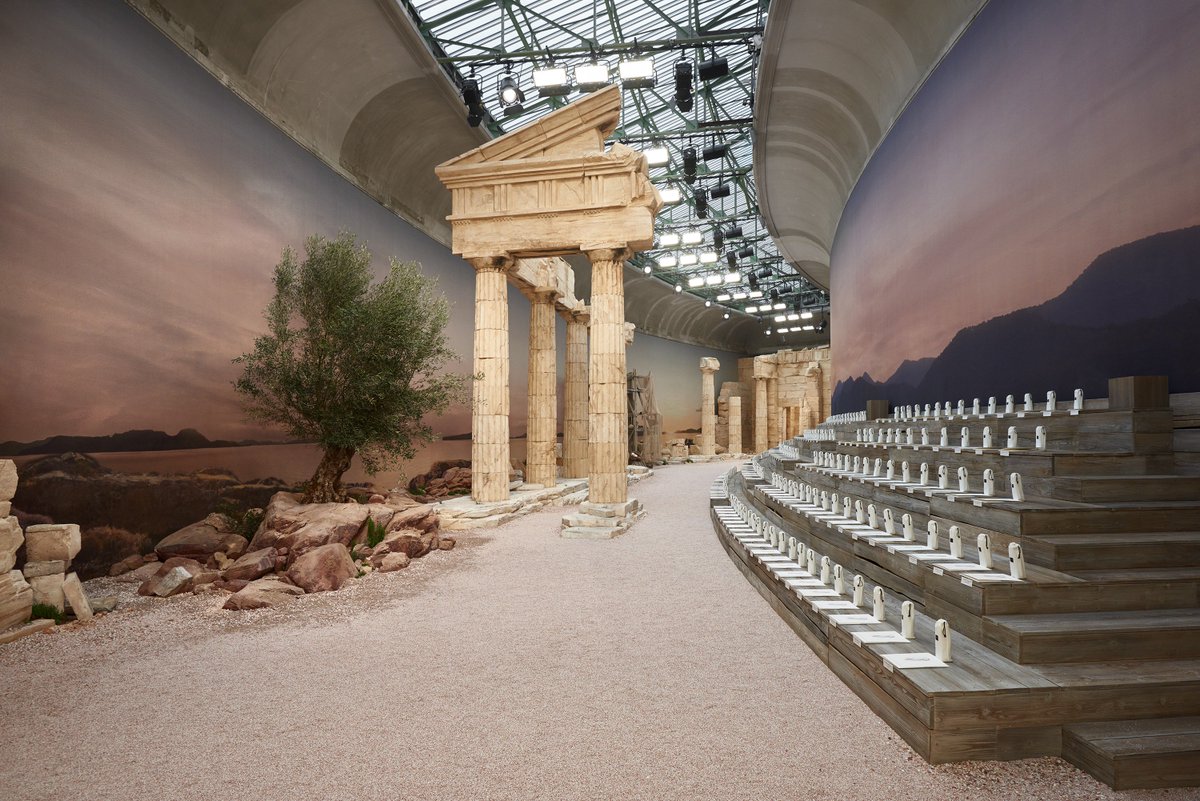 Karl Lagerfeld had originally wanted to show at a historic venue, but was vetoed by the country's officials, company representatives said. Hence the decision to show in Paris.
In February this year, the Central Archaeological Council in Athens also publicly rebuffed Gucci in its bid to stage its cruise show on the Acropolis. Instead it will be held in Florence.
Instead of showing this amazing fashion show amid the original ruins, "Chanel spent a king's ransom erecting its own,"  notes NYT. The set was based on the Parthenon as well as the Temple of Poseidon on Cape Sounion. The Chanel set took three weeks to design and another three to construct and nine days to assemble. The columns were over 25 feet tall, with eight of them complete and three in ruins. The construction needed the work of 50 craftspeople.
A fantastical folly of ruined columns and marble statuary. "My Greece is an idea," Karl Lagerfeld he stated before the show.
The sound track was a mix of  soundtrack by Michel Gaubert, compositions of  Iannis Xenakis alongside with the Greek 1980's rock band Aphrodite's Child.
All powerful fashion people followed the show, they were stunned. Major fashion magazines, like  vogue and harpersbazar and websites covered this amazing fashion inspired by Greece
Other sources: chanel.com, @CHANEL