The International Monetary Fund and the European Central Bank reached a compromise on the Greek banks: the ECB will accelerate stress tests, the IMF will give up its demand for full asset quality review (AQR).
The International Monetary Fund said on Thursday that it sees no financial stability concerns in Greece's banking system and that a European Central Bank proposal was constructive, removing the need for an asset quality review on the country's lenders.
"On the subject of the Greek banking system, let me emphasize that we see no financial stability concerns at all in Greece," Poul Thomsen, head of the IMF's European Department, said in a statement.
"The issue is that we need to be sure that there is a strategy to deal with Greece's exceptionally high level of nonperforming loans over the medium term."
He said the European Central Bank's proposal to bring forward already planned stress tests and undertake targeted asset reviews, without having to go through a full asset quality review (AQR), was constructive.
Poul Thomsen's statement at the FT Investment Management Summit in London, earlier on Thursday.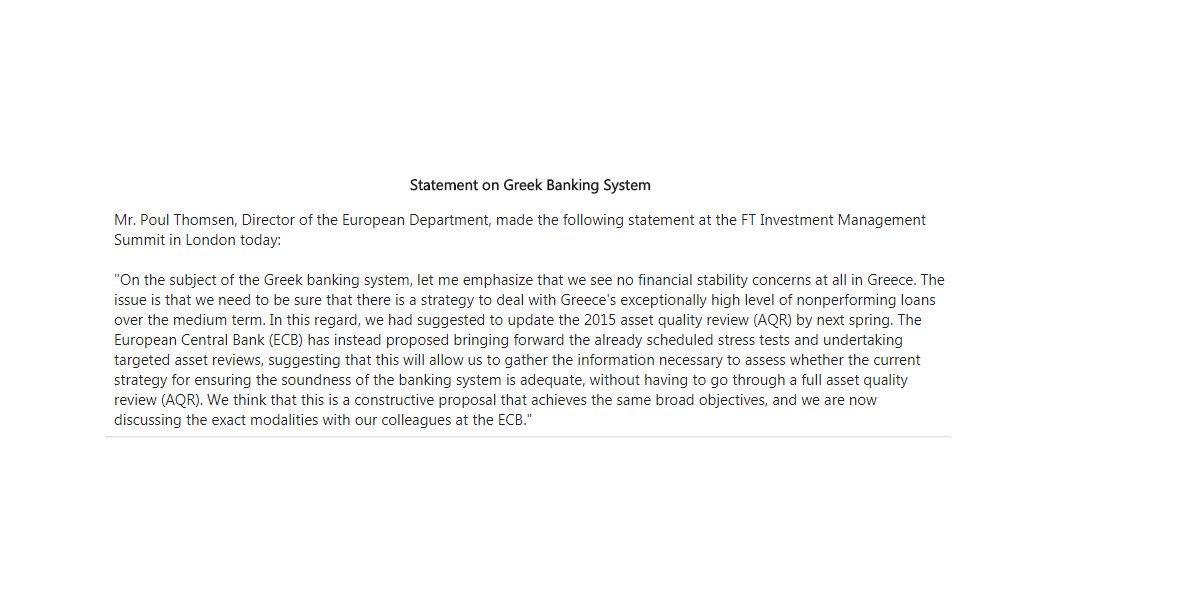 Thomsen's statement via @nasoskook
Finance Minister Euclid Tsakalotos said on Wednesday, the acceleration of stress test was necessary before Greece can exit the bailout program in August 2018. The stress tests are expected to begin in February and conclude by May.
Traders reacted positive to the news, turning green the banking index in Athens Stock Exchange with gains of +10%  by Thursday noon.
Uncertainty over the additional IMF demands set the Greek four systemic banks under immense pressure since the beginning of the week.