Torrential rains that started in the dawn of Wednesday and kept sending tons of water in Western Attica have flooded homes and shops in Mandra and Nea Peramos, the wider area of Megara as well as parts of the old and the new Athens-Corinth highway. Two elderly lost their lives in the floods, two elderly women and one truck driver were injured. One more dead man was found later.
More than 15 people have been rescued. Several homes are without electricity and water supply.
Two elderly over 80 years old died in Magoula and two elderly women with hypothermia were transferred to hospital.
State broadcaster ERT initially reported said that an elderly woman had stepped out of her home and was swept away by the rushing waters. Her body was found later. Later, media reported that the 80-year-old woman was trapped inside her home when rushing water and rubble coming down from the mountain flooded her home.
The second victim is an 89-year-old man who was drowned in his basement home. He was also living in the same area as the first victim.
One man aged 65 years old was found dead in the area between Mandra and Villia around noon time.
Unconfirmed reports speak of a fourth dead. A 50-year-old man has been missing since 4 o' clock in the morning, state ERT TV reported, adding that "an unknown number of people have been reported as missing." A little later, media reported that the man was found dead.
One truck driver on the old highway was injured and has been transferred to the hospitals.
The rushing waters coming down from the mountains blocked roads, swept away vehicles, flooded homes and shops, damaged houses and households.
In some areas the water has reached a height of 1.5-2 meters.
Deputy governor of West Attica, Giorgos Vasileiou, told ERT  "the Niagara Falls are coming down from the mountain" adding "the only good thing is that it is not raining right now."
The floods turned Nea Peramos was turned into a lake of mud.
Tons of mud and debris/rubble came down from the surrounding mountains and reached into the sea. On the way to the sea, the rubble swept away everything on its path.
Video: rushing waters swallow a car – via ANT1
The floods trapped dozens of drivers in their cars.
There are fears that there may be more victims.

Several vehicles and a KTEL bus were trapped after 8 o' clock in the morning under a bridge in the Thriasio exit of the new national highway Athens-Corinth (Attica Odos), leading to Magoula.
The intercity bus was stuck under the bridge.
Twelve passengers and the driver in panic were reportedly calling for help. Fire fighters broke the windows and evacuated the people.
Trapped were also several vehicles after 8 o' clock in the morning
Fire brigades, special rescue teams, traffic police and municipality workers are operating in the area and rescuers are trying to rescue residents and drivers.

A wall of the factory of Johnson & Johnson in Mandra collapsed as the waters rushed through the area.
The mayor of Megara told media that the whole town was under water and mud.
So far, the Fire Service has received more than 350 calls to pump water and rescue drivers and passengers from cats trapped in the floods.
Schools closed in Mandra, Magoula and Nea Peramos.
The Fire Service has urged motorists to avoid the area.
Municipalities of Mandra, Magoula, Nea Peramos, Elefsina have submitted requests to have their areas declared in State of Emergency.
Some driver climbed on top of their vehicle.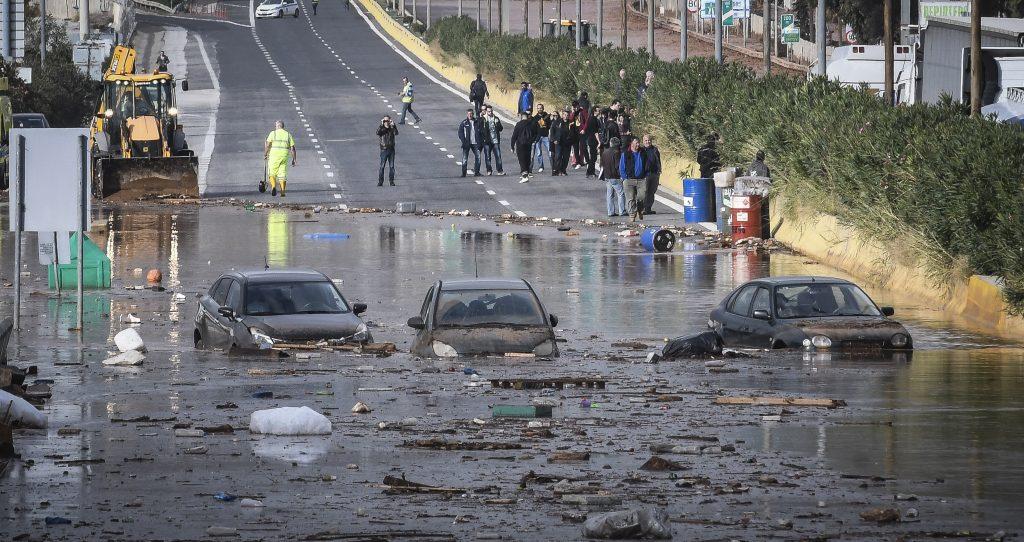 Some reportedly remain trapped since 7:30 – 8 o' clock in the morning.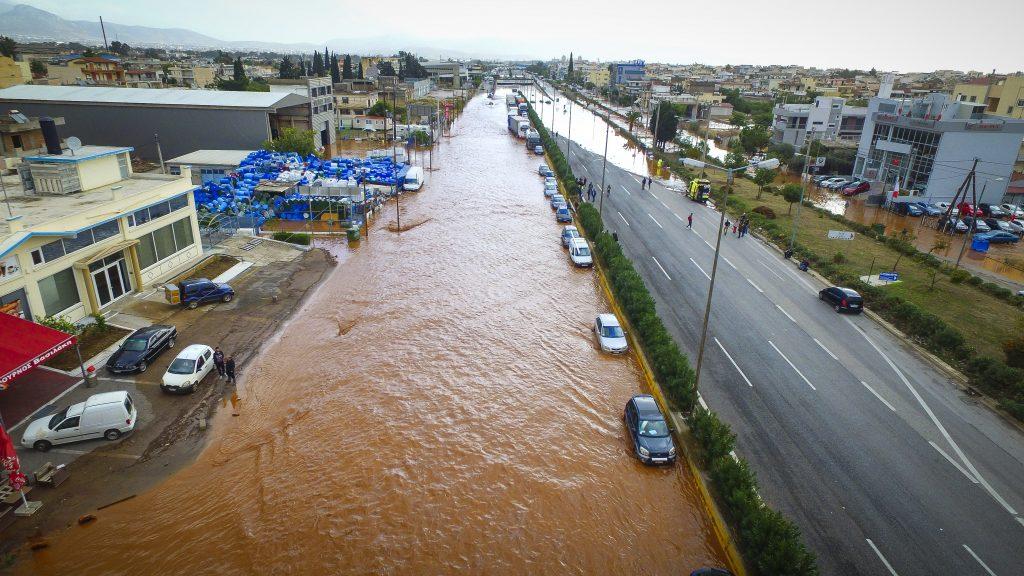 Main roads and highways leading to the area from Athens are blocked with long traffic jams. Skai TV reported that motorists need two hours to cover 2km.
What is becoming clear is that it was not so much the torrential rains that caused this unprecedented disaster but the tons of water coming from the mountain.
For the time being, there are two major questions to address officials:
1.-How is it possible that tons of water come down from the mountain and why no anti-floods measures were taken?
2.-How could some parts of the new highways be flooded?
There is a weather warning for the area, as new rain- and thunderstorms are expected to strike Athens and West Attica as of Wednesday night.
⇒ Read KTG's latest report on floods: Seven people die, several missing in West Attica floods, dramatic rescue operations
In the meantime, the death toll reached 15 by 6:30 Wednesday afternoon. Three missing, 13 injuries. PM Alexis Tsipras declared 'national mourning'.