Men, women and children, some 60 refugees and migrants, have gathered in downtown of Thessaloniki awaiting for more people to join them in their protest march to Greece's northern border with the Former Yugoslav Republic of Macedonia (FYROM).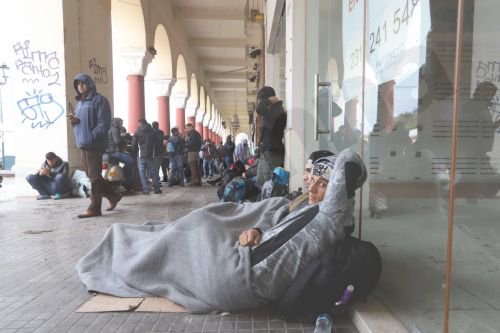 The first tents were set up and the first sleeping bags and blankets were spread on the pavements already on Wednesday morning in Aristotelous Square in the center of the city in Northern Greece.
They said, they followed the call for a protest march to the borders.
The call urging them to protest their inability to move to other European countries was spread through social media, the initiative organizers are not known.
Majority of protesters were so far from Syria, Iraq and Iran.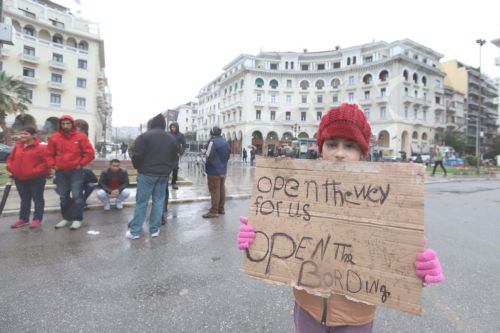 Some arrived last night from refugee camps in Athens and other regions on the Greek mainland.
Speaking to local media thestival.gr, refugees said they had come from Athens and take part in this protest due to "the unfavorable living conditions in Greece" and that "they will move through Skopje to countries of Northern Europe."
They noted that they would stay in Thessaloniki maybe until tomorrow, as they are waiting for refugees from other accommodation facilities in the city to join them.
Wednesday noon, one asylum seeker attempted to set himself on fire. The man from Iraq was holding a bottle with fuel. Other refugees managed to hinder him from spreading the liquid on his clothes and set himself alite.
The people complained about the living conditions and the health care. "You ask for a health appointment and you get one after four months," a refugee from Iraq said adding "it is like prison here, we want respect, we are not animals."
According to latest information, they plan to start marching at 07:30 p.m. on Wednesday.
More than 62,000 of refugees and migrants are stuck in Greece after countries along the so-called Balkan Route closed their borders in February 2016. Asylum procedures are slowly moving on a turtle pace and asylum seekers are losing their patience.
PS I hope these poor people will not be exposed to rain and cold hoping they will be able to cross the border and reach any other European or Balkan country except Greece.