Anarchists threw red paint and wrote slogans at the walls of the house of Mikis Theodorakis in the area of Acropolis on Saturday afternoon. The famous musician is the key note speaker of the Macedonia-protest rally, where hundreds of thousands of Greeks are expected to join their voices against a compound name of the Former Yugoslav Republic of Macedonia containing the term "Macedonia."
"Your story begins on the mountains and ends in the national swamp of Syntagma" the anarchists wrote with reference to the communist and left past of the musician. They signed with the symbol of anarchy.
There were no detentions.
In a statement uploaded on his website short after the attack, Mikis Theodorakis said that he is not intimidated by the threats ahead of the protest.
" I am calm and ready," Theodorakis told journalists and call on Greeks to "increase their will, anger, determination and impetuosity."
Despite several health issues the 92-year-old musician has promised to speak at the Macedonia protest scheduled to start at 2 o' clock Sunday noon at Syntagma square in front of the Parliament in downtown Athens.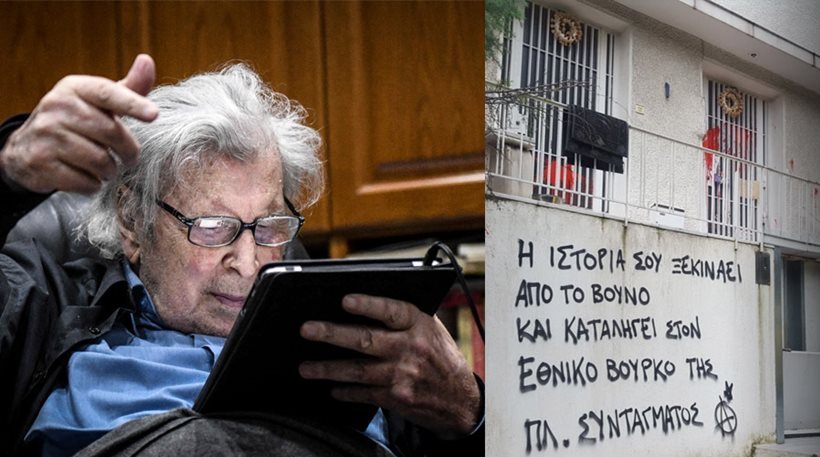 A special installation was fitted at the speakers' stage so that the musician and former left- and right-wing politician can reach with his wheelchair.
Greeks seem to be divided in two fronts as to whether Macedonia will be included in FYROM's new name.  Left-wing SYRIZA looks determined to find a compromise solution to end the 26-year-old name dispute, its junior coalition partner, nationalist Independent Greek as well as the  conservative opposition are vehemently against a solution with the government's proposal.