Two villages and one monastery have been evacuated as a big wildfire has been raging on the island of Evia since the afternoon on Sunday.
The fire broke out in a forest area unassailable to the Fire Service it was initially only aerial means set against the fire.
As the wind was blowing with intensity of more than 5 Beaufort, the wildfire quickly went out of control.
The village of Kontodespoti and large part of Stavros were evacuated and the fire moved to the south towards the Village of Psachna, some 15 km north of Halkida.
"The fire has surrounded the village" a local from Kontodespoti told private ANT1 TV  adidng "but the houses were not burned, maybe because we celebrate the dormition of Virgin Mary on August 15."
Also the Monastery Gorgoepikoou in Makrymalli has been evacuated.
via newsit.gr
A total of 250 people have been evacuated and remain away still on Sunday evening.
Authorities have closed to traffic several roads and ask motorists to comply with instructions.
Although there is no clear picture so far, locals told media that several barns and farmer houses have been burned down.
Additional forces have been sent from other areas to assist firefighter. Currently there are 171 firefighter operating with 57 trucks, 40 people from the Disaster units. The aerial means are five helicopters, six Canadair and two of PZL type.
Aerial means can flight only until the last daylight.
According to latest information, the wildfire is nearing Psachna.

Reason of the wildfire is so far unknown. It is worth noting that Evia was among the Greek regions for which the Civil Protections had issued a warning of Very High Risk of Fires.
Smoke above Athens via meteo.gr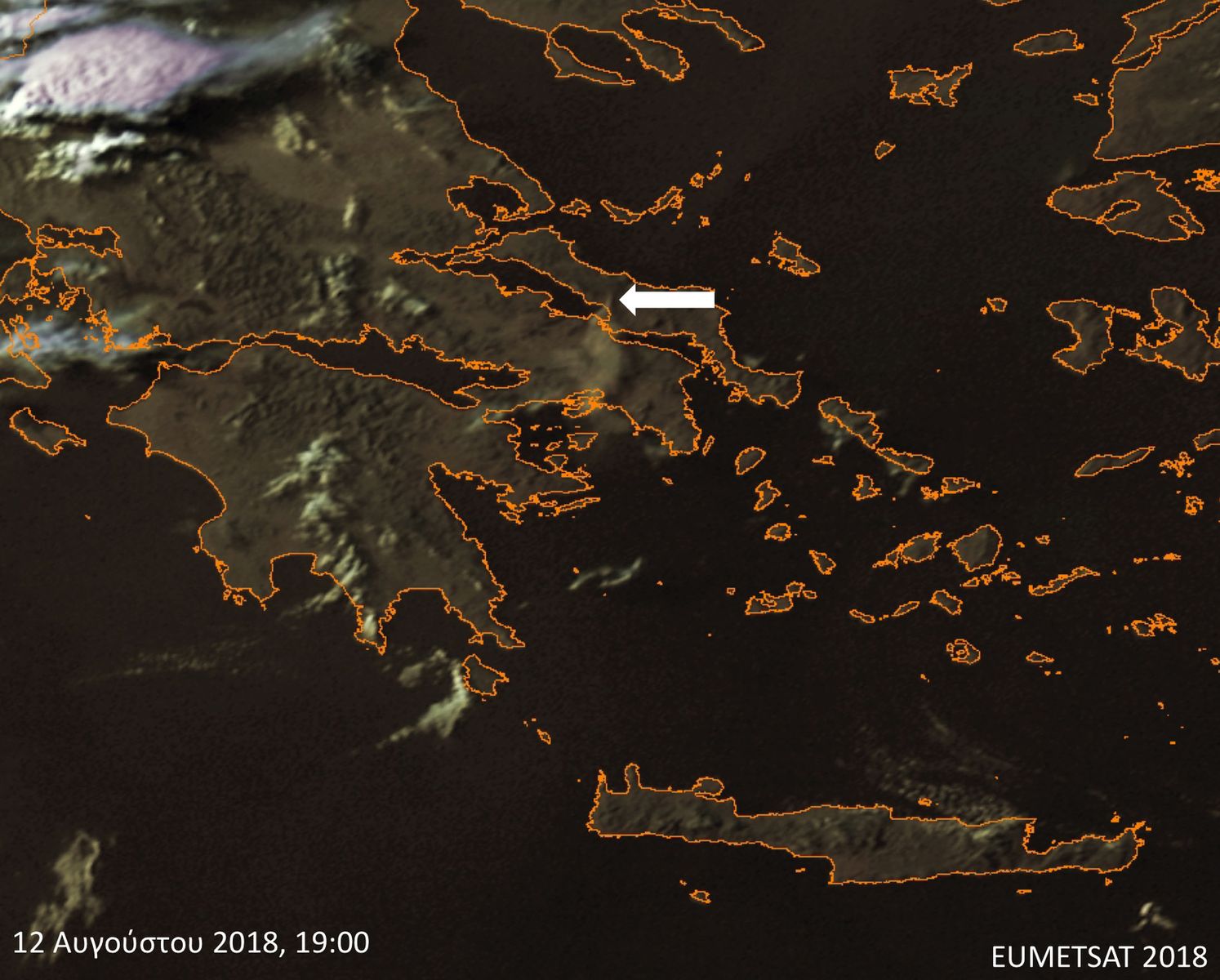 Strong winds brought smoke from the wildfire to Athens, 60 km away.
Short before sunset a thick grey-ring was surrounding the horizon above Athens, mostly in the from North to the West.
The wildfire in Evia, East of the Attica Prefecture, occurs as Greece is trying to recover from the deadly wildfires of July that cost the lives to 94 people.