Greece's health authorities announced on Thursday 3,407 coronavirus cases and 34 deaths in the past 24 hours. The number of intubated Covid-patients in hospitals Intensive Care Units had slightly decreased to 347.
At the Live Briefing on Thursday, health experts pointed out at the dramatic increase of infections in northern Greece, saying characteristically that there are currently 3,200 active cases in Thessaloniki.
ICU occupancy in the public hospitals of northern Greece is over 95%. The majority of  those hospitalized is not vaccinated, they said.
Regarding the parades scheduled on National Day October 28, the experts recommended the use of masks for all, vaccinated and not vaccinated citizens, even if the events take place outdoors, as there is crowding
Official data by EODY October 21
Tests in last 24 hours: PCR — RAPID —
Positivity PCR + Rapid: —%
Since the pandemic began, Greece has confirmed 707,5867 infections (daily change: +0.5%). Of the confirmed cases of the last 7 days, 144 infections are related to travel from abroad and 2,646 to other confirmed cases.
Rolling average last 7 days: 2647 (2272 previous week)
Rt: 1.08 from 1.03 last week
34 Covid-deaths recorded in the last 24 hours, brought the total of pandemic victims to 15,519.  Of these, 95.3 had an underlying condition and/or were aged 70 or over.
A total of 347 patients are intubated in hospitals ICUs, from 351 a day earlier. Their median age is 66 years, 63.7% are men.  81.3% have an underlying condition and/or are aged 70 or over.
Age group:
0-17: 0
18-39: 9
40-64: 148
65+:    190
Of the total 347:
306 (88.18%) are unvaccinated or partly vaccinated
41 (11.82%) are fully vaccinated.
3,270 intubated Covid-patients have been discharged from hospital ICUs sine the start of the pandemic.
220 Covid-19 patients were admitted to hospital in the last 24 hours (daily change: +2.29%). The average admission of patients with Covid-19 to hospitals over the last 7 days was 207.
The median age of new infections is 39 years (range: 0.2 to 106 years), while the median age of the deceased is 78 (range: 0.2 to 106 years).
Vaccinations
Stand Oct 20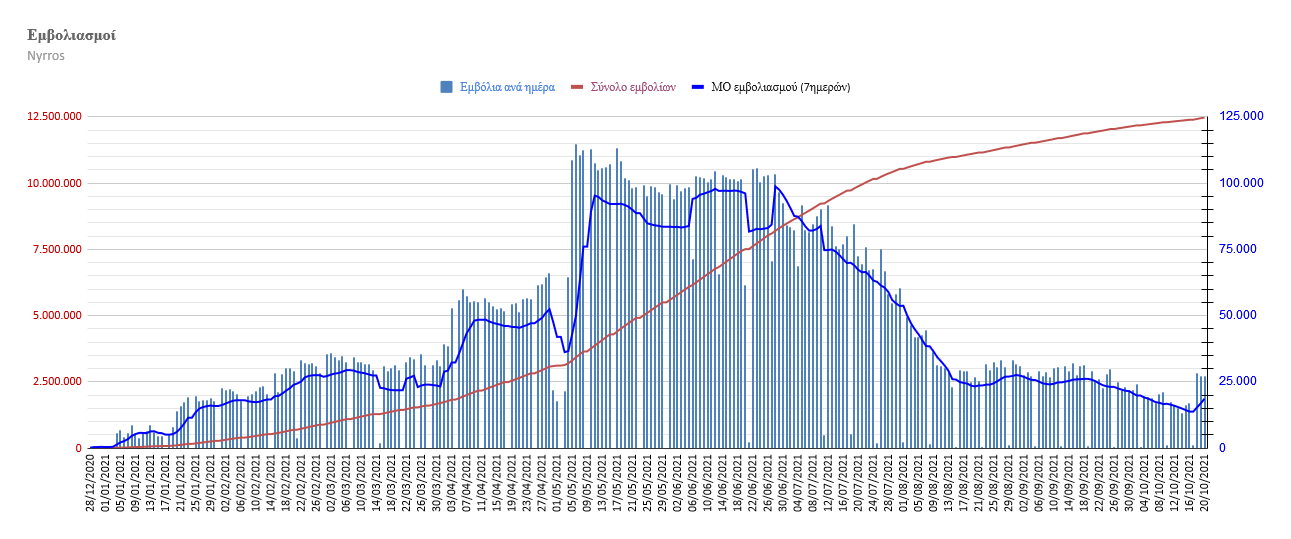 Vaccinated citizens with at least one dose incl full vaccinated & booster shots: 63%
Fully vaccinated: 60.6%
Booster shot since Sept 13: 244,723
Geographic distribution October 21
Of the 3,407 new coronavirus cases, 10 were detected at the country's entry gates and 10 among travelers already in Greece.
The remaining cases are:
703 Attica
496  Thessaloniki
258 Larissa
136 Magnisia
126 Achaia
123 Imathia
More regions alphabetically in Greek here.
76 under investigation
MAPs to compare: coronavirus infections in the last 14 days
Daily bulletin EODY here
More information on coronavirus in Greece here.