Pope Francis arrived at the international airport in Athens on Saturday morning. The leader of the Roman-Catholic Church arrived with a special Aegean flight from Cyprus and was welcomed by Foreign Minister Nikos Dendias as well as four children as a symbol for purity and members of the Catholic Church.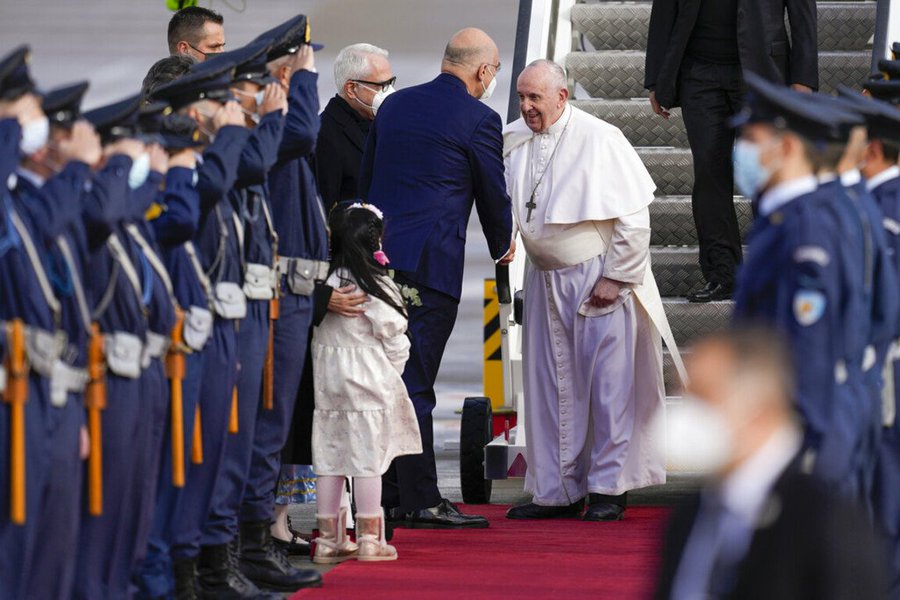 Following a private meeting with Dendias at the airport and the official welcoming ceremony attended by high-ranking clergy of the Catholic and Greek-Orthodox Churches, the Pope headed to the Presidential Palace where he was welcome by the President of the Hellenic Republic Katerina Sakellaropoulou.
There he will have also meetings with Prime Minister Kyriakos Mitsotakis and representatives of local authorities and the diplomatic corps
At 4 o' clock in the afternoon, the Pope will pay a ceremonial visit to the Archbishop of Athens and All Greece Ieronymos in the Archdiocese of Athens.
Later he will meet with clergy and members of Catholic Church orders.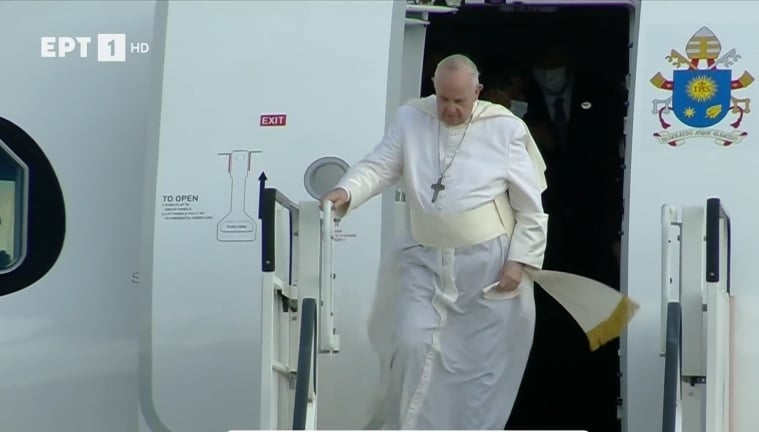 Tomorrow Sunday morning, Pope Francis will fly to the island of Lesvos where he will visit refugees at the "Reception and Identification Center" Kara Tepe at 10:10 a.m.. Refugees is an issue very dear to Pope Francis. He visited the island at the peak of the refugee crisis in 2016 and offered shelter in the Vatican to three Syrian families who flew with the papal airplane to Italy.
It is the Lord Jesus whom we meet in the faces of our marginalized and discarded brothers and sisters, in the migrant who is despised, rejected, put in a cage, but also in the migrant journeying toward hope, toward a better human life. #ApostolicJourney

— Pope Francis (@Pontifex) December 3, 2021
Pope Francis will perform a Divine Liturgy at the Athens Concert Hall at 4 p.m. on Sunday and meet again with Archbishop Ieronymos.
The 3-day visit will conclude on Monday will meetings with the Parliament Speaker, the leader of main opposition SYRIZA Alexis Tsipras and students from Catholic schools in Athens..
He will depart at 11:15 p.m.
Pope Francis' five-day visit to predominantly Orthodox Cyprus and Greece is largely focused on the plight of migrants as Europe hardens its border control policies. Talks on Saturday will turn to an emerging alliance between the eastern and western branches of Christianity to face major global problems including climate change. Orthodox Churches are also seeking alliances as they are involved in a deepening dispute over the independence of the Ukrainian church which was historically governed by the Russian Orthodox Church. the associated press noted.
Draconian security measures, traffic disruption
The visit of Pope Francis takes place under draconian security measures with some 3,500 police officers deployed around the center of the Greek capital.
Public gatherings outdoors have been banned by Greek police 6 a.m. – 10 p.m. on Saturday, Dec 5.
Traffic will be halted on and off in downtown Athens on Saturday and Sunday due to the papal visit.
Police has announced traffic restrictions 1 p.m. – 8 p.m. on Sunday, Dec 5, in downtown Athens in the area between the metro stations "Evangelismos" and "Ambelokipoi."