Greece΄s health authorities announced on Thursday 4696 coronavirus cases and 96 Covid related deaths in past 24 hours. The number of intubated Covid-patients in hospitals has increased again to 692.
At the weekly Live Briefing on Thursday health experts expressed concern on the ongoing spread of the coronavirus in the country and warned of the regions with particularly high epidemiological burden.
Although infection cases are decreasing, the viral load remains high, something that is clearly seen from the Omicron variant, which is constantly presenting new cases.
14 new cases of the Omicron Variant were recorded today, pediatric professor Vana Papaevangelou said adding that  many more are expected to be detected and confirmed.
She predicted that the Omicron variant will soon prevail over the Delta also in Greece.
"We live in the shadow of the Omicron," she said characteristically.
Papaevangelou said that the three regions where the coronavirus spread seems uncontrollable are: Laconia, Lassithi and Lefkada.
According to media reports earlier, 3 Omicron cases have been were detected in Sparti, Laconia, south Peloponnese. All three patients had no connection to each other or had traveled abroad.
Official EODY data December 16
Tests in last 24 hours:
PCR 22,872 RAPID: 282,989
Positivity PCR+RAPID: 1.54%
Since the pandemic began, Greece has confirmed 1,022,141 infections (daily change 0.5%). In the confirmed cases of the last 7 days, 151 infections are related to travel from abroad and 3,116 to other confirmed cases.
Rolling average 4,592 from 5,465 last week.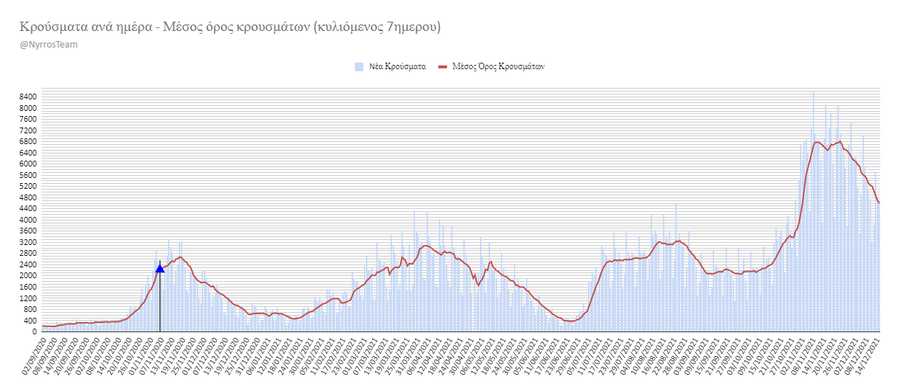 Rt 0.93 from 1.07 last week
96 deaths recorded in the last 24 hours, brought the total of pandemic victims to 19,651*. Of these, 95.3% had an underlying condition and/or were aged 70 or over.
* 2 deaths from previous days were added on EODY today's data.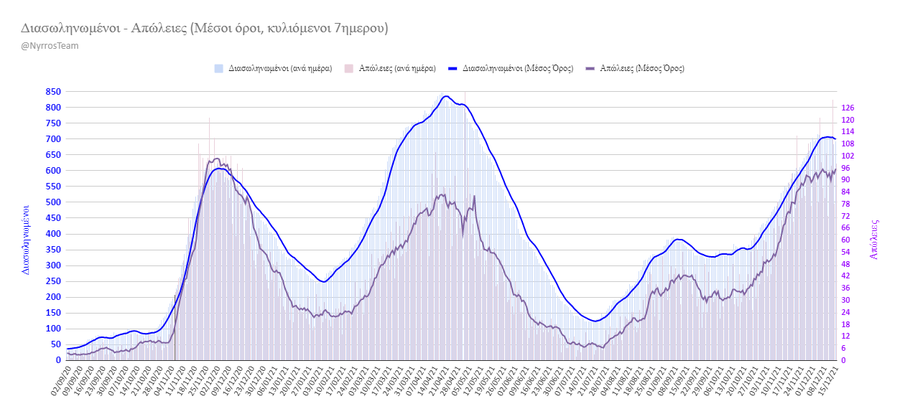 692 patients are on ventilators in hospitals, from 683 a day earlier. Their median age is 64 years and 81.2% have an underlying condition and/or are aged 70 or over.
Of the total in intubation, 570 (82.377%) are unvaccinated or partly vaccinated and 122 (17.63%) are fully vaccinated.
3,645 Covid-patients have been discharged from ICUs since the pandemic began.
398 Covid-19 patients were admitted to hospital in the last 24 hours (daily change: +12.75%). The average admission of patients with Covid-19 to hospitals over the last 7 days was 364.
The median age of new infections is 38 years (range: 0.2 to 106 years), while the median age of the deceased is 78 (range: 0.2 to 106 years).
Vaccinations
Stand Dec 15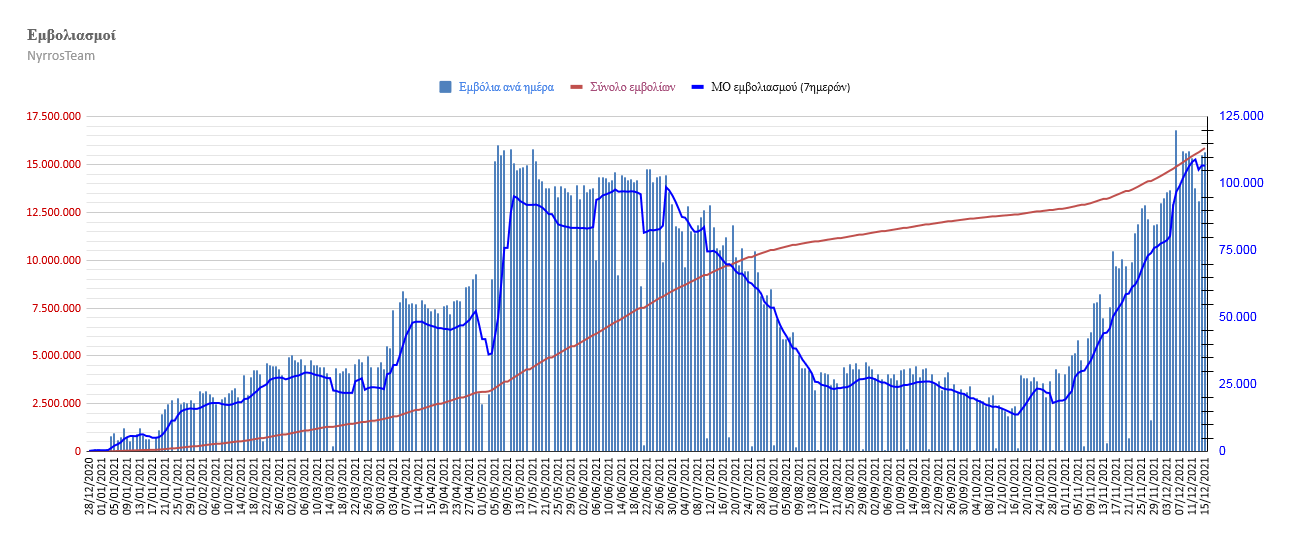 Partly vaccinated 69.9%
Fully vaccinated 65.3%
Booster shot since Sept 13: 2,502,762
Geographic distribution December 16
Of the 4,696 new coronavirus cases, 10 were detected at the entry gates of the country and 19 among travelers already in Greece.
The remaining cases are:
1464 Attica
797 Thessaloniki
129 Achaia
120 Heraklio
110 Serres
101 Kozani
94 Larissa
86 Evia 84 Chania
Each 83 Imathia, Corfu
70 Lesvos
69 Fthiotida 67 Ioannina
Each 64 Magnisia, Pieria
61 Laconia
59 Viotia 57 Pella 55 Messinia
49 Ilia 47 Karditsa 45 Kilkis
Each 43 Argolida, Evros
42 Trikala
Each 41 Xanthi, Rodopi
40 Corinth
38 Rhodes 37 Florina 34 Kavala 32 Rethymno 31 Halkidiki 30 Arta
Each 25 Arcadia, Drama
23 Lasithi 21 Preveza
18 Kastoria 12 Thesprotia 11 Mykonos
Each 10 Grevena, Lefkada, Fokida
8 Evrytania
Each 6 Kos, Zakynthos
4 Kefalonia
Each 3 Kalymnos, Milos, Limnos, Samos
Each 2 Syros, Paros, Chios
Each 1 Tinos, Naxos, Sporades
96 under investigation
MAP infections per 100,000 population based on last 14 days
Dec 16: Same stand as Dec 14
Dec 15: Same stand as Dec 14
EODY daily bulletin in Greek
here
.
More information on coronavirus in Greece on
KTG here
.