Daily coronavirus cases broke on Monday an all times negative record since the pandemic start: 9,284 infection cases confirmed in the past 24 hours. Health authorities announced also 66 Covid-related deaths in the last 24 hours. The number of intubated Covid-patients in hospitals increased further to 629.
Note that due to Christmas weekend, the number of PCR and Rapid tests carried out in last 24 hours is almost at 1/3 of the number on normal working days.
Also on Monday Greece announced a new package of measures against the spread of Covid-19 that will go into force on January 3. 2022. More details on KTG here.
Official EODY data December 27
Tests in last 24 hours:
PCR: 10,214  RAPID: 84,933

Positivity PCR+RAPID: 9.76%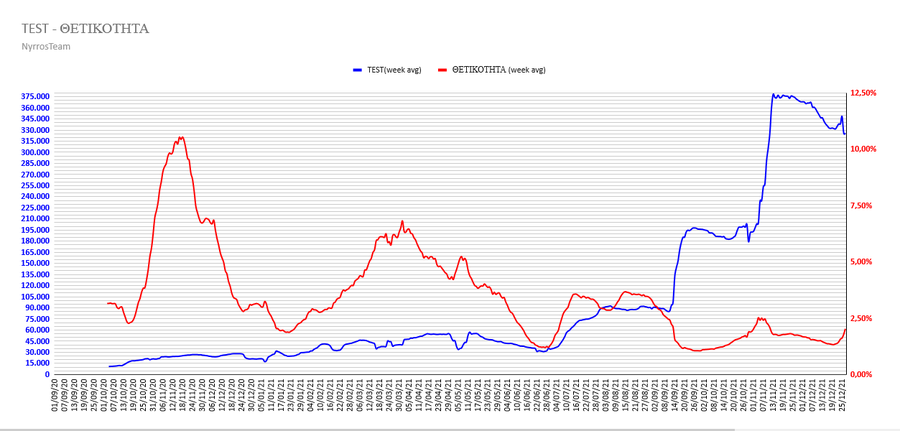 Since the pandemic began, Greece has confirmed 1,084,153 infections (daily change +0.9%). In the confirmed cases of the last 7 days, 192 infections are related to travel from abroad and 1,838 to other confirmed cases.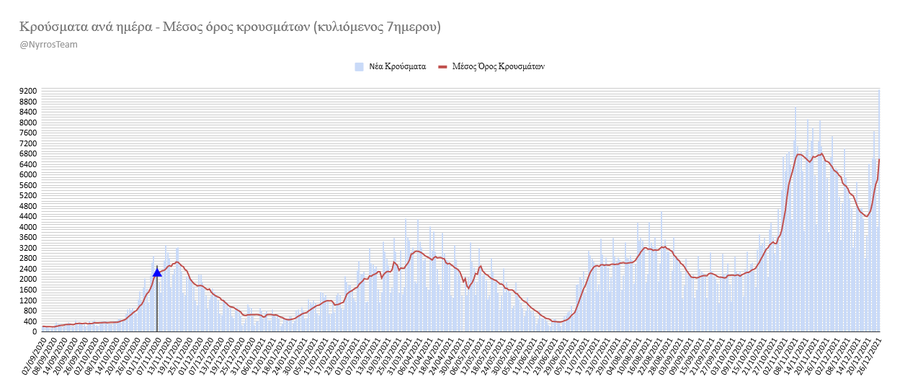 Rolling average 6,615 from 4,409 last week.
Rt 0.96 from 0,93 last week
66 deaths recorded in the last 24 hours, brought the total of pandemic victims to 20,496*. Of these, 95.2% had an underlying condition and/or were aged 70 or over.
*1 death from previous days added today.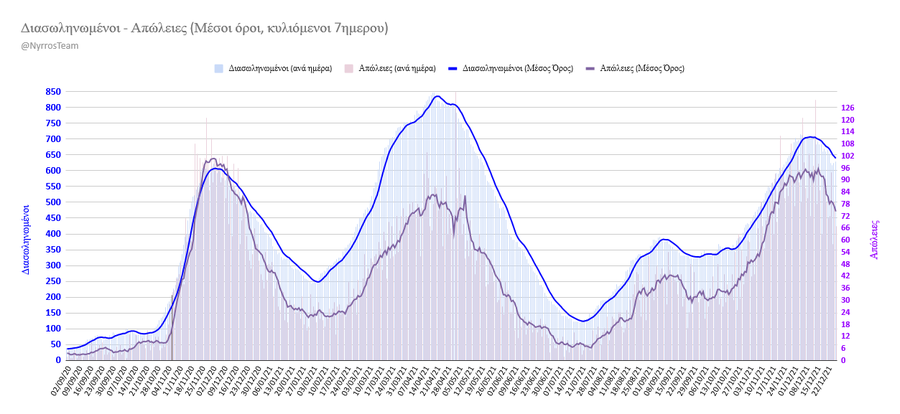 629 patients are on ventilators in hospitals, from 624 a day earlier. Their median age is 63 years and 79.7% have an underlying condition and/or are aged 70 or over.
Of the total in intubation, 533 (84.74%) are unvaccinated or partly vaccinated and 96 (15.26%) are fully vaccinated.
3,721 Covid-patients have been discharged from ICUs since the pandemic began.
289 Covid-19 patients were admitted to hospital in the last 24 hours (daily change: -4.3%). The average admission of patients with Covid-19 to hospitals over the last 7 days was 317.
The median age of new infections is 38 years (range: 0.2 to 106 years), while the median age of the deceased is 78 (range: 0.2 to 106 years).
Vaccinations
Stand Dec 26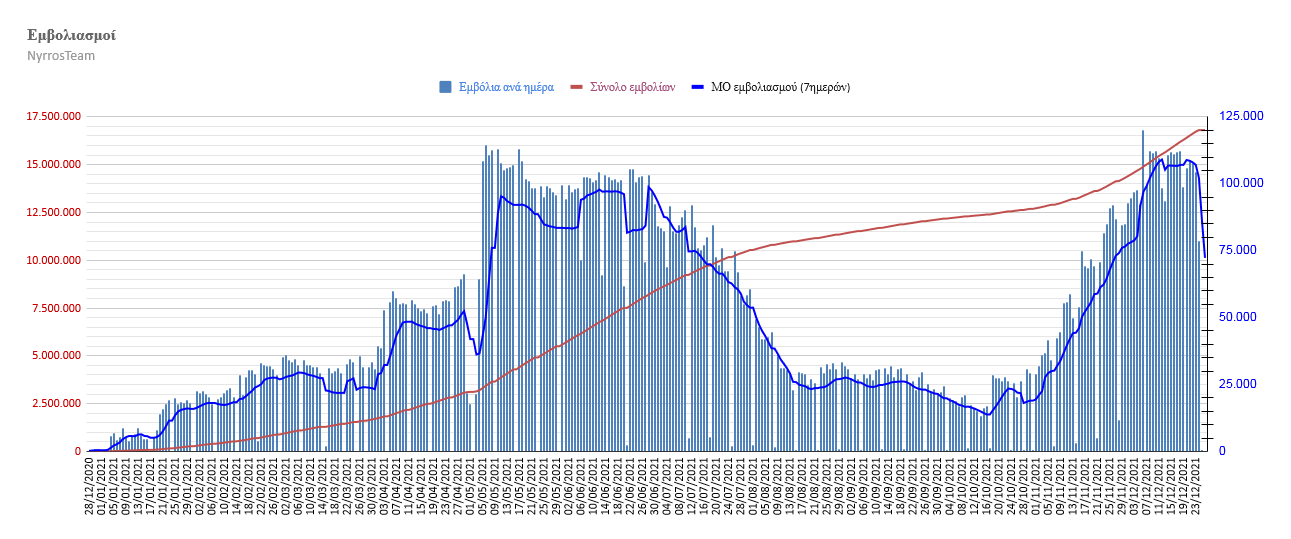 Partly vaccinated 71.1%
Fully vaccinated 66.4%
Booster shot since Sept 13: 3,202,484

Geographic distribution December 27
Of the 9,284 new coronavirus cases, 11 were detected at the entry gates of the country and 24 among travelers already in Greece.
The remaining cases are:
4,038 Attica (!)
1,048 Thessaloniki
Achaia 231
Heraklio 221
Karditsa 190
Kozani 180
165 Larissa
Chania 164
Pieria 135
Aitoloakarnania 127
Magnisia 121
Florina 120
Evia 114
Corinth 111
Viotia 105
Ioannina 101
Regions with 2- or 1-digit infections
329 under investigation
MAP infections per 100,000 population based on last 14 days
Dec 27
Dec 26
EODY daily bulletin in Greek
here
.
More information on coronavirus in Greece on
KTG here
.