Greece's Civil Protection warned of the dangerous weather phenomena and the risk of floods. In a live broadcast briefing early Thursday evening, the Civil Protection warned citizens in several regions of the country.
Secretary general secretary of Civil Protection, Vassilis Papageorgiou said that the most dangerous 24-hour period is expected tomorrow, Friday, with the intense weather phenomena, torrential rainfalls and thunderstorms, to mainly affect  Epirus and the Ionian islands, Thessaly,  Sporades and North Evia.
"The most dangerous phenomena with torrential rains and thunderstorms will occur tomorrow, Friday, June 10. Severe floods can occur in many cities and settlements of the Western mainland and part of the Ionian Sea, northwestern Peloponnese and Thessaly up to Pieria and the Sporades.," he said.
"Significant floods with overflowing rivers and streams are very likely to occur mainly in the wider region of Thessaly due to the expected long duration of rapid rains," Papageorgiou stressed.
He stated: "Based on the forecast of the National Meteorological Service, dangerous weather phenomena are forecast from today, Thursday, June 9, until Monday, June 13, 2022..
Kozani, western Macedonia, Thursday evening via kozan.gr.
According to local media kozanilife, motorists had to be evacuated as their vehicles were trapped in the waters and that many streets flooded due to unclean water sewers and a big volume of rainwater.
Atmospheric disturbance will affect a large part of Greece.
According to Civil Protection website:
The most dangerous phenomena, with rapid rains and thunderstorms, are forecast in the next 24 hours, Friday, June 10, in the Ionian Islands, Epirus, western Sterea, western Peloponnese, Macedonia, Thrace and the islands of the northern Aegean, Thessaly, the Sporades, eastern Sterea and northern Evia.
Flashfloods can occur in many cities and towns. Mainly in the western Sterea, including part of the Ionian islands, but also in the northwestern Peloponnese up to Pieria and the Sporades. Especially in Thessaly where long-term rainfall is expected.
The competent state services, as well as the Regions and the Municipalities of the country have been informed about all this. We are all on alert in order to deal immediately with the effects of severe weather.
The Civil Protection makes strong recommendations such as:
Avoid any unnecessary movement during the occurrence of dangerous weather phenomena
Never, for any reason, cross torrents, streams or flooded roads, on foot or by vehicle. We repeat it, for no reason!
Citizens should follow the relevant announcements in the media and always follow the instructions of the Authorities.
Alert messages sms via emergency phoneline <112> were sent to thousands of citizens in the areas forecast to be worst hit by the bad weather front Genesis.   the warning is for 24 hours.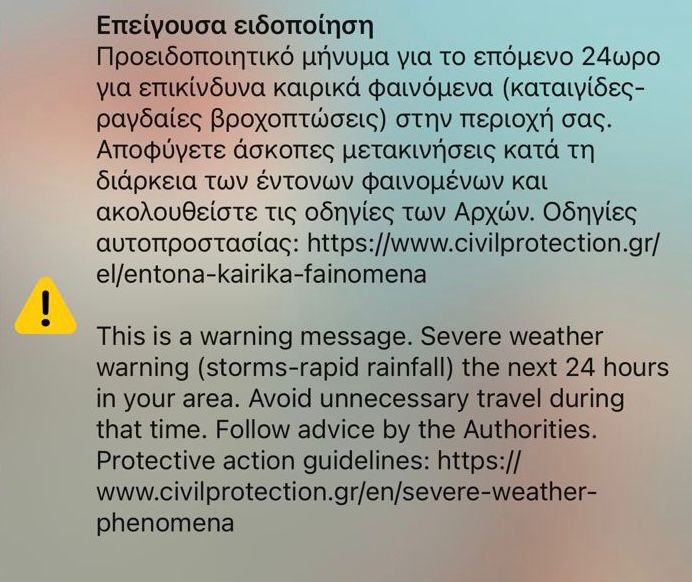 Analytical weather warning by Greece's National Meteorological Service EMY here in English.