39-year-old Thymios B. was located alive, 46 days after he went missing from the town of Pyrgos, in south Peloponnese. The vulnerable victim of a brutal bullying by a group of local thugs went missing on May 11, apparently unable to cope anymore with being the target of young thugs, while authorities, social services and the rest of the society displayed an exemplary apathy towards a social issue and did nothing to protect him.
His disappearance and the authorities' indifference triggered an outrage in the Greek internet society, many feared of his life.
Thymios was located on Saturday afternoon close to the area from which he went missing. He had been hiding in an abandoned house with lots of green in the garden to avoid been easily seen.
Based on the regulations of Silver Alert, police took him to the station and then to the hospital for checks.
He is a fairly good health, tests results showed; he is to be examined by a psychiatrist, based on the required procedures.
According to media, Thymios told police that he was not aware that there was a Silver Alert issued and that he would go out to the area square at night.
The mayor of Pyrgos rushed to meet the man and promised that he receives aid from the Municipality social Services as well as housing and a temporary job at the Municipality.
Police received a tip about Thymios' whereabouts early Saturday morning.
According to ANT1, he refused to file a lawsuit against the bullies who terrorized him for several months and who have been meanwhile identified.
Several years ago, Thymios suffered serious face and head injuries during a traffic accident and he has been wearing a mask since then, in an effort to avoid stigma, mockery and bullying.
But small, primitive, ignorant and uneducated societies do not tolerate the different; they mock it, they isolate it, they bully it and "kill" it.
The local thugs bullied Thymios brutally and defamed him publicly with the help of some local and even national media that reproduced the defamation.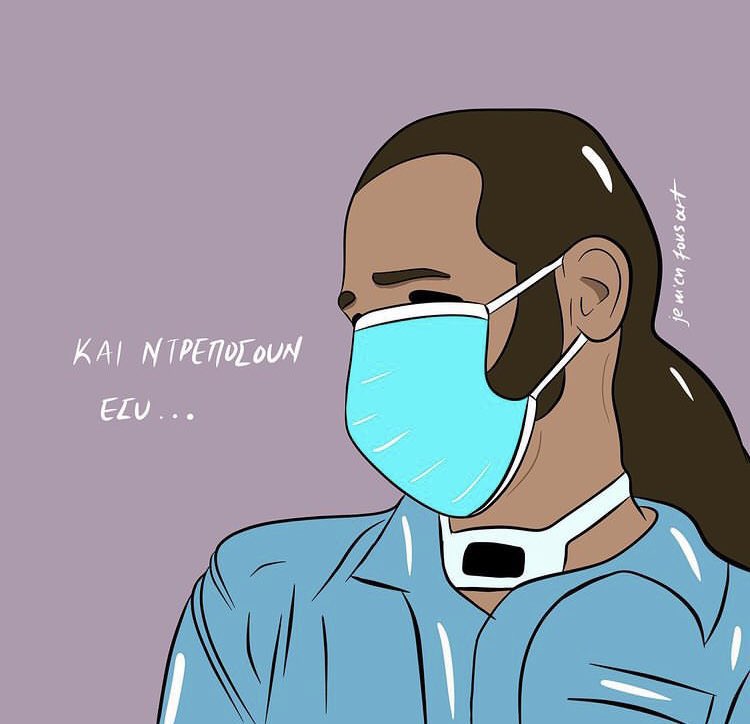 Some artist – no name vailable, apologies! – created this poster about Thymios and the caption "and it was you who were ashamed…"