Greece's National Meteorological Service EMY issued an emergency bulletin on Monday warning of a heatwave with soaring temperatures that will reach 40 to 41 degrees Celsius in the coming days. At the same there is a warning for rainstorms on the hottest day of the week.
According to EMY, maximum temperatures are forecast to reach locally up to 40°-41° Celsius, and in some areas even 44C as the EMY chart below shows. The minimum temperatures will not be particularly high.
Coming from Africa, the heat wave is forecast to strike Greece on Wednesday, June 22, with 38°-39° C and reach 40°-41° C the following days.
Η πρόγνωση του καιρού από Δευτέρα 20 Ιουνίου 2022 https://t.co/iuJpo9qctAη-πρόγνωση-του-καιρού-από-δευτέρα-20-ιου/ μέσω @KolydasT pic.twitter.com/s0PJ31QTmL

— Theodoros Kolydas (@KolydasT) June 19, 2022
EMY HEATWAVE FORECAST ANALYTICALLY June 22-26, 20022
A. Mainland Greece inland
1. On Wednesday (22-06-2022) 35°-37° C and locally in the mainland East 38°-39° C.
2. On Thursday (23-06-2022) 36°-39° C and locally 40°-41° in Thessaly, eastern Sterea and central Macedonia.
3. On Friday (24-06-2022) and Saturday (25-06-2022) temperature will drop by 2 to 3 degrees and the maximum value will
reach 37°-38° C in central and the South, while it will not exceed 34°-35° C in the North.
4. On Sunday (26-06-2022) its new rise is forecast by the west
temperature.
B. Coastal areas and islands
1. Wednesday to Friday, June 22-24, temperature up to 33°-35° C with the exception of the Cyclades islands, where it is not expected to exceed 32° Celsius.
2. Saturday and Sunday, June 25-26, temperature in the Aegean islands will fall by 2 to 3 degrees, while in the Ionian Islands it will rise on Sunday.
C. Athens and Attica
The highest temperatures will be recorded on Wednesday and Thursday (June 22-23) and will reach 38°-39° C, while in coastal areas it will be 3-4 degrees lower.
will be 3 to 4 points lower.
Squalls
It is pointed out that on Thursday (23-06-2022) from the afternoon hours rainstorms accompanied by strong winds (bourinia) are forecast in Thrace and Macedonia, north and eastern Greece, as of the afternoon hours.
Maps indicative for temperatures June 21-25, 2022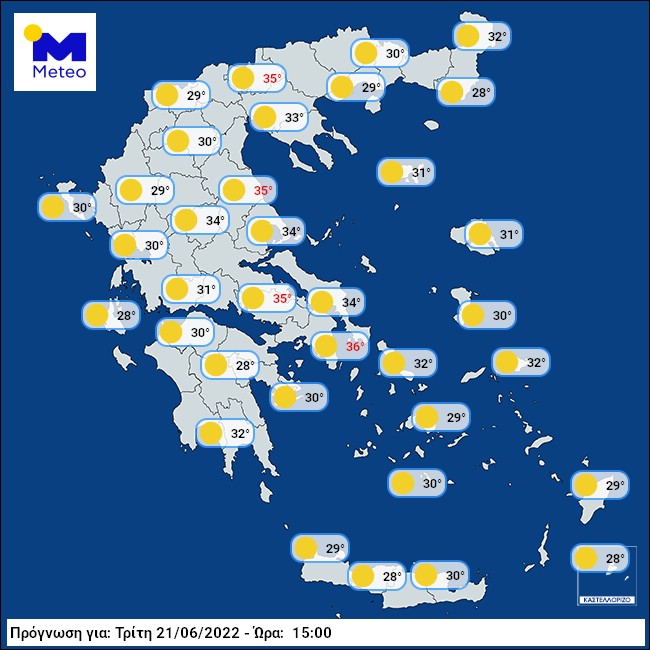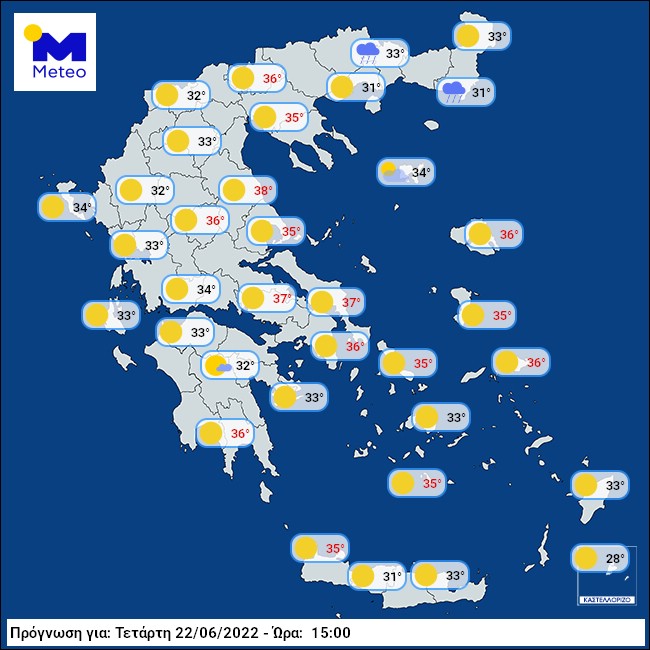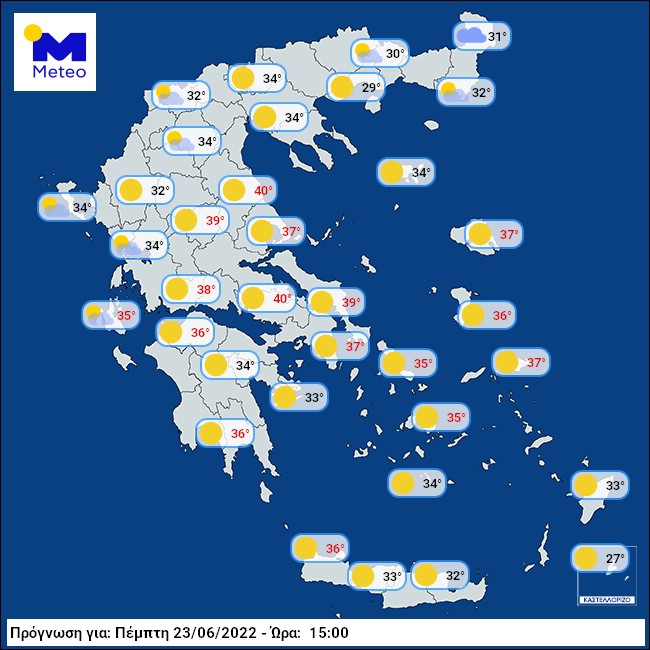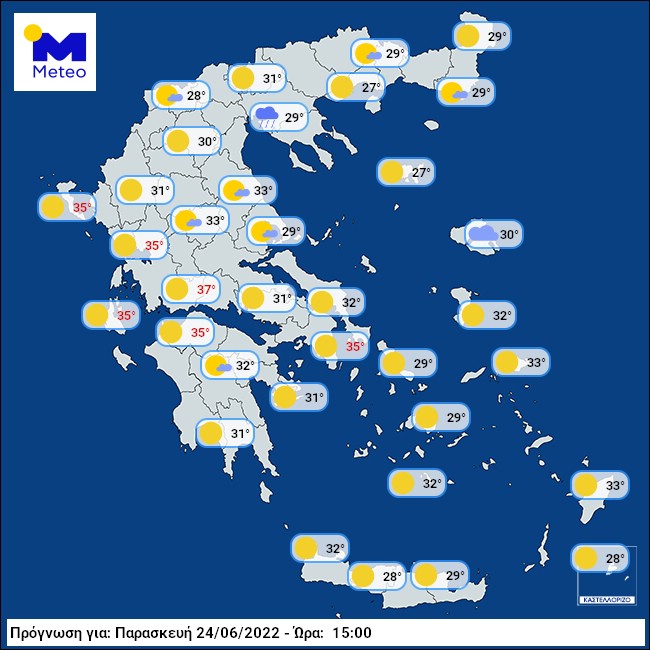 It is the first heatwave in summer 2022, while during the mini heat wave in May temperatures reached 38degrees Celsius.
PS Always have a bowl with fresh water for the strays. Please.