The General Secretariat of Greece's Civil Protection warned of increased risk of fires in at least five regions of the country for Sunday, July 3, 2022, while the very high risk of fires remains valid also on Monday, July 3-4, 2022.
Low humidity, dry tress and low vegetation and strong winds blowing with an average 5 Beaufort but reaching locally up to 8 and even 10 B are the factors that have set authorities on high alert.
Meteorologists had warned also of the very high risk of fires over the weekend.
Some municipalities like Kassandra, Sithonia and Aristotelis in Halkidiki banned traffic in certain areas, halkidikifocus.gr reported.
Fire brigades managed to extinguish wildfires in low vegetation in Paiania, Attica, and took the fire in Karystos, Evia, largely under control on Sunday afternoon.
However, a fire has broken out short after 3 p.m. in the forest area of the famous Porto Katsiki on the island of Lefkada.
Land and aerial means have been immediately mobilized, the Fire Service tweeted.
#Πυρκαγιά σε δασική έκταση στην περιοχή Πόρτο Κατσίκι Λευκάδας. Κινητοποιήθηκαν επίγειες και εναέριες δυνάμεις.

— Πυροσβεστικό Σώμα (@pyrosvestiki) July 3, 2022
According to latest information, the fire broke out in a difficult to access area of Porto Katsiki
Sunday, July 3
The areas at very high risk Level 4 (marked Orange) are the North Aegean (Lesvos, Chios, Samos, Ikaria), Attica (including the island of Kythira), Central Greece (Viotia, Evia), Peloponnese and Western Greece (Ilia, Achaia).
Several others regions including Halkidiki are marked Yellow indicating high risk, Level 3.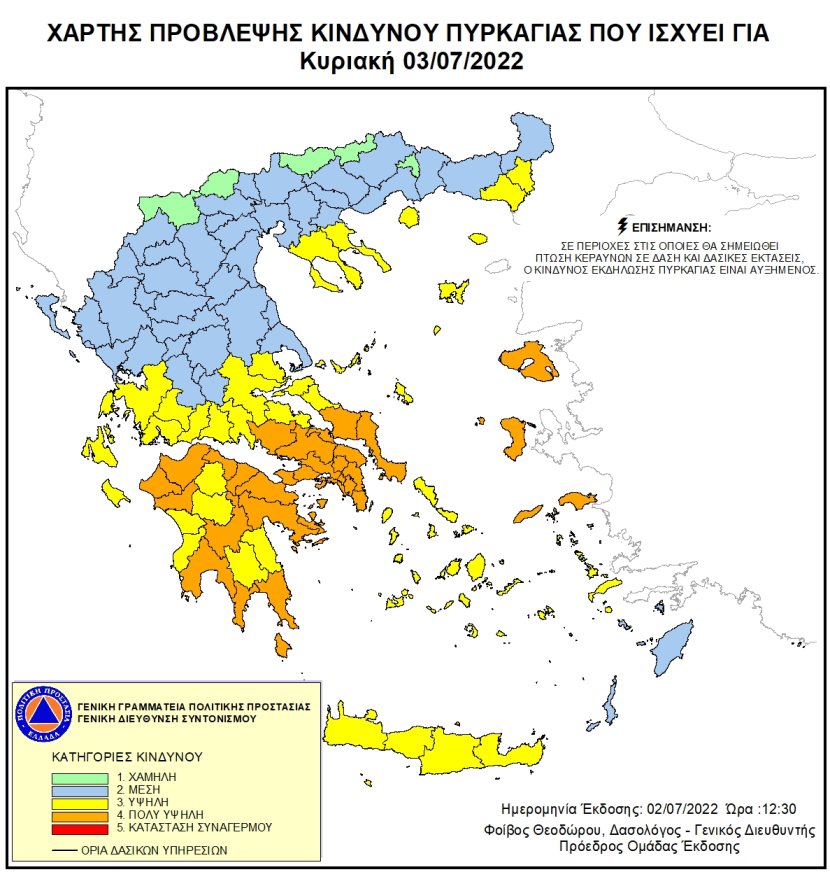 Monday, July 4.
At very high risk, Level 4, are Attica, Kythera, Viotia, Corinth, Argolida, Lakonia, islands of the eastern Aegean Sea.
At high risk, Level 3, are Evia, Fthiotida, Achaia, Ilia, Messinia and Arcadia, with the last four being in Peloponnese.
The Civil Protection calls on citizens to avoid any open-air activities that can cause a fire by negligence, such as burning dry grass and branches, using machines that create sparks – such as circular saws, welding devices – using outdoor grills, smoking bees, and throwing lit cigarettes.