Dangerous conditions for the start of wildfires are expected to prevail in several regions of Greece over the weekend, the meteo service of the National Observatory of Athens said in its latest forecast on Friday.

Low humidity and high wind intensity will create conditions in favor of wildfires start and their quick spread. The conditions will prevail also during the night.
Intensity of the north wind is forecast to be 5-6 Beaufort and up to 7 B locally.
Regions at highest risk are Eastern Greece, the Attica region, several islands in the eastern and central Aegean Sea and the south of Crete.

High temperatures combined low humidity and a substantial increase of wind speed are expected to raise the risk of wildfires particularly on Sunday, July 3, 2022.
Chart A: Humidity content in dead forest material below 10%
Chart B: Fire-meteorological index Hot-Dry-win

According to meteo.gr, regions at high risk of wildfires on July 2-3 are: Attica, Central and South Evia, parts of Viotia, Corinth, Argolida, Lakonia, the Cyclades islands, the islands of Lesvos, Chios, Limnos and Samothraki, eastern Samos and southern Crete.
ATTENTION
During the fires season and especially in high risk areas, fire outdoors is strictly forbidden.
In case you notice a fire call the Fire Service at <199>
Note that according to the Fire Service 41 forest fires occurred in the last 24 hours.
Temperatures will remain high on Saturday and Sunday.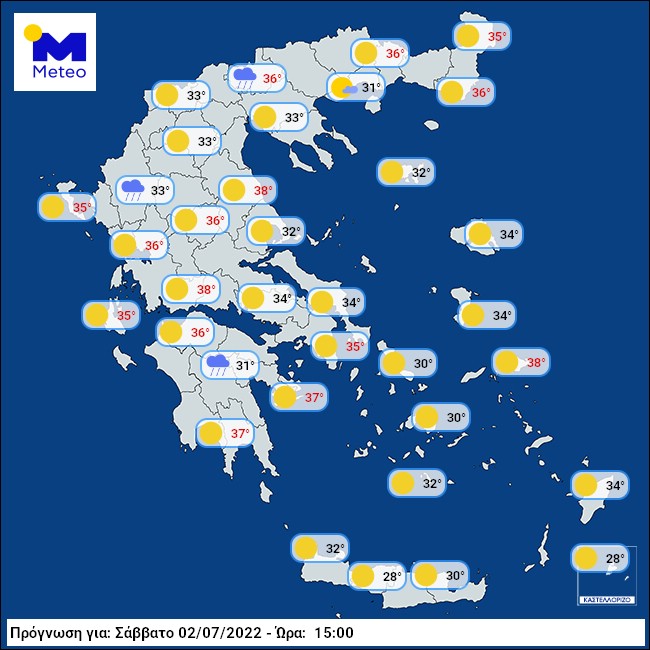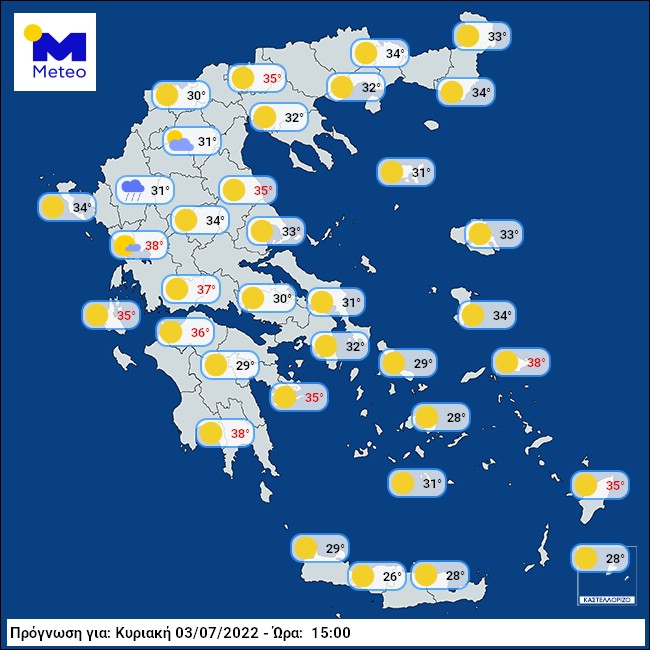 More on temperature forecast meteo.gr
Firefighters from 6 European countries
Worth noting that the first group of Romanian firefighters arrived in Αthens on Friday to assist local forces against wild- and forestfires that plaque Greece every summer.
Almost 200 firefighters from Bulgaria, France, Germany, Norway, Romania and Finland will join the battle against the summer fires in Greece. The deployment of foreign firefighters is in the context of the European Civil Protection Mechanism and the  pre-positioning pilot project that started on July 1.
The firefighters are reportedly mainly young, up to 30 years old.
They will be based in Athens, Larissa, central Greece, and Tripoli, central Peloponnese, for the months of July and August to help extinguish forest fires with both pedestrian and motorized units.