Greece's National Health Care organization EODY has announced a big increase in West Nile virus cases in the country. Two infected people have died.
19 new cases have diagnosed since the last week, and the total of infections with the virus transmitted by mosquitoes has reached 60 this year, EODY said in a statement.
The cases have been identified in the regions of Central Macedonia and Thessaly, in northern and central Greece respectively.
According to EODY weekly epidemiological surveillance report of West Nile virus infections from the beginning of the 2022 period, until 16/08/2022 (at 11.00am), a total of sixty (60) domestic cases of infections have been confirmed.
Thirty-nine (39) of the patients presented manifestations from the Central Nervous System (CNS, encephalitis and/or meningitis and/or acute flaccid paralysis) and twenty-one (21) had mild manifestations (p .eg febrile illness)/ had no CNS manifestations.
During the last week (from the previous weekly report to 8/16), 19 new cases were diagnosed.
Two (2) deaths have been recorded in patients infected with the virus, aged over 85 years, with underlying diseases.
The cases so far have been confirmed in the Region of Central Macedonia (PE: 33, PE Kilkis: 2, PE Pella: 3, PE Pieria: 1, PE Imathia: 12, PE Halkidiki: 5) and in the Region of Thessaly (PE Larisa: 1, PE of Trikala: 1).
The latest data on the West Nile Virus:
Total number of reported cases 60
Total number of hospitalized patients 19
Hospitalized in clinics (outside ICU) 14
Hospitalized in Intensive Care Unit (ICU) 5
7 were not hospitalized
Discharged from hospital 32
Number of deaths in patients with WNV 2 infection
While the weekly EODY bulletin had said that the West Nile virus had not "entered" so far, the regions of Eastern Macedonia and Thrace, a 72-year-old woman was diagnosed with the virus in Serres, local media reported on Friday, August 19.
The woman was short;y hospitalized in Thessaloniki and was discharged.
Authorities call on citizens to protect themselves from mosquito bites with long-sleeved clothes and mosquito repellents.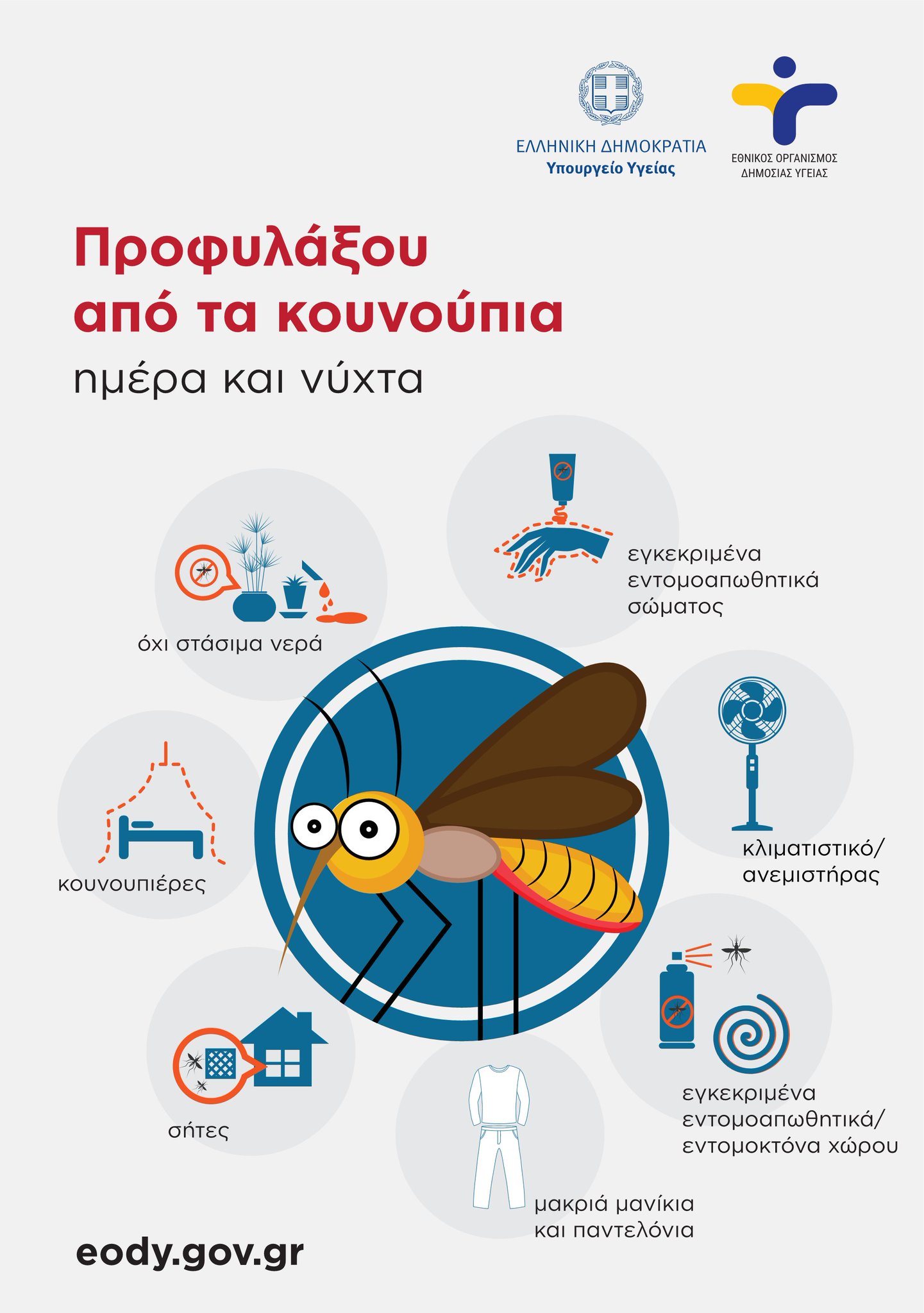 Greece started seeing an increase of WNV cases and several deaths a decade ago when local authorities stopped spraying shallow waters due to the economic crisis.
PS We hope authorities did not forget to spray accordingly all places were mosquitoes breed this year.