Greeks celebrated the national holiday "Ochi Day" with the traditional big military parade in Thessaloniki and schools parades in Athens and other cities.
The public holiday commemorates Greece's rejection ("Ochi") of the Italian ultimatum on October 28, 1940 that led to Greece's invasion at the start of the Second World War.
In Thessaloniki, the parade started around 11:00 am with the philharmonic band of the City of Thessaloniki.
Earlier, the Greek president had laid a wreath at the heroes' monument of the 3rd Army Corps.
This year's parade in Thessaloniki included the newly acquired French-made Rafale jets and the Marder 1A3 armored vehicles as well as the reconnaissance vehicles TTOA M1117.
Also flying overhead were the historic Spitfire MJ755, the Hellenic Air Force jets (including F-16s and F-4s) and helicopters of the Army airborne unit and Sikorsky S-70s of the Hellenic Navy, among others.
The famous "Zeus" jet group flew solo providing a demonstration of demanding maneuvers in the air.
Participating in the parade were historical associations and clubs, volunteer groups, a motorized unit of the Armed Forces, members of the military academies, and special operation units from all three branches of the Armed Forces and from security forces, the Hellenic Police, the Fire Brigade, and the Port Authority.
In Athens, students paraded in the center of the city.
Students' parades were held also in other big and small cities and on remote islands like in Thymaina, an island with only 136 inhabitants next to Fournoi and close to Ikaria. The only three students were proud to hold the Greek flag and commemorate the heroic Ochi Day.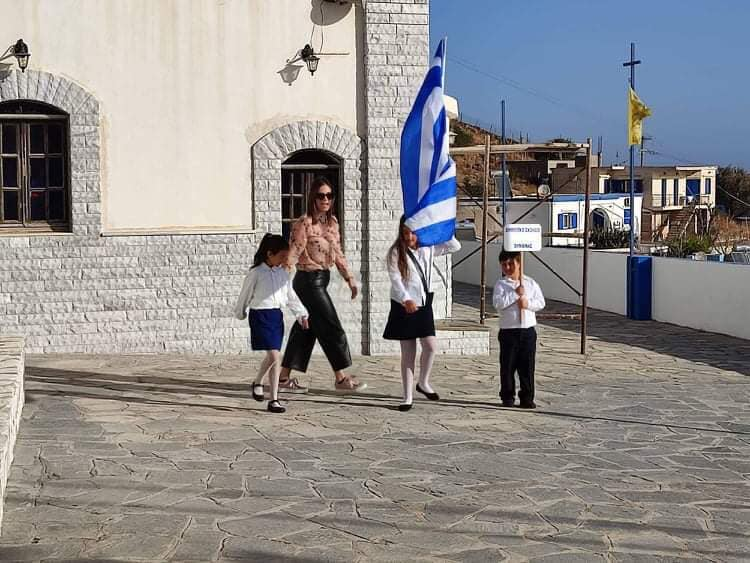 picture: via @amoroscuro_