Greece's Civil protection has been sending storm alert messages to residents in several regions over "dangerous weather phenomena" due to storm EVA, warning them to limit traveling and to follow authorities instructions.
The alert sms via emergency line <112>, have been sent so far (last sms 11 pm Saturday) citizens in South-west Peloponnese, Attica, Corinth, islands in the Saronic Gulf, Thessaloniki, Halkidiki, Pella, Imathia, Pieria and Evia.
The standardized message reads:
Warning of severe weather (severe thunderstorms) from this evening (5/11) until Sunday afternoon (6/11), in your area. Limit your movements to those that are absolutely necessary.
"Dangerous weather phenomena (strong storms) from the evening hours today until the afternoon hours tomorrow in #….. Limit your movements and follow the instructions of the authorities."
⚠️ Ενεργοποίηση 1️⃣1️⃣2️⃣

🆘Επικίνδυνα καιρικά φαινόμενα (ισχυρές καταιγίδες) από τις βραδινές ώρες σήμερα έως τις απογευματινές ώρες αύριο σε #Εύβοια

‼️ Περιορίστε τις μετακινήσεις σας & ακολουθείτε οδηγίες των Αρχών

— 112 Greece (@112Greece) November 5, 2022
⚠️ Ενεργοποίηση 1️⃣1️⃣2️⃣

🆘Επικίνδυνα καιρικά φαινόμενα (ισχυρές καταιγίδες) από τις βραδινές ώρες σήμερα έως τις απογευματινές ώρες αύριο σε #Πιερία #Ημαθία #Πέλλα #Χαλκιδική

‼️ Περιορίστε τις μετακινήσεις σας & ακολουθείτε οδηγίες των Αρχών

— 112 Greece (@112Greece) November 5, 2022
⚠️ Ενεργοποίηση 1️⃣1️⃣2️⃣

🆘Επικίνδυνα καιρικά φαινόμενα (ισχυρές καταιγίδες) από τις βραδινές ώρες σήμερα έως τις απογευματινές ώρες αύριο σε #Αττική #Κορινθία & νησιά #Αργοσαρωνικός
‼️ Περιορίστε τις μετακινήσεις σας & ακολουθείτε οδηγίες των Αρχών

— 112 Greece (@112Greece) November 5, 2022
Meteorologists forecast that from the afternoon hour son Sunday, Nov 6, very intense weather phenomena are expected in Cyclades, islands of the eastern Aegean, the Dodecanese and areas on Crete.
According to the meteo service of the National Observatory of Athens these are the regions forecast to be affected with powerful rainfalls and thunderstorms from Saturday noon until Sunday evening, November 5-6, 2022.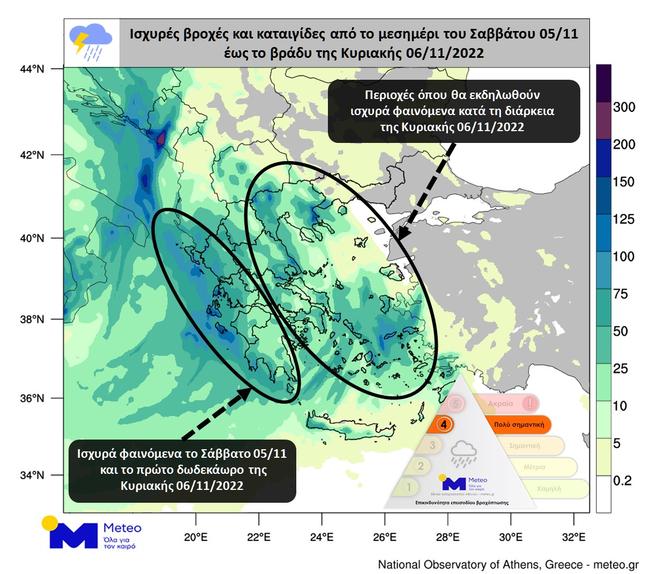 Forecast Attica and Athens: heavy rainfalls and storms accompanied by intense lightning activity, enhanced gusty winds and possible hail locally in the night from Saturday to Sunday. Intense weather phenomena are expected until Sunday evening.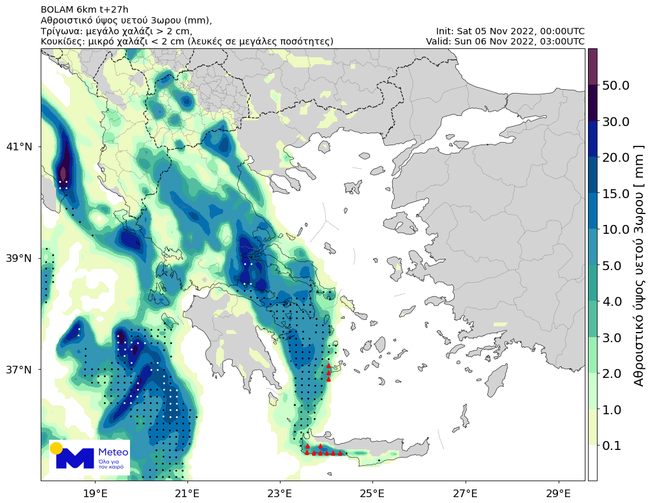 More information on STORM EVA and its course LIVE here.
PS 00:11a.m. Sunday: All quiet in the South front of Athens, partly cloudy, 2 Beaufort, no signs of thunder and lightning in the bright horizon.
If I find out we cancelled Saturday night at an outdoors bar with Mojitos for storm-mongering meteorologists and 112-obsessed Civil Protection … I will scream!