The month of January 2023 was one of the warmest on record for the greater part of Greece, according to data collected by the 53 weather stations of the National Observatory of Athens weather service meteo.gr.
In an announcement on Thursday, meteo.gr said that the average maximum temperature in January 2023 was the highest of the last 14 years in northern Greece, Thessaly, the Peloponnese and the Aegean islands (except Crete), while it was the second highest after January 2014 for Western Greece and January 2021 for central Greece and Crete.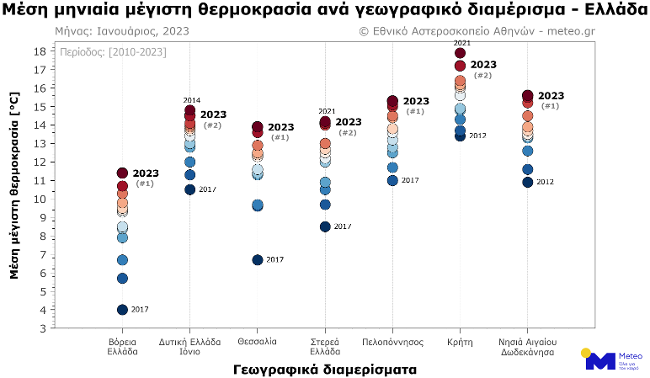 Average maximum temperature deviation per geographic regions
For northern Greece and Thessaly, January 2023 also had the largest number of days that were warmer than the average for 2010-2019, with 29 of the 31 days being warmer than the average for the decade in Makrochori, Evia, and 28 out of 31 in Trikala and Dion.
In Athens, the average deviation of the month from the decade average in January 2023 was +1.8C, with 25 of 31 days being warmer than normal for the season.
Thessaloniki had the warmest January since 2010, with the average deviation at 3.6C and 24 out of 31 days being warmer than normal for the season.
Deviations average maximum temperature (2010-2019)
None of the weather stations recorded a negative monthly deviation in temperature, or colder than usual temperatures for the time of year.