Sunday's national elections in Greece resulted in a sweeping victory for ruling conservative New Democracy and unexpected low results for main opposition left-wing SYRIZA-Progressive Alliance, which lost all but one of 59 electoral regions in Greece.
Five parties managed to pass the 3% threshold and enter the Parliament.
ND-SYRIZA difference at 21%.
With 95/50% of the votes counted, the following percentages were recorded, according to the Interior Ministry's live update through its online site (https://ekloges.ypes.gr/current/v/home/en/), with party leaders in parentheses:
New Democracy (Kyriakos Mitsotakis): 40.78% /145 seats
SYRIZA-Progressive Alliance (Alexis Tsipras):  20.07%/ 72 seats
PASOK-KINAL (Nikos Androulakis): 11.53%/ 41 seats
Communist Party of Greece (Dimitris Koutsoubas): 7.20%/ 26 seats
Greek Solution (Kyriakos Velopoulos): 4.46%/ 16 seats
Yanis Varoufakis' party MeRA25 with 2.59% did not make the 3% threshold to enter Parliament, along with religious party Niki (Dimitris Natsios, 2.92%) and  Plefsi Eleftherias (Zoi Konstantopoulou, former Parliament speaker, 2.87%).
Voter turnout was 60.73%.
Parties that did not make it into Parliament account for 15.96% of votes.
Invalid or blank votes totaled 2.61%.
ND increased its votes with 50,000. while SYRIZA lost 600,000 votes.
PASOK increased by 200,000 votes and KKE by 100,000.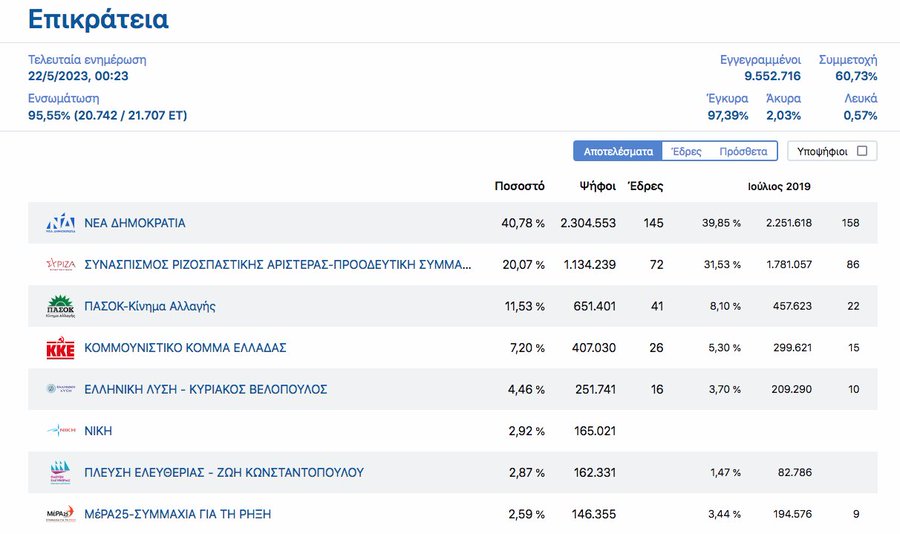 What's next?
ND cannot form a single party government as absolute majority of 151 seats are needed in a Parliament of 300.
Mitsotakis said late on Sunday that he will seek to form a coalition government and would start exploratory talks with other parties, even though he targets a second elections round, hoping to rule again alone.
According to Greek Constitution, President of the Hellenic Republic Katerina Sakellaropoulou will on Monday initiate the process of handing an exploratory mandate to the top three parties so they can attempt to form a government.
Acting Interior Minister Professor Kalliopi Spanou will first forward the final results of the elections to the office of the President of the Parliament, Konstantinos Tasoulas.
Tasoulas will then hand over the results to President Sakellaropoulou, who in accordance with article 37 of the Constitution, "after determining from the final results that the leader of the first party does not have the absolute majority (151) of the seats in the new Parliament," will initiate the process of exploratory mandates.
Each party has three days to manage forming a coalition government, even though a party can return the mandate right away.
A second round of elections could be in some 30 days the earliest.