Also ahead of the June 25 elections, New Democracy insists that any Value Added Tax (VAT) reduction in food and other basic items will primarily benefit the wealthy and therefore there is no point in implementing it.
This attitude was initially promoted during the ND governance, when prices in supermarkets skyrocketed under the pretext of the war in Ukraine. Prices remain high rising an average of 9-10% per month, even if inflation eases and half of the Greeks say they have cut in food spending.
In a poll conducted May 6-10 May 2023 by the Consumer Goods Retail Research Institute (IELKA), 54% of respondents (from 55% in January) stated that it has reduced food purchases.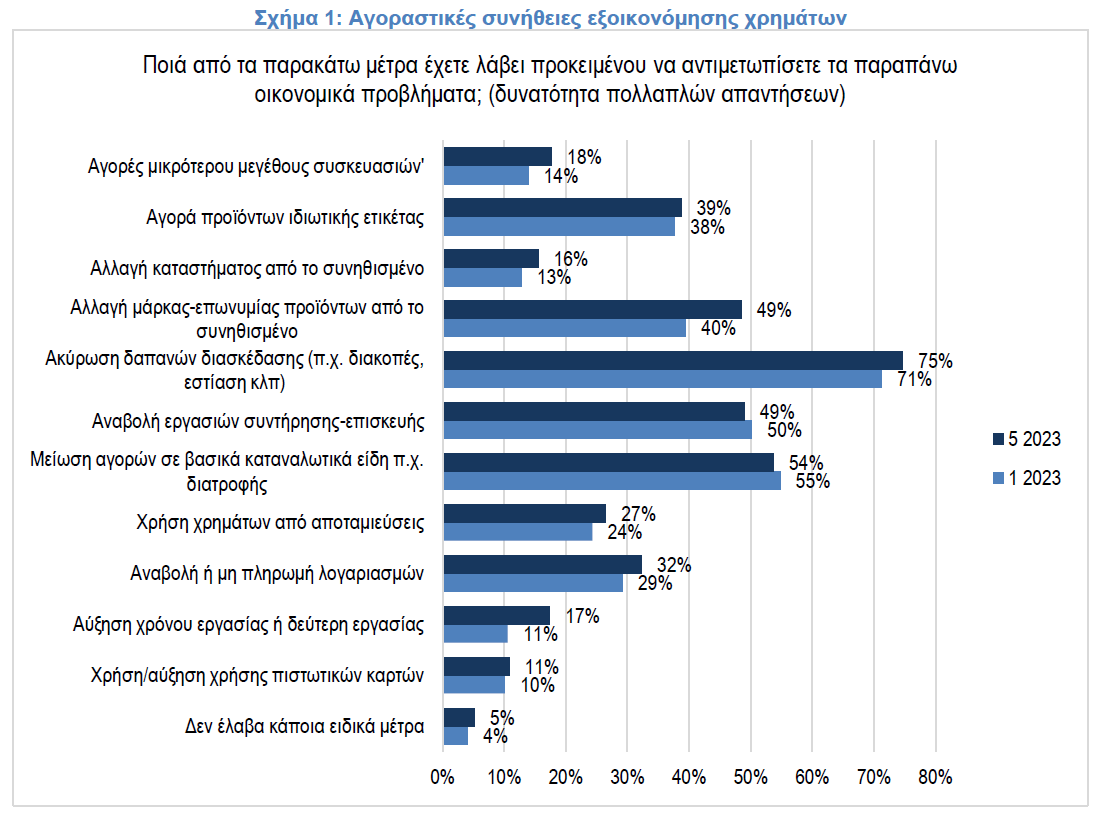 In a post of epic mathematics alchemy, former state minister and Mitsotakis' closest aide Akis Skertsos posted on Sunday:
"Let's say we reduce VAT by 7 units (and it doesn't go into the middlemens pockets)
Consumption s/m €520/month X -7%=€36.4 benefit
Consumption s/m €1000/month X -7%=€70 benefit
Consumption s/m €1500/month X -7%=€105 benefit
Who benefits the most? High or low consumption?"
Έστω ότι μειώνουμε ΦΠΑ κατά 7 μονάδες (και δεν πάει στην τσέπη μεσαζόντων)

Κατανάλωση s/m €520/μήνα X -7%=€36,4 όφελος
Κατανάλωση s/m €1000/μήνα X -7%=€70 όφελος
Κατανάλωση s/m €1500/μήνα X -7%=€105 όφελος

Ποιος ωφελείται περισσότερο; Η υψηλή ή η χαμηλή κατανάλωση;

— Akis Skertsos (@askertsos) June 4, 2023
On Monday, it was the run of former tourism minister Haris Theoharis to add his own sauce to the issue claiming that it is the wealthy who pay VAT on food:
"The most simple proof that most of the indirect tax revenue comes from the upper class is this: the VAT on food is €2.8 billion. The market pass, which has expanded criteria & also reaches the middle class, cost €600 million. The difference is paid by the wealthy."
Η πιο απλή απόδειξη πως το μεγαλύτερο μέρος των εσόδων των έμμεσων φόρων έρχονται από την ανώτερη τάξη είναι η εξής: ο ΦΠΑ στα τρόφιμα είναι €2,8 δις. Το market pass που έχει διευρυμένα κριτήρια & αγγίζει και τη μεσαία τάξη κόστισε €600 εκ. Τη διαφορά την πληρώνουν οι εύποροι.

— Harry Theoharis (@htheoharis) June 5, 2023
Note that the market-pass subsidy gives 20 euros – or less- per household per month since February.
On the bright side of this paranoia message to those voters who swallow unchewed whatever ND "sells" them, one can say:
At least, neither Skertsos nor Theoharis proposed VAT increases in order to reduce social inequality.
They do know that indirect taxes are the most unfair taxes because the lower and middle classes allocate a greater percentage of their income to basic daily needs.
They just do not care.
PS what's the VAT on caviar? I don;t know because I never liked the stuff.