A 29-year-old Greek man was stabbed to death by Croatian hooligans and fans of Dinamo Zagreb FC in a violent brawl in North-West Athens on Monday night. Eight people are being hospitalized due to injuries, among them a 17-year-old boy with serious head injuries, state broadcaster ERT reported.
The brawl took place ahead of Tuesday's match between Athens side AEK and visiting Dinamo Zagreb from Croatia in nea Philadelfia suburb of NW Athens, the hometown of AEK FC.
07.08.2023, AEK Athens🇬🇷 vs BBB (Dinamo Zagreb🇭🇷), AEK run https://t.co/Fjy3xrlEmQ pic.twitter.com/GFU1DwWCj7

— Hooligans.cz Official (@hooliganscz1999) August 7, 2023
The 29-year- old man, an AEK supporter, was murdered in Nea Philadelphia, a neighborhood of Athens on Monday night. He died of multiple stab wounds inflicted during a brawl between dozens of fans of the two sides, which took place a day before the UEFA Champions League third-qualifying-round match at AEK's stadium in the Athens suburb of Nea Filadelfia.
Four Greeks and four Croatians were also treated for various injuries in Athens hospitals. among them is reportedly a young teenager.
Police arrested a total of 98 people of various nationalities. Among them are reportedly:
87 Croatians -5 treated in hospital οι 5 νοσηλεύονται στον Ερυθρό Σταυρό
5 Greeks – 3 treated in hospital
1 Austrian
1 Bosnian
1 Albanian
1 German
According to reports, a big group of around 150-200 Dinamo supporters traveled to Athens by road on Monday night, flouting a ban imposed on visitors from Croatia over fears of precisely the kind of clashes that took place.
Police put the bus convoy under "discreet surveillance," However, it lost track of the Croatian fans in northern Athens, when they left the touring buses they arrived on and made their way to AEK's OPAP Arena by car and urban train.
08.08.2023, Dinamo BBB🇭🇷 hooligans at Train station in Athens🇬🇷 before fight. https://t.co/Fjy3xrlEmQ pic.twitter.com/FFmomudlQt

— Hooligans.cz Official (@hooliganscz1999) August 7, 2023
There, they reportedly clashed with supporters of the home team who had been hanging out at the cafes and bars around the stadium, where AEK and Dinamo had held a practice earlier.
According to ERT TV, police arrived at the scene around 0-25 minutes later.
According to media reports, the Dinamo fans were also joined by several supporters of Athens' Panathinaikos club, according to reports.
"Terror night"
Nea Philadelphia residents told media that locals including children were outdoors, in the square, the playground and cafes in the area when the incidents started.
The hooligans would attack anyone with wooden sticks, broken bottles, knives and whatever they had in their hands.
An eyewitness spoke of a "terror night" and told state ERT TV that the hooligans started to attack people blindly, whether soccer fans or normal citizens. The man reported of young people stabbed to hands or abdomen, and of a 13-year-old girl that was injured as well.
Tuesday morning, AEK fans say farewell to the victim with candles, AEK flags and banners.
29-year-old Michalis was stabbed to the arm and died due to xtensve bleeding, media</em> report.
Police and Ministry exposed
Minister of Citizen's Protection Giannis Oikonoomou interrupted a trip to northern Greece where he would meet with his Albanian counterpart and rushed to Athens after the tragedy in Nea Philadelfia.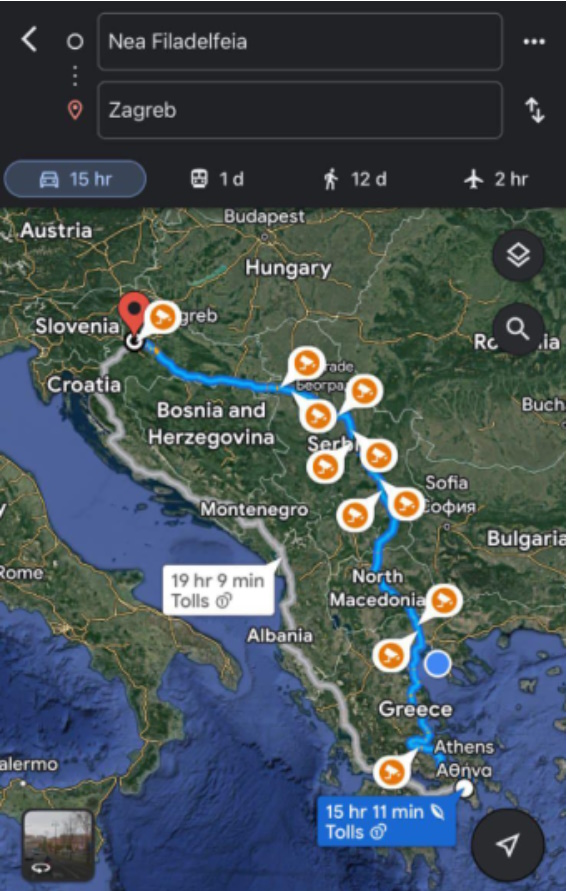 Mainstream and sports media raise questions about the handling of police especially as the Croatian hooligans crossed Greece's northern borders and traveled over 550 km on national highway before police started tracing them.
@AEK_FC_OFFICIAL #aekfc pic.twitter.com/ljWuNUAQ7x

— Petros_Eut (@Petros_Eut) August 7, 2023
The main question is: why the Croatians crossed the borders despite the UEFA ban
Tuesday morning, AEK FC withdrew from the meeting with the Police regarding security measures for tonight's match with Dinamo Zagreb. AEK directly accused the Croatian team and the Greek Police for the incidents.
ERT TV announced at 11 a.m. on Tuesday that the AEK-Dinamo Zagreb game scheduled for tonight has been canceled.