An "Extreme Fires Risk" (risk category 5) has been forecast in three Greek regions and "Very High Risk" (risk category 4) for another ten regions has been forecast for Monday, August 21, 2023, according to the Fire Danger Forecast Map issued by the General Secretariat for Civil Protection of the Climate Crisis and Civil Protection ministry.
It is the "Hot-Dry-Windy" conditions that dramatically increase the risk for wildfires making also their extinction difficult.
Extreme Fire Risk – State of Alert (category 5) for the following areas
Attica
Evia
Viotia
Argolida
Corinth
"Very High Fire Risk" (category 4) for the following areas:
Evros,incl.Samothrace, Rodopi, Xanthi, Kavala, Thassos
Halkidiki, Mount Athos
Limnos, Lesvos, Chios
Sporades
Fokida, Fthiotida, Skyros island
 Arcadia, Laconia
Kythera island
Region of Western Greece
Preveza
Ionian islands: Kefalonia, Zakynthos, Lefkada
Regions marked "YELLOW" indicate that they are at "High risk of Fires" (category 3).
In a short statement on Sunday, Civil Protection Minister Vassilis Kikilias warned that "no outdoor work that could cause a fire is permitted."
HOT-DRY-WINDY
According to results from the analysis of data from the automatic weather stations of the METEO service of the National Observatory of Athens (EAA), which are used for the daily assessment of fire-meteorological risk and which take into account the cumulative effect of meteorological conditions on forest fuels and their expected behavior of forest fires it is the "Hot-Dry-Windy" conditions that increase the fires risks.
The very hot and dry conditions that are already affecting Greece will persist until Friday 25.08.2023. meteo service reported.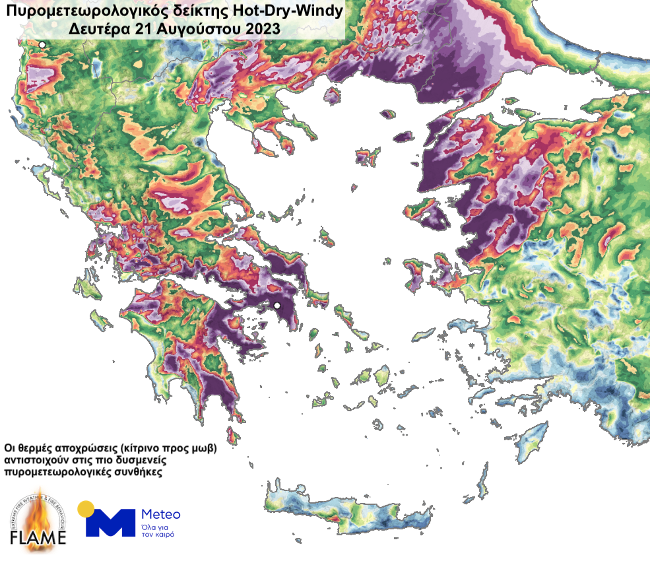 The very hot and dry conditions combined with the very high flammability of forest fuels and locally strong winds, are expected to form particularly dangerous fire-meteorological conditions , capable of making it difficult to control any forest fires that occur.
In case of fire call 199.