Members of German Parliament, the Bundestag, approved on Friday the Greek aid package agreed during the euro group finance ministers  meeting beginning of the week.
From a total of 584 MPs who voted, 473 voted in favour, 100 voted against, while 11 abstained.
Reports from the Bundestag that Angela Merkel has missed getting the Chancellor's Majority (CDU/CSU/FDP), meaning the Greek agreement was only approved because opposition MP from SPD and the Green Party voted with the coalition.
News agency DPA reported that Merkel was 14 votes shy of the majority, indicating that the support of the SPD and Green Party was crucial.
 German Finance Minister Wolfgang Schaeuble told MPs that the latest deal will keep the pressure on Greece to fulfill its promises.
"We have always pushed the principle of conditionality, and that goes here too. Greece will only receive all this relief if it continues to implement its reform measures, one after another."
A new opinion poll suggests that Germann'y public opinion is rather unenthusiastic about the Greek aid package (which their elected representatives just approved in the German Parliament).
A survey conducted for public-service TV station ZDF found that just 43% of people approved of the deal hammered out by eurozone finance ministers on Monday night, while 46% reckoned it would have been better if Greece had been left to default (and 11% weren't sure).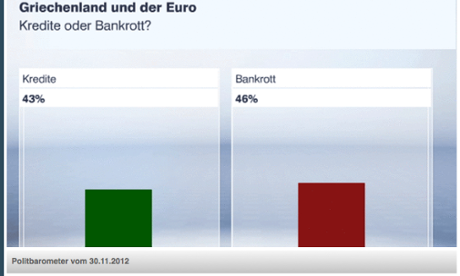 German opinion poll on Greek deal, November 30 2012 Photograph: ZDF
The survey also found that 40% of Germans believe a further Greek debt restructuring will be required in future.
Chancellor Angela Merkel's government will run for elections next year and her policies towards the Greek aid package can turn crucial for her political future.
sources: guardian, news.com.au