A strike we have never seen before in Greece. Delivery boys, Couriers and other workers on motorbikes launch a 24-hours strike on Thursday, May 25. They demand corporate motorbikes, protection equipment, a collective bargain that will secure payments incl overtime as wells as social security stamps for 'unhealthy professions' and the introduction of their professional description as "Motorbike Driver-Courier."
The strike has been announced through flyers and posts on social media and is organized by the union Assembly of Workers on Motorbikes (SVEOD).
Workers in fast-food delivery and courier services will gather at 11 a.m. Thursday at Pedion toy  Areos Square in downtown Athens and will proceed with a protest rally on motorbikes.

What they demand is:
Corporate motorbikes: So far, employers are not obliged to provide corporate bicycles to employees. Distributors use their own motorbikes and bear the cost for maintenance, insurance and fuel
Protection Equipment: Most companies do not provide complete personal protective equipment. Distributors claim helmet, neck scarf,  jacket-gloves-pants-motor boots, waterproof jackets and reflectors.
Unhealthy profession stamps: the profession of distributor is not included in the category of "unhealthy professions", despite the fact that they work regardless of weather conditions.
Professional title as "Motorbike Driver – Courier"
A collective bargain agreement.
In a statement, the organizers note that they are "all-weather workers who are often being used for all kinds of chore. "They often call us the kids with the bikes or the kids for the errands."
Most of "Our employers have created their own version of I do not pay [movement]. They do not pay over time we are entitled to receive. This is 25% surcharge for work after 10 pm, a 75% surcharge on Sundays and a 100% on holidays," they stress and add that they do not receive bonuses and allowances or proper overtime payment.

"Particularly in the fast-food business they do not receive "a single euro for motorbike maintenance and fuel expenses". And this practice extends also into the courier business, they note.

One of the strikers' posters urge people to refrain from ordering food but Cook instead. They have posted a full "Success Recipe" for a dish with pasta in bacon-mushroom-creme sauce.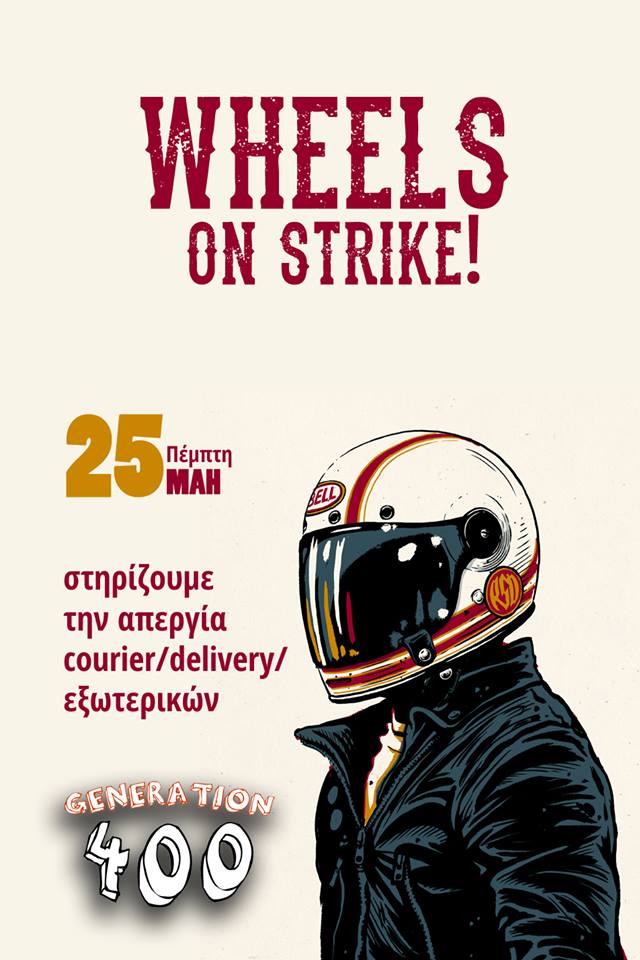 The union SVEOD was established in 2007 with the aim to improve the working conditions of those working on two wheels distributors, couriers and in fast-food delivery.
Three workers on motorbikes have lost their lives in recent years.
KTG understands that the strike is planned for Athens and will not affect other cities.