Residents were evacuated and houses were burned down after a wildfire in the area of Santomeri, Achaia in north-western Peloponnese, went out of control late afternoon Monday. The blaze burned all night, with firefighters and volunteers struggling to get it under control. Forest land were destroyed and agriculture was damaged.
Residents of four settlements spent a nightmare night seeing a mountain on fire.
Authorities ordered the evacuation of Arla as strong winds blowing with intensity 6 Beaufort were directing the blaze towards the village. A bus picked up the elderly and the vulnerable and transferred them to nearby villages. Locals were panicked and refused to evacuate as they wanted to save their properties.
The regional governor of Western Greece Apostolos Katsifaras told earlier the Athens-Macedonian News Agency (ANA) that a large firefighting force is trying to stop the flames from reaching the houses, adding that strong winds are blowing in the area reaching 6 on the Beaufort scale.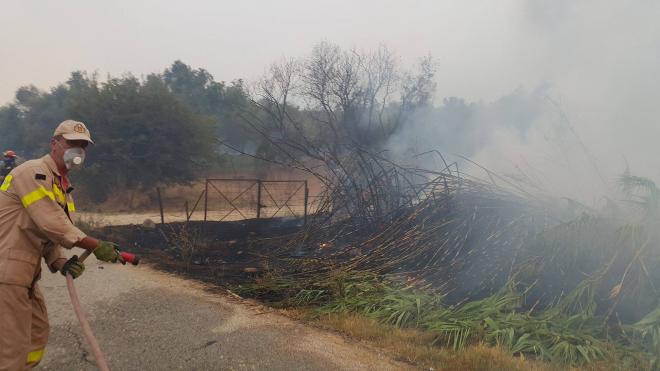 Three volunteer firefighters were trapped in the blaze but managed to rescued themselves free.
Evacuated was also the village of Elaiochori and the four nuns from the Monastery of Agia Marina.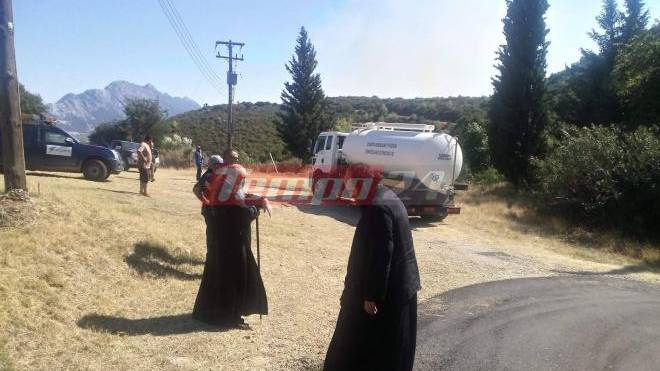 The Bishop of Patras who was in Jerusalem told local media tempo14, that he "prayed at the Holy Sepulcher so that all villages are safe and no people and properties are endangered."
The next day
At the second front, firefighters on the ground and three firefighting aircraft are operating in Eleohori and Tzailo to protect the nearby communities.
Police had cordoned off the streets around the two wildfire fronts to facilitate traffic for fire trucks and water tankers.
The wildfire broke out around 4 o' clock Monday afternoon, local media reported of three fire fronts. An arson?