The raiding incidents against foreigners are shocking – especially when they are led by elected members of the Greek Parliament. Men in black raid the stands of foreign street vendors, no police is around to hinder them. They do it once, twice, a third time maybe… The incidents cause uproar, opposition parties and even Samaras government partners condemn them. Fact is: more raids are no the way, while the state seems unable to deal with the issue. Extremer-right Chrysi Avgi (Golden Dawn) claims, it was legal to substitute the work of authorities in charge.
The Raids
The first incident occured last Friday: men wearing T-shirts with Chrysi Avgi emblems and carrying sticks and Greek flags raided stands of street vendors run by migrants. The men-in-black checked papers, documents and invoices and where the vendor is not covered by legality, they overthrew and damaged the vendors' stands.
Video: Raid in Rafina
embedded by Embedded Video

YouTube Direkt
The incident took place evening in Rafina, an area in southeast Athens, during the festival of Panagia Pantovasilissa. Among the group of 50 men were also two Members of the Parliament, as extreme-right Golden Dawn managed to enter the Parliament during the June elections.
 After the raid, the members of GD joined the carrying around of the holy icon with relegious devoution. No police hindered their in their damaging work. Private Mega TV claimed on Sunday, no policeman was close to the incidents.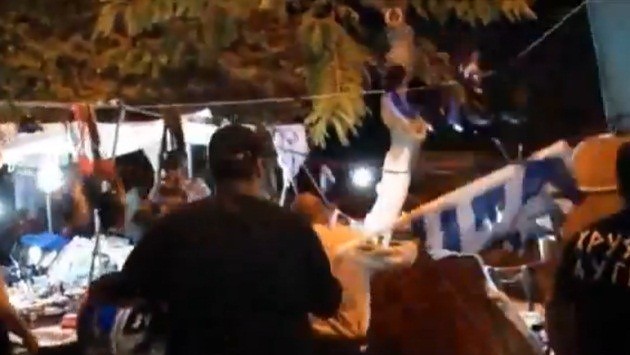 Chrysi Avgi  posted on its official website, that its members "did what the non-existent Greek state should have done long time ago" and announced further actions stressing that they will continue to do so and thus across the country "until the nonexistent political head of the ministry PRO-PO [mocking description of Ministry of Citizen Protection; Pro-Po is the organisation for betting on football matches] decides to do his job and stop harboring illegality."
On Saturday morning, another group under the leadership of a third GD-MP raided an open market in Messologi in Western Greece. This time, the target were Chinese vendors and their merchandises. 
Video: Messologi inspection
embedded by Embedded Video

YouTube Direkt
"We are fighting illegal commerce," GD-MP Costas Barbarousis said, criticizing police for failing to carry out inspections. "These efforts will continue, because we cannot treat those who pay [for a license] as idiots, while others get away without paying."
Meanwhile, a local newspaper from Peloponnese (Eleytheria) revealed that a group of GD members attacked migrants who usually stand at traffic lights and 'enforce' drivers to accept them cleaning the vehicles windows against a small fee. A migrant has been allegedly beaten by the group.
Charges Filed
Minister of Citizen Protection Nikos Dendias ordered authorities to file charges against supporters of neofacist Chrysi Avgi (Golden Dawn) as well as two of the party's deputies, Giorgos Germenis, Panayiotis Iliopoulos and Costas Barbarousis. 
In order to charge MPs, their parliamentary immunity has to be lifted. For these a voting is required. Chrysi Avgi has 18 deputies in the Parliament. Should the MPs of other parties join their opposition, the three bully MPs could easily find their way in front of a rposecutor and a court.
Reactions
Greek police and the Ministry of Citizen Protection seems to have been caught unprepared to deal with the so-called Golden-Dawn "raid squads" (so GD leader Nikos Michaloliakos) that take the laws of the country in their hands. The outcry abnout these actions is immense, not only by the opposition parties but also by government partners. 
Socialist PASOK  called on Minister for Citizen Protection Nikos Dendias "to take more decisive steps to tackle Golden Dawn. It also warned those who support the party's actions that it was only a matter of time before they also became victims of its "hit squads".

Main opposition party, left-wing SYRIZA said the actions were part of Golden Dawn's effort to create an atmosphere of "fascist terrorism". It criticized Public Order Minister Nikos Dendias for failing to take action. (ekathimerini)
             "Violence is not part of Parliamentary Democracy" said also government partner Democratic Left.
"The people must not tolerate bully and demagogic behaviour of neo-Nazi Golden Dawn who attacked with clubs and determines on color and language criteria who is a legitimate vendor," said the Communist Party KKE. (nooz.gr)
Chrysi Avgi (Golden Dawn) insisted that the raids on street vendors were legal.
Street vendors' unions support the actions of Chrysi Avgi and called on them to perform more controls all over Greece.
Foreign street vendors said, they had paid the necessary licence-fees to the relevant municipalities.
How the public reacts? Chrysi Avgi is the only party that almost doubles its rates in Greek public opinion surveys. According to VPRC survey, conducted between 4-5 September  2012,  Chrysi Avgi raised its rates from 6.92% at the elections of last June to 12% .  
UPDATE Sept 10/2012/9.30 pm:  After Chrysi Avgi announced further similar actions, Minister of Citizen Protection said he ordered the withdrawal of police protection granted to Chrysi Avgi deputies in order to avoid that state bodyguards (granted to all deputies) get involved into conflict of interest between their duty to protect the MPs and to arrest those involved into illegal actions.
Meanwhile the head of Rafina police station was suspended, an internal inquiry is underway as to why no policeman intervened to stop the attacks carried out by Chrysi Avgi.
 UPDATE – Sept 11/3012: With order of head of Hellenic Police, the policeman assigned with the protection of MP Barbarousis has been suspended from duty after footage showed him participating at the Messologi incidents. An internal inquiry is under way, he may be expelled from the Greek police.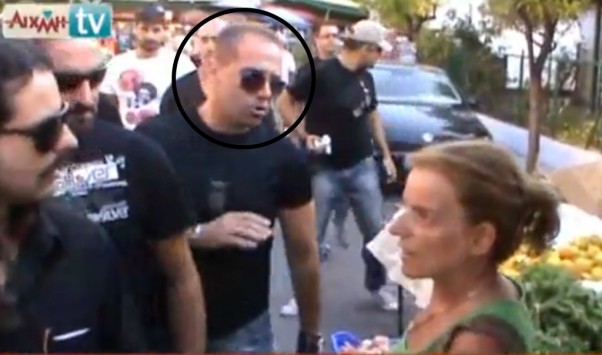 hm…