Greek police arrested three Greeks responsible for the robbery of dozens of priceless ancient artifacts stolen from the Olympia Museum in February 2012. The police caught the gang leader in a Patras hotel, while he was waiting for a "customer" (police officer) to whom he was planning to sell a golden ring dated from the 14th century BC,  found in an Mycenaean grave. Crete. The robber was originally asking 1.5 million euro for the ring, but later he had lowered the price down to 300,000 euro. Two of his accomplices were waiting at the hotel reception. According to Greek media, police was waiting for the robbers to do the 'first miastake' and try to sell the artifacts. The robbers had allegedly calculated to get 4 million euros from the stolen loot.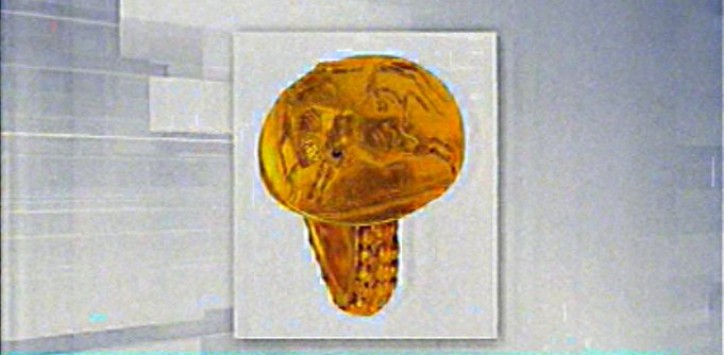 According to Greek media, police officers pretended to be customers managed to put handcuffs to two more members of the criminal gang. A big scale operation in Patras, Pyrgos and Athens is under way in order to capture at least two more gang helpers.
The gang had hidden part of the 77 stolen artifacts in a field in Koskinas area just a couple of kilometers away from the Museum.
 The robbers are Greeks aged 36-50 apparently illicit dealing with antiquities since quite some time.
According to information given to the press, one of the robbers, 41, is a jobless man living in Athens; another one, 50, is a constructor from Patras, while the third, 36, is also a jobless man living in Patras as well. Two more residents of Patras, aged 58 and 33, are sought by the police.
The 'brain' of the gang is reportedly the 41-year-old, a street vendor selling lighters in Monastiraki area.
 Video: artifacts, state NET TV
embedded by Embedded Video

YouTube Direkt
On Friday morning of February 17th 2012, two men wearing masks broke into the Museum of the History of Olympic Games located in the Ancient city of Olympia. The robbers threatened the guard with guns, tied her up and gagged. They stole at least 65 small objects of great value. The objects – two golden, several made of bronze and clay, were illustrating the history of the Olympic Games, so media reports of last February.
Now the police has taken the stolen artifacts to Museum where experts have to identify whether they belong to the stolen collection.
See pictures gallery of stolen artifacts here.
sources: in.gr and others