Wood, heaters, stoves, a home to live in, a Christmas tree: desperate Greeks turn to newspapers and the internet to cover their needs. They appeal to the generosity of citizens in order to come through the cold days of winter or to find a roof over their heads.
Truck driver Giorgos Poulakis, 42, is jobless since one and a half year. His wife gets only occasional jobs. Ten days ago, he put an ad on a newspaper asking for a donation: a heater for his two kids.
"Please I ask you to give me a fan heater. There is great need . I am unemployed with two children and I have no heating."
Poulakis told private Skai TV this morning that a journalist donated the heater just days after the ad was published. Hit by unemployment and consequent poverty, the man, who used to earn 1,500 euro per month, has used up his savings, could not pay rent. The family found a roof over the head in the house of a friend who was eager to host them.
The lack of employment had pushed many families to despair, with many of them being unable to pay in order to have a roof over their head.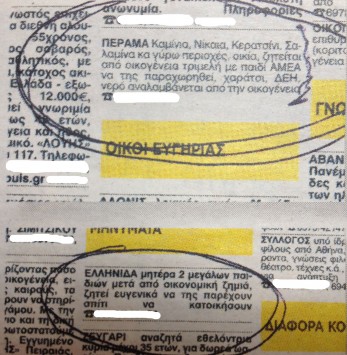 A couple with a disabled child seeks a home, is willing to pay only utilities bills.
A woman with two grown up children "politely" seeks also for a free accommodation.
Yiannis is one of the many who put ads offering to prune or cut trees for free in return for fire wood. "I go wherever they call me to. I offer to prune or cut trees, trees that need pruning or have fallen from the air. I do it for free and in return I get the wood for heating".
It's not only the private households that are in need. Personnel of a hospital have a newspaper ad asking for a Christmas tree to bring some festive mood in the triste atmosphere of a public Greek hospital.
original ads-report published in daily Eleftheros Typos