Finance minister Yanis Varoufakis has stated that he will resign if the Greek people vote 'Yes' in Sunday's referendum. Speaking to Bloomberg TV on Thursday morning, Varoufakis said among others:
* "If a yes vote, I will not be finance minister on Monday night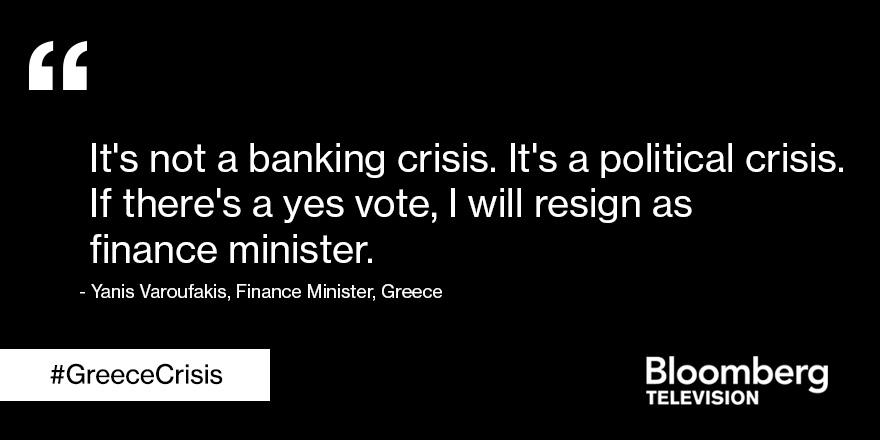 * I prefer to cut my arm off rather than sign an agreement without debt restructuring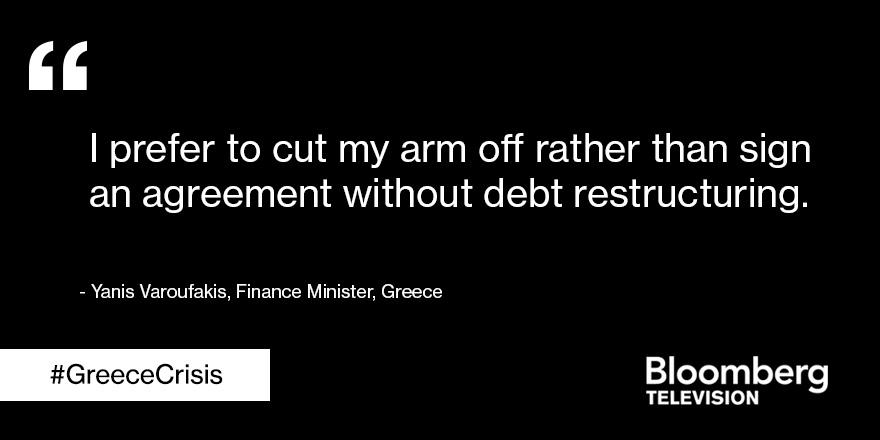 *Syriza is going to be the major force in Greek politics come Monday no matter what happens.
"Asked on Bloomberg TV whether, come Monday, if there is a yes vote, he will not be finance minister, Varoufakis said: "I will not."

Varoufakis also said he wouldn't sign any deal with creditors without any reference to a restructuring of Greece's debt burden.

Varoufakis claimed Greece was being treated as a "debt colony" that doesn't have rights.

However, he expected a "No" vote and that he and Prime Minister Alexis Tsipras will be around Monday "to forge mutually beneficial agreement with rest of Europe."" (source)
PS I know  some angry Syriza voters, supporters of the Left since the time of their youth, who could vote YES just to see him go. Reason? "exaggerated self-satisfaction" and " too much up for PR". Many older Greek Leftist are rather conservative "comrades" on several issues.