In a short televised address to the nation, Prime Minister Alexis Tsipras explained to voters that the analysis of the International Monetary Fund for debt relief in not included in Creditors' proposal the main question of Sunday's referendum. And that the government was vindicated by the IMF report on the Debt issue.
" Yesterday, the IMF released its report on Greece's economy.

According to the IMF, the only way for Greece's debt to be sustainable is with a 30% haircut and a 20-year grace period for repayment.

This report was never shared by the institutions during the 5 months that we've been negotiating.

"IMF's 30% Debt haircut is not in Creditors' proposal we are called to decide about on Sunday.
Two days before the Referendum, the Prime Minister tried to united the people as the Referendum debate has lead YES- and NO-supporters into an unprecedented polarization and division. However, he reiterated that he supports NO.
"Greek citizens, the time has come for responsibility and democracy. Let's silence fear-mongering & baseless talk of disaster.

Let us calmly go to the polls, and make our choice by weighing the arguments–not the slogans.

I urge you to say  NO to ultimatums, blackmail and fear. To say NO to being divided."
Alexis Tsipras repeated that the Referendum is not about Europe, something that has been claimed by both YES-supporters and the country's creditors, but that it would strengthen the government's negotiating position..
"On Sunday, it is not a decision on Greece's position within Europe, but whether to  follow a policy leading to the slow death of the economy, whether to cut pensions or whether to strengthen our bargaining power. NO does not mean rupture with Europe but to continue negotiations."
It was Tsipras' fourth adress to the nation since he announced the Referendum a week ago.
Full speech in English later, when uploaded on PrimeMinistry website.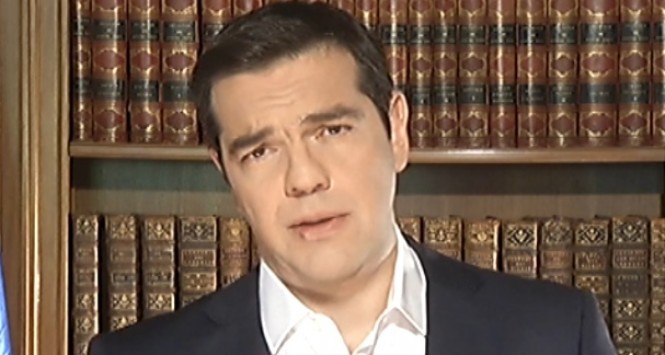 KTG assumes that the Referendum debate will change now that Greek media noticed, the Prime Minister got something on his lower lip that could be Herpes due to distress. "Oh, look isn't that Herpes?" some news presenters at private television channels commented as soon as Tsipras had concluded his speech on Friday afternoon.