Ballot boxes closed at 7 o' clock in the afternoon. Immediately, several private television channels started to public results of public opinion surveys conducted among Greeks before and after they voted. However these results were not exit polls.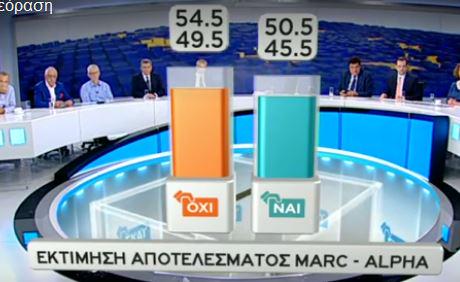 Orange: NO Green YES
Live Blog starts here
07:30 pm
– First results from small electoral areas have been published by the Ministry of Interior.
-Merkel to fly to Paris on Monday afternoon to meet Hollande and talk "Greece".
08:00 pm
Pollster Nikolakopoulos on Mega TV:
"First estimation based on counted votes: NO more than 55%"
08:15 pm
NO-supporters started to flock to Syntagma Square outside the Greek Palriament in downtown Athens.
According to Greek media, Bank of Greece is going to request ELA by the ECB.
08:20 pm
Official Result: counted 8.67% out of total: NO 59.94%, YES 40.06%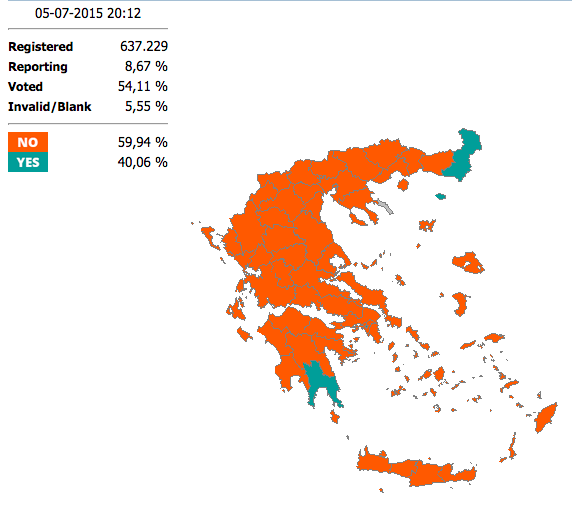 08:35 pm
Official by 19.6% counted:
NO 61%
YES 39%
the more they count, the less YES they find….
08:51 pm
Greek government spokesman Sakellaridis said that Bank of Greece will request additional Emergency Liquidity Assistance from the ECB tonight.
SYRIZA MP Nikos Fillis said the requested amount would be 3 billion euro.
08:53 pm
New Decmocracy MP Dora Bakoyiannis reportedly called ex PM and ND leader Antonis Samaras and asked him to resign.
Preliminary Referendum results indicate that Samaras has lost for a second time in 2015: the January elections and the Referendum. He was hoping for SYRIZA to resign/collapse/ousted so that he will return to power.
Samaras loved to speak of a "left-wing parenthesis" in the Greek governance.
08:58 pm
Despite the scaremongering by Greek opposition parties and EU officials, Greeks decided to reject the Creditors' proposal.
Referendum: Greek voters angry at media & creditors, scare-mongering campaign seems to backfire
09:16 pm
Referendum results expose pollsters who 'saw' in public opinion surveys before Sunday, among others:
1. NO – YES at knife-edge
2. a "razor thin" vote in favor of YES
09:20 pm
Interesting that New Democracy MPs pound on their pre-Referendum slogan "THE BANKS are close."
However Greeks clearly decided to say NO to Austerity and NO to Scaremongering 🙂
09:27 pm
"EU official" tells Reuters: no Eurogroup meeting was imminent as the FinMins would not know what to discuss about."
So far no comment by the European Commission despite preliminary results and official projection of 61% NO – 39% YES
*** I miss EP President Martin Schulz – no word by him in the last 2-3 hours
09:30 pm
According to state ERT TV exclusive:
PM Alexis Tsipras has started to phone "European leaders" requesting Greece to be on negotiations status."
09:35 pm
Minister Panos Skourletis: "Now the government has a strong negotiation paper."
09:50 pm
Greeks did not fall into opposition's trap that had twisted the Referendum question claiming the YES or NO were for Euro & Europe.
According to several public opinion surveys, also of the recent days:
75% of Greeks support the Euro.

However, until 2012/2013: 80%-85% was supporting the Euro.
09:56 pm
Youth section of New Democracy (ONNED) Chairman indirectly called on ND leader Antonis Samaras to resign.
"Now all Greeks united must go forward. PM Tsipras has to proceed with an agreement within 48 hours, as he had said.

The old political system has to renew itself."
10:08 pm
Confirmed: PM Tsipras had a phone conversation with Hollande.
Greek government seeks to have Greece on "negotiations status" so that banks will open again.
10:12 pm
SYRIZA MP Fillis: "5 former Prime Ministers who were responsible for the Greek crisis came out to speak in favor of  YES. They turned into the best sponsors of NO."
10:16 pm
Thousands in front of the Parliament and Syntagma Square to celebrate NO
Referendum results on bildboards
10:28 pm
Official 10:31 pm by 63.29% counted:
NO 61.32%
YES 38.68%
Follow Results in Real Time at Ministry of Interior
10:40 pm
Varoufakis: Greek people returned the deadline.
10:40 pm
please, do not add links to your comments. It takes me time to delete them. –
I hate links and they are bad for technical reasons. OK????????
10:48 pm
Merkels' Vice Chancellor Gabriel: " I cannot imagine how negotiations will proceed"
German SPD has been lacking imagination since Willy Brandt and Helmut Schmidt
10:52 pm
PM Alexis Tsipras is expected to make televised address within the hour.
10:54 pm
some statements and comments via Twitter:
#Greferendum w/ closed banks, Greek media propaganda, foreign media "leaks" & daily statements by EU officials yields 61% #OXI. Questions?
Communist party MP Kaneli now saying 5% blank/spoilt ballots reflect her party's position. KKE sinking lower by the minute. #Greferendum
Manfred Weber MEP EPP Chair: Europe willing to give humanitarian aid to #Greece, "regardless of whether it remains in #Eurozone." (@dpa)
LOLOLOLOLOLOLOLOL
Syntagma square now! #no crowd filled with joy. Chants against media propaganda #greferendum#greece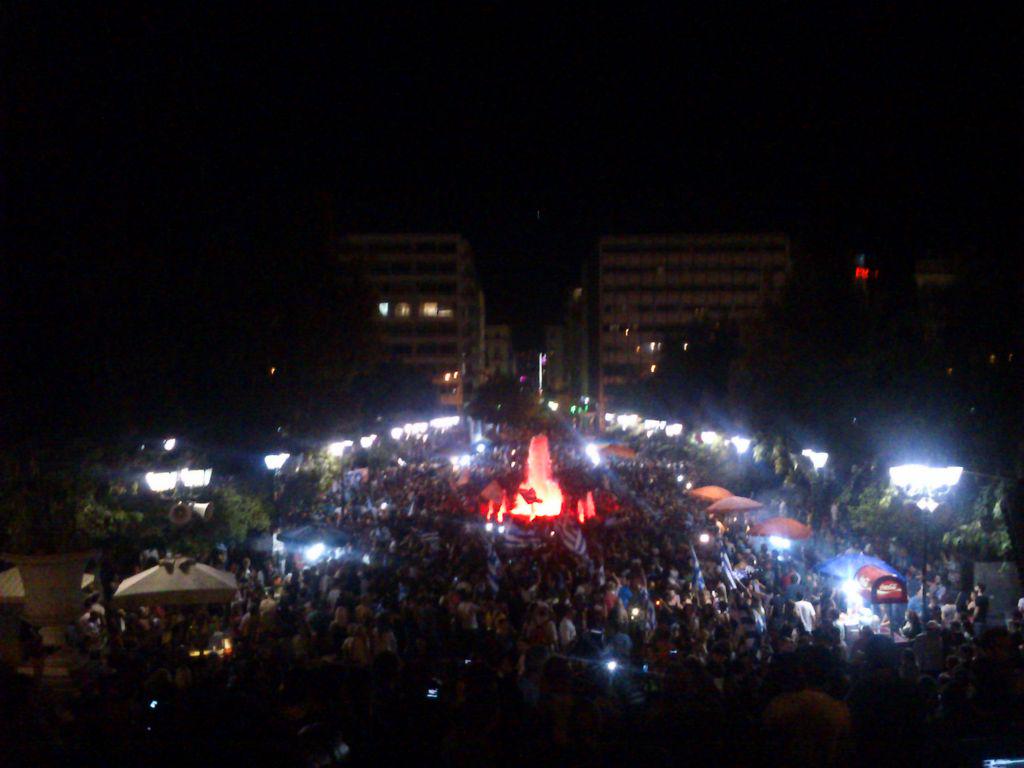 11:05 pm
+++former PM Antonis Samaras announced his resignation form New Democracy leadership.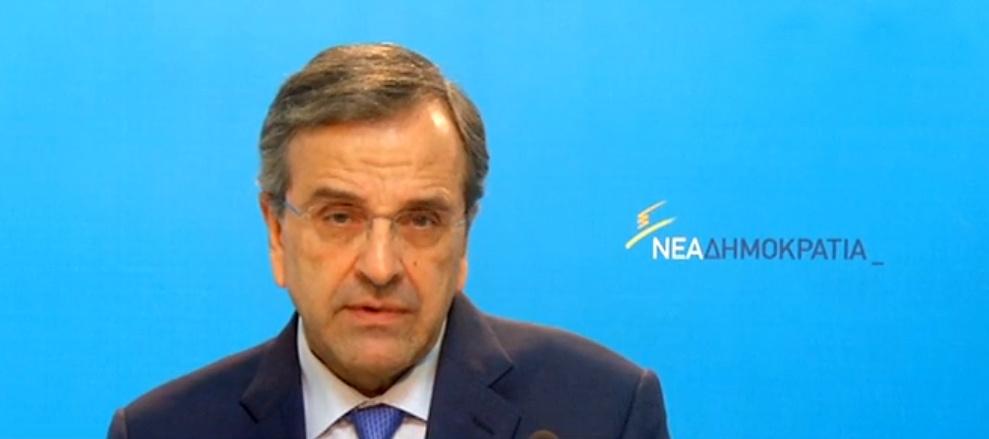 oops! for the case you miss him…
He spoke for some 3minutes but I cannot tell you what he said. It's not important after all.
11:1o pm
+++There will be a EU Leader Summit on Tuesday via AFP + ERT TV
details: Merkel & Hollande decided to accept Greek Referendum results, they will meet on Monday in Paris & will propose EU LEADERS SUMMIT on Tuesday.
11:18 pm
missed earlier:
Varoufakis: "Today's NO is a strong YES to a democratic Europe"
11:30 pm
Tsipras spoke woth Merkel and Draghi
11:34 PM
PM Alexis Tsipras address the nation
he thanks also people across Europe who demonstrated solidarity with Greece
Tomorrow Greece returns to negotiation table. Our top priority to have banks open again.
This time on negotiation table will be also the Debt Relief – he makes reference to IMF's report
Referendum results doe snot mean rift with Europe
Today's
#
referendum
doesn't have winners or losers. It is a great victory, in and of itself.
I will contact the President tomorrow to convene the Political Leaders Council where we represent our proposals + hear theirs.
Tsipras' speech summary:
1. Negotiations + talks to start right away
2. Debt Relief will be on the table
3. Talks with GR's political leaders (now that Samaras is gone …lol)
note: Samaras will be temporary replaced by Evangelos Meimarakis until ND elects new leader.
11:51 pm
Referendum results as of 11:50 pm
Counted: 88.58%
NO 62.45%
YES 38.55%
05-07-2015 23:50
---
| | |
| --- | --- |
| Registered | 8.610.765 |
| Reporting | 88,58 % |
| Voted | 62,04 % |
| Invalid/Blank | 5,79 % |
---
| | | |
| --- | --- | --- |
| | | 61,45 % |
| | | 38,55 % |
Greeks voted for Europe, No Austerity and No Scaremongering. And gave PM Tsipras a fresh mandate to negotiate with creditors.
Whatever happens it will be more easy as people decided.
12:00
Alternate FinMin Mardas:
Banks will open on Monday and operate as on Friday.

Pensioners who have not withdrawn their pension last week will be able to do so tomorrow.

ATMs withdrawal limit remains at 60 euro.
KTG understands that no withdrawal of money at banks cash registers is possible unless for extraordinary reasons and after permission by the Fin Ministry.
According to the bank holiday law, the measure ends tonight. A new decision concerning capital controls and withdrawal limits will be taken on Monday after the ECB decision.
Mardas dismissed rumors of a "parallel currency.
When asked if there was "money" for the banks, Mards said: We're waiting for the ECB decision on Monday.
12:o2
European Council President Tusk announced: EU LEADERS SUMMIT to take place on Tuesday, 6:oo pm Brussels time/ 7:oo pm GR Time
12:03
Horror-obsessed EP President Martin Schulz told Greeks in a statement "other 18 EZ members do not into consideration what they [Greeks] voted for".
he also said some other things like "kindergartens will close" rivers turn into blood, frogs and grasshoppers will jump in women's decolletes and men's pants.
meanwhile there is a petition addressed to the European Parliament with the request to Investigate Martin Schulz on reason:
"Martin Schulz has blatantly lied and threatened the Greek people trying to persuade a nation to vote Yes in the 5th July referendum. This is unacceptable behaviour of the president of the European Parliament. Investigations are demanded whether this is either legal and/or ethically correct."
I swear I have nothing to do with it! lol
KTG's blog concludes here.
Thank you for following KeepTalkingGreece 🙂