The mass deportation operation started as early as 6 o' clock in the morning, although it was originally scheduled for 10 a.m. The first 136 migrants from Lesvos were already in Dikili, Turkey at 9:30 a.m.It is more than obvious that the Frontex did not want much media around, for the case the migrants would refuse to get on board.
Almost at the same timer, another vessel charted by the Frontex left the island of Chios with 66 migrants and 66 Frontex policemen on board. This 30 minute trip ended their dream for a better life in Europe.
1:1 scheme: one Frontex policeman accompanies one deportee.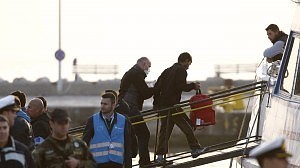 While there is some confusion about the deportees' nationalities, spokesman of Greek Migration Coordination body, Giorgos Kyritsis told state broadcaster ERT on Monday morning:
"a total of 200 Afghans and 2 Syrians who wanted to return to Turkey for family reasons were sent back this morning."
Afghans? From Afghanistan in war? Just wondering, why the Afghans did not apply for asylum or whether they did and their applications were rejected.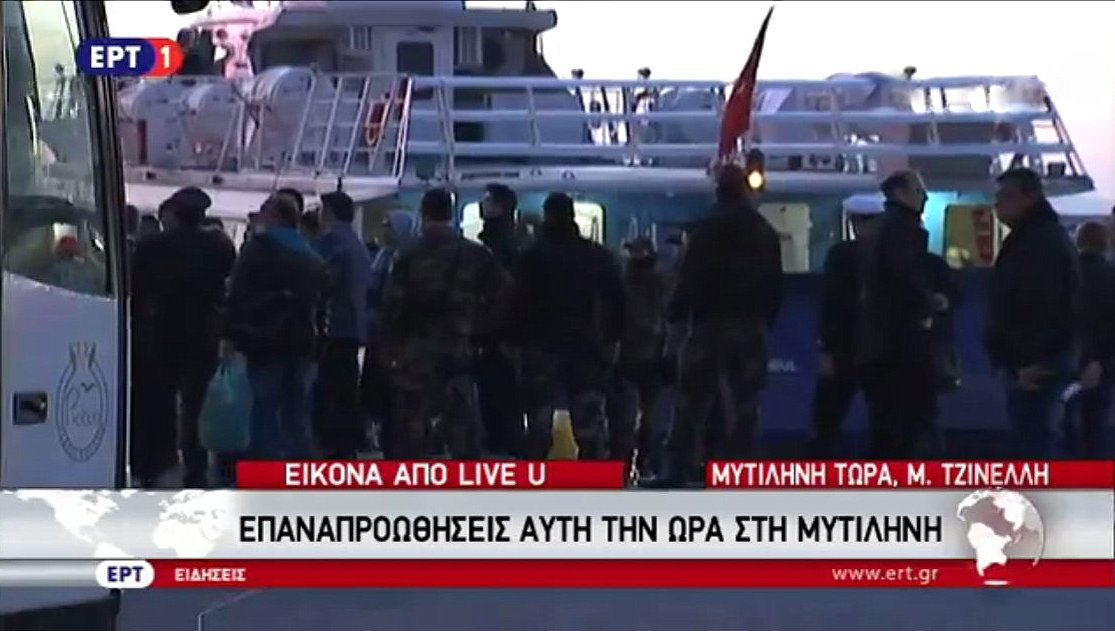 State ERT TV broadcast Live form Lesvos the "Implementation of the EI-Turkey Deal".
The deportees were transferred from Lesvos detention center to the port with buses, a strong police force was awaiting for them. Some were reportedly in handcuffs.
One Frontex policeman accompanied each one of the migrants and delivered him/her to the Turkish authorities.
Bye-Bye Europe: Turkish vessel charted by the Frontex leaves Lesvos
Also at 6 a.m., the operation started on Chios, and 66 migrants left the island at 8 a.m. and will arrive to Dikili, Turkey at 11 o' clock.
The procedure was similar, with a strong police force accompanying the buses with the deportees and riot police to have banned also journalists and photo-reporters from the port.
The deportees were allegedly selected up by the police.
Deportees and their accompanying Frontex policemen started getting on board at 7 .a.m. According to local media Astraparis.gr, a strong riot police force was also inside the vessel Erturk, during the boarding.
Astraparis.gr reported that the 66 deportees were from Afghanistan, Pakistan, Iran and a small number from Ivory Coast and Congo.
Frontex policemen wearing surgical masks for protection. I suppose, they wouldn't eat the sandwich or drink the water and fruit juice the Turkish sailors are obliged to hand out during the trip to Turkey.
Pictures by Anadolu News Agency upon arrival from Lesvos to Dikili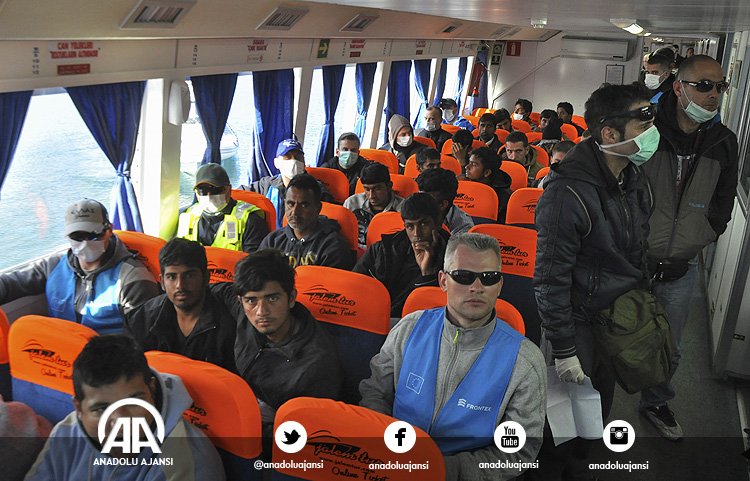 On Sunday night, when police was transferring the deportees to a camp in Tampakika area, residents gathered outside the camp to protest. Riot Police forces went with batons against the local protesters, three of them had to be taken for treatment to the hospital.
Video: riot police beating protesters -women scream
The deportees were so-called "new arrivals" on Lesvos and Chios after march 20th 2016, when the EU-Turkey deal was sealed and blessed in Brussels. Bu Sunday afternoon, some 300 people applied for asylum on Chios to avoid deportation. With the new Law approved by the Greek Parliament last week, the time period for examination of asylum application was reduced to 14 days from 27 previously. In case, the asylum is being rejected, applicants have the right to appeal.
A strong force of 2,300 EU-staff consisting of asylum experts, translators, judges and administrators was supposed to have come to Greece before April 4th. However, only 200 people have arrived so far, another 66 from "European Asylum Support Office" (EASO) are expected by Wednesday.
Tweeted by @EASO on Sunday: More @EASO deployments underway. Work will focus on the EU-TR agreement. Some 60 to be in Lesvos by Wednesday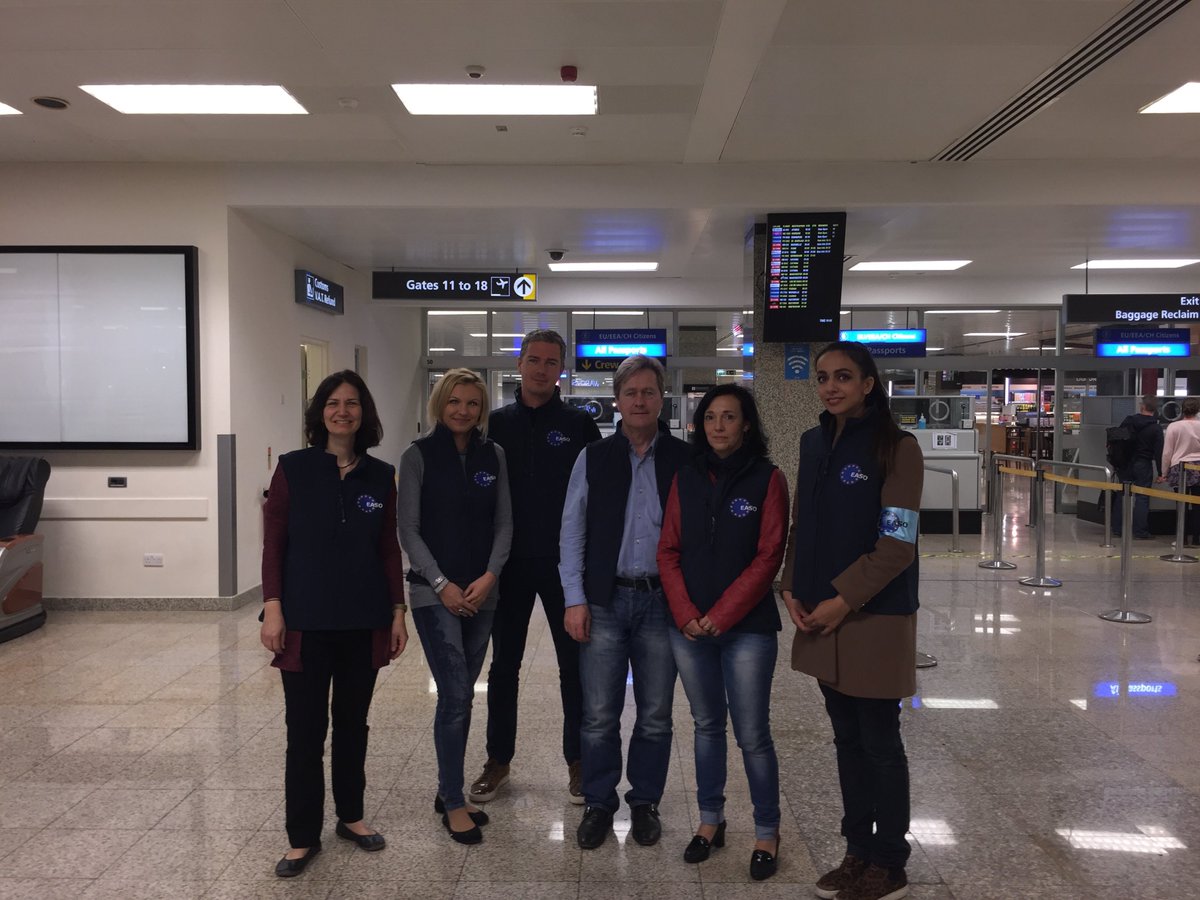 What is especially weird is that after March 20th, nobody arrived on the islands of Kos, Samos and Leros, the islands that were target by human smugglers since last spring.
Therefore, we have to ask whether it was Turkey itself that channeled the migrants and refugees flows to Lesvos and Chios to "facilitate" the mass deportations as of   April 4th. Another reason can it also be that Turkey "cleaned" its coast from migrants and refugees in the south due to the tourist season.
Despite the fact that it was clear that new arrivals will be sent back to Turkey, migrants and refugees keep arriving.
According to official data, from Sunday morning until Monday 9 a.m., 74 people arrived on Lesvos, 89 on Chios and 3 on Samos.
Arrivals after March 20th are 463 on Lesvos, 24 on Chios and 206 on Samos. Upon their arrivals they are taken to enclosed 'detention centers."
These numbers however do not correspond to the numbers of refugees and migrants inside the detention centers given as "2,890 Lesvos, 1,766 Chios and 476 Samos."
Fact is that the refugees and migrants flow has dramatically decreased from 2,000-3,000 arrivals per day down to a few hundreds after the EU-Turkey deal.
But questions about the legality of the EU Turkey deal remain open with regards to Turkey being a safe country or not, especially after reports that Ankara sends Syrian refugees back to Syria.
The EU Turkey deal stands is on trembling feet, anyway, as it is solely depends on Turkey's behavior.
Meanwhile, several hundreds of refugees and migrants trapped in Greece, a total of 52,451 people, demand "open borders".
UPDATE: According to a press release issued by the Greek Migration Coordination body a total of 191 men and 11 women were deported to Turkey.
Their nationalities are:
From Lesvos:
135 men and 1 woman ⇒ 124 from Pakistan, 3 from Bangladesh, 1 Iraqi, 2 from India, 4 from Sri Lanka, 2 Syrians who wanted to return.
From Chios:
55 men and 10 women ⇒ 42 from Afghanistan, 10 from Iran, 6 Pakistanis, 5 from Congo and 1 from: India, Somalia & Ivory Coast.
PS Migrants form Pakistan have been sent back to Turkey anyway, their deportations didn't need an EU-Turkey deal.