Outgoing US president Barack Obama will visit Greece on November 15th and his visit will last 36 hours, the White House said yesterday in a statement. Obama will hold meetings with President Prokopis Pavlopoulos and Prime Minister Alexis Tsipras and will most likely visit also a refugees camp.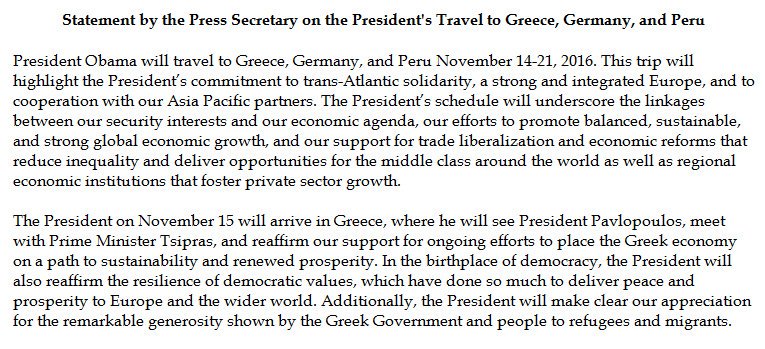 The Greek Debt Relief  will be top priority in the talks between Obama and Tsipras and Greek media allege that the outgoing US president bring also his own plan for the Greek debt relief, a plan with a timetable and specific steps to be taken. The meeting is crucial as two days later, November 17-18, Obama will visit Berlin for a meeting with German Chancellor Angela Merkel.
According to information by correspondents of Greek media in Washington, Obama wants to conclude his tenure with a significant success in economy and he seems keen to act as "mediator" between Athens and Berlin in this crucial issue, where Greece presses for debt relief but Germany rejects any discussion before 2018, when the current program concludes..
Obama is expected to declare his support to the efforts of the Greek government to recover from the crisis, however he will highlight also the need for further reforms.
The US president will also send a clear message awarding the "remarkable generosity of the Greek government and the people people's to refugees and migrants." He has reportedly expressed his wish to visit a refugee camp in one of the Greek islands. Initial media reports had suggested that Obama might visit the island of Lesvos.
According to Greek media, Obama wanted to visit Athens on November 17th to honor the anniversary of the Polytechnic School Uprising in 1973. However, plans changed due to security reasons, as the anniversary commemorations and rallies often end up in riots.
According to unconfirmed media reports, Barack Obama will address the Greek nation from his hotel room.
What is interesting is that Obama will not visit Turkey, whereas US presidents traditionally care for nurturing the US diplomatic balance with the two neighboring and rival countries.
PS During his address to the Greek nation, Obama may also want to brief the Greek nation whether he put pressure on PM Tsipras to sign the 3. bailout in summer 2015. Ok, #justsaying, so to say…