The Silk Road. Two words that always had a magic attraction on me. I am not sure when I first heard about it. Possible in the last years of the elementary school. Most likely I had also seen some pictures or rather paintings in encyclopedias and historical comic books we had at that time. I remember well that my vivid imagination had drawn faraway towns and villages soaked in dust, men with beards and brown long robes on the back of horses and camels traveling through wild landscapes. What fascinated me more where the plateaus of Central Asia, which I imagined they were endless pale earth-, okra-colored plains for as long as eye could reach, wide flat lands with no tree or any other from of vegetation with some grey color spot here and there.
An empty landscape. And a caravan of tired men and camels, heading from China the West, to Mediterranean Sea and from there to Europe.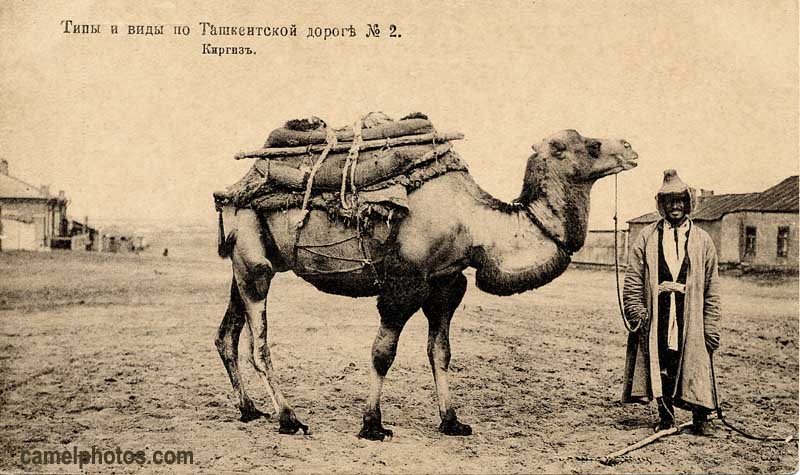 Camel caravan in Samarkand
Odd enough, I was never thinking of the caravan carrying huge sacks full of woven and nicely folded silk textiles – or handmade silk carpets. I was always thinking they were carrying spices. Especially dried clove flowers,  cinnamon sticks and black pepper corns. It made me wonder why it was called the Silk Road and not the Spice Road. Later, I found out it was also called the spice road.
I recalled my childhood fantasies about the wild Silk Road, when I stumbled upon an article announcing that Greece will host the 1st International Western Silk Road Workshop in Alexandroupolis on April 26-27, 2017.
Gobi dessert, Pamir and Samarkand were for me the key words that would open the gate to my own Wonderland.
However, Alice in Wonderland was never my favorite children book. I considered it a horror with huge rabbits and ugly, mean, clown-like  queens.
I never said the key words, I never visited these places.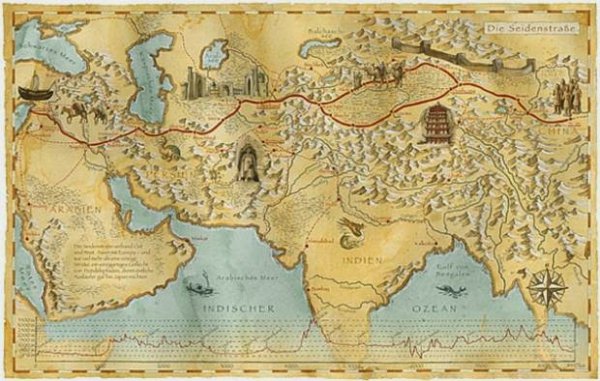 And while I was -and still – thinking  that the mythical and "exotic" Silk Road is in the East,  I found out that for Westerners Greece is part of this exotic, the entrance to this mythical world indeed.
In a survey conducted by TripAdvisor in February 2017 to discover travellers' opinions of the Silk Road. 15,711 people responded. And here was my surprise!
Top 10 Countries that travellers associate with the Silk Road
 Italy Spain Greece Turkey China Indonesia Egypt Croatia Japan Russia in this descending order.
Another interesting finding is that:
In absolute terms, the most researched Silk Road country by global travellers on TripAdvisor in 2016 was Italy, which was also the key source market for research of Silk Road countries in the same year. Spain held second position and Greece the fourth, after Japan.
The Silk Road or Silk Route was an ancient network of trade routes that were for centuries central to cultural interaction through regions of the Asian continent connecting the East and West and stretching from the Korean peninsula and Japan to the Mediterranean Sea.
The lucrative trade of silk and horses began during the Han dynasty (207 BCE – 220 CE). The Han dynasty expanded Central Asian sections of the trade routes around 114 BCE.
Later, the economic trade expanded and included a large variety of products like silk, spices, glass, porcelain, jade, tea, camels by also cultural exchange in the field of religion, ideas, philosophies and technologies.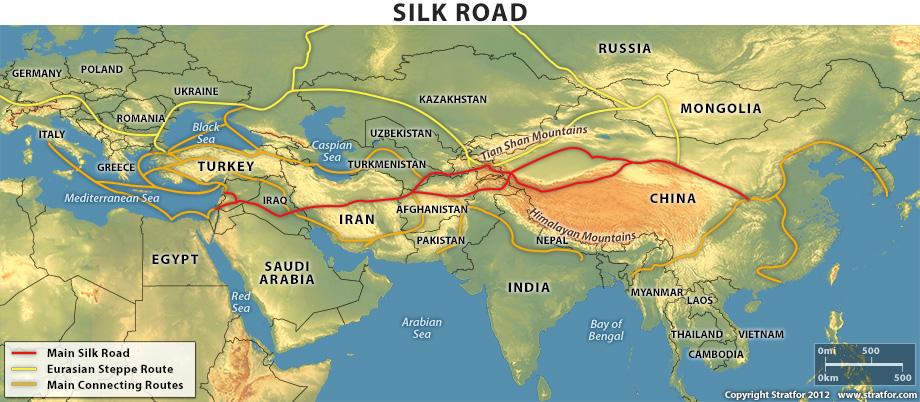 The main traders during antiquity included the Chinese, Arabs, Turkmens, Indians, Persians, Somalis, Greeks, Syrians, Romans, Georgians, Armenians, Bactrians, and (from the 5th to the 8th century) the Sogdian – the last two being ancient folks in today's Afghanistan, Uzbekistan and Tajikistan.
On June 22, 2014, UNESCO designated 5,000 km stretch of the Silk Road network from Central China to the Zhetsyu Region of Central Asia as a new World Heritage Site called Silk Roads: the Routes Network of Chang'an-Tianshan Corridor The corridor spans China, Kazakhstan and Kyrgyzstan and includes 33 new sites and several previously designated heritage site.
The 1st International Western Silk Road Workshop in Greece, jointly organized by the United Nations World Tourism Organization (UNWTO), the Greek Tourism Ministry and the Region of Eastern Macedonia and Thrace, is the first of two workshops to be held as part of the overarching Western Silk Road Tourism Development Initiative, a joint tourism project of UNWTO and the European Union aimed at revitalising the Silk Road heritage located throughout Europe.
By bringing together Silk Road Member States, UNWTO Affiliate Members and tourism stakeholders from the public and private sphere, the workshop will be the first step of a project aimed at achieving following key results:
– Diversify the tourism offer of European countries by assessing new tourism products, itineraries and routes with a Silk Road imprint.
– Create new development and business opportunities by bringing together stakeholders from different sectors and countries.
– Increase the attractiveness and visitation to European destinations by stimulating a new type of transnational tourism approach.
According to the UNWTO, by actively attending, invitees will be able to contribute to the strategic implementation of the project, present their ideas and interests and network with a wide range of stakeholders with similar interests. To register, press here.
The UNWTO  Programme is a collaborative initiative designed to enhance sustainable tourism development along the historic Silk Road route. It aims to maximize the benefits of tourism development for local Silk Route communities, while stimulating investment and promoting the conservation of the route's natural and cultural heritage. Additionally, it is working to foster greater co- operation between Silk Road countries and regions, with the established aim of creating a seamless and memorable travel experience.
33 UNWTO Member States currently participate in the UNWTO Silk Road Programme: Albania, Armenia, Azerbaijan, Bangladesh, Bulgaria, China, Croatia, DPR Korea, Rep. Korea, Egypt, Georgia, Greece, Indonesia, Iran, Iraq, Israel, Italy, Japan, Kazakhstan, Kyrgyzstan, Mongolia, Pakistan, Romania, Russia, San Marino, Saudi Arabia, Spain, Syria, Tajikistan, Turkey, Turkmenistan, Ukraine and Uzbekistan.
The ancient trade route was named Silk Road by Ferdinand von Richthofen, an German geographer in 1877.
After reading all these Silk Road tourism projects and initiatives, I can still not tell which places in Greece can be considered as Silk Road sites.
Based on some resources, much of the Silk Road  and the surrounding regions opened for the first time to the western world by Alexander the Great while the silk production itself flourished by the Byzantine times in Greece.
Greece played a major role in the commerce of the valuable textile and other merchandises through the maritime silk roads.
Greece then became a Silk Road production center and the traditional Silk production industry lasted in some Greek cities up to the 19th century.
If I were the Greek tourism ministry, I would get together a list of Silk Road sites as soon as possible and hand them over to tourism agencies to prepare exciting packages.
Read also about a …side effect of the ancient Silk Road: Did Ancient Greeks build China's famous Terracotta Warriors?
PS There are tourist agencies offering two-week packages for Silk Road holidays in the East part of the route, but I am afraid I can afford them when the Greek crisis is over – or rather, in my next life.