Three commandos from the Turkish Underwater Attack Commandos (SAT) attempted to flee to Greece as the Turkish purge continues without mercy. A woman and her 3-day-old baby were thrown to jail for alleged links with the Gulen movement, the Turkish government considers as mastermind behind the failed coup attempt. The woman was detained in the hospital where she had given birth just three days ago.
The three commandos were arrested as they were trying to flee to Greece. They are alleged to have taken part in the failed coup attempt in Turkey on July 15 2016. They were detained in Edirne province in Northwest Turkey near the Greek borders on Tuesday.
According to Turkish website turkishminute.com, the commandos, one lieutenant and two sergeant majors, identified only by their initials as A.Ç., Y.Ö. and M.Ö..
They have reportedly confessed in their first depositions that they were among the members of a military team which aimed to take Turkish President Recep Tayyip Erdogan hostage at the Huber Mansion in İstanbul on the night of July 15.
They reportedly said they could not take Erdogan hostage because he turned out to be in the western holiday resort of Marmaris on that night.
The three commandos were detained on charges related with the coup attempt.
Meanwhile, the Turkish purge against alleged Gulen supporters continues in Turkey without mercy.
Thirty-three people including a number of doctors were detained in Adıyaman on Monday as part of a government witch-hunt targeting the Gülen movement, which the Turkish government accuses of masterminding a coup attempt.
A total of 1,767 people were detained last week over alleged links with the Gülen movement.
According to the report, 33 members of the medical staff including doctors and a deputy chief physician were taken to police headquarters in Adıyaman.
In another purge incident of Turkish purge, a woman was detained at hospital and was thrown to jail together with her 3-day-old baby over Gülen links.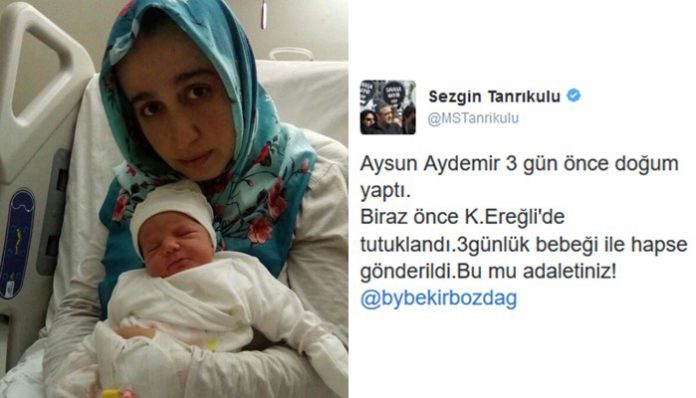 Aysun Aydemir, an English teacher who gave birth to a baby in an elective caesarean procedure, was detained at the hospital and subsequently arrested by a court and put in pretrial detention with a 3-day-old baby in Zonguldak province as part of a witch-hunt targeting the Gülen movement.
According to media reports, police first started to wait at the door of the delivery room when Aydemir was admitted to the private Ekomar Hospital in the Ereğli district of Zonguldak. After giving birth by caesarean section, she was taken to a room for follow-up treatment.
The police detained her and took her to the station despite the fact that she was barely able to walk due to the surgery.
Aydemir was subsequently arrested by a court and sent to pretrial detention together with her newborn baby.
A total of six women have been detained right after giving birth in hospitals.
According to a report by the Stockholm Center for Freedom, more than 17,000 women in Turkey, many with small children, have been jailed in an unprecedented crackdown and subjected to torture and ill-treatment in detention centers and prisons as part of the Turkish purge and the government's systematic campaign of intimidation and persecution of critics and opponents. The SCF report "Jailing Women In Turkey: Systematic Campaign of Persecution and Fear" was released in April.