Greece will not have any new commitments nor additional prior actions, Finance Minister Euclid Tsakalotos said on Sunday in an interview with 'Ethnos' newspaper. He announced permanent tax reductions as of 2019.

The "countermeasures to austerity measure do exist" and in no case the broadening of the tax-free basis will go ahead, Tsakalotos said. He noted  "not only we reach 3.5% primary surplus, but we create a fiscal space for tax relief / expenditure cost (or a mix of them) for each year between 2019 and 2022".
Citing Prime Minister, Alexis Tsipras, the finance minister explained that "more than 700 million euros will lead to permanent tax reductions as of 2019, there will be additional space for permanent interventions in the years to come, and these will be expanding every year."
Last February, Tsakalotos had announced that Greek taxpayers will see tax reductions worth 3.5 billion euros in total.
In his interview to Ethnos, he admitted that the developments in Italy affect the markets, but "Greece is more shielded from external crises, as a result of June 2017 decision, which provides for a 'pillow' of reserves that will cover us for occasional market turbulence."
On the debt, he noted that Germany is a key factor with regard to the medium and long-term measures, but there is the Eurogroup decision of June 2017, which reflects the general framework for debt relief.
He stressed the importance of explicit mentioning that Greece should be able to access the markets. "If we add to this fact that rating agencies are paying particular attention to debt sustainability, then we understand why Germany's role is within a limited framework," he said.
Greece is expected to exit the fiscal adjustment program of the 3. bailout on 20. August 2018.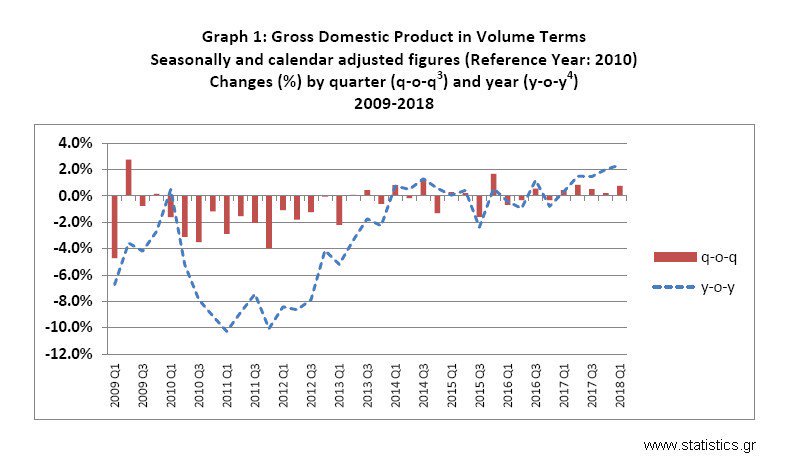 PS I don't know how these tax reductions will look like, but Tsakalotos can start right away with scrapping the levies on wine, coffee, telecommunication connections. This will help Greeks save more than 10 euros each month and will affect all Greeks.